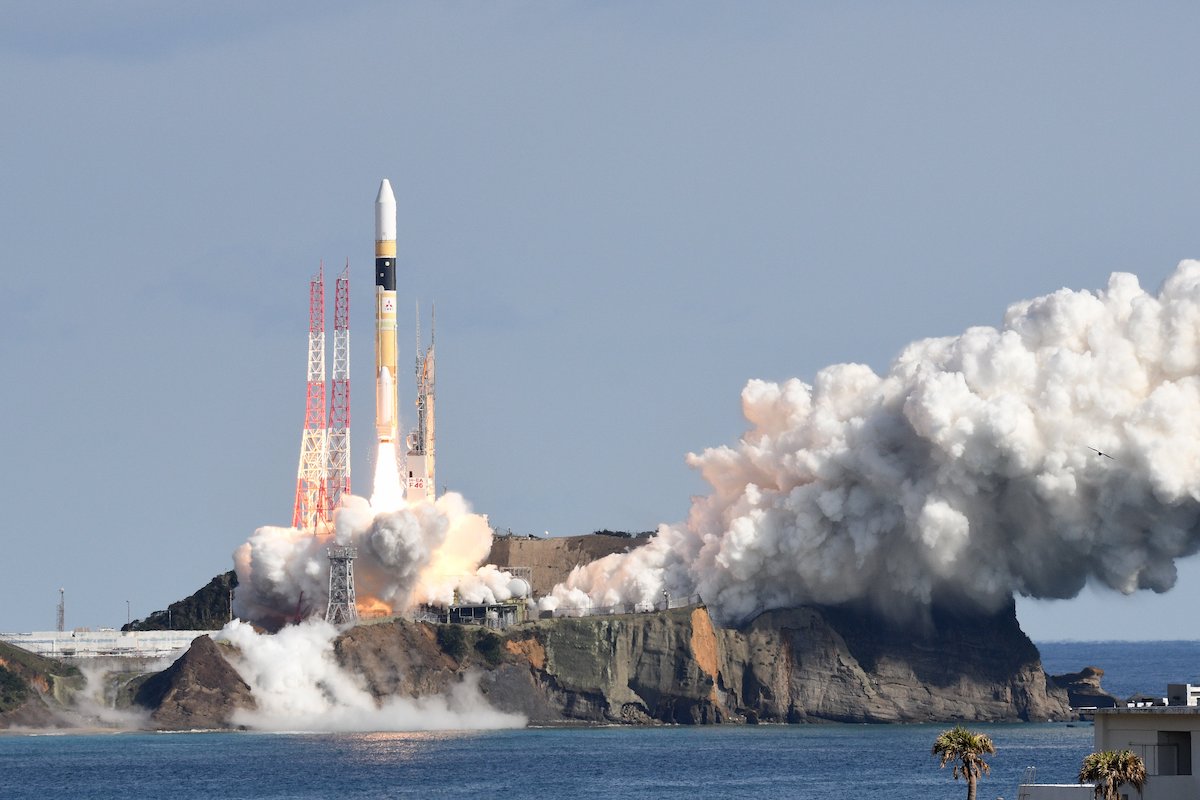 Japan launched a government spacecraft Jan. 25 on an H-2A rocket, adding a new radar platform to the country's spy satellite fleet for all-weather, day-and-night surveillance.
The radar spy satellite launched from the Tanegashima Space Center on Japan's first space mission of the year. The 174-foot-tall (53-meter) H-2A rocket lifted off from Launch Pad No. 1 at Tanegashima, a launch base carved into a rocky oceanfront outcrop on an island off Japan's southwestern coast.
The launch occurred at 8:50:21 p.m. EST on Jan. 25 (0150:21 GMT on Jan. 26), with the H-2A rocket's hydrogen-fueled main engine and twin solid rocket boosters producing 1.4 million pounds of thrust. The launch time was 10:50 a.m. local time in Japan.
The H-2A rocket headed south from Tanegashima over the Pacific Ocean, targeting a polar orbit at an altitude of roughly 300 miles (500 kilometers).
The strap-on boosters burned out less than two minutes after liftoff and jettisoned, and the H-2A's payload fairing jettisoned around four minutes into the mission. The first stage main engine switched off approximately six-and-a-half minutes after launch, then the first stage separated to fall into the Pacific. The upper stage's LE-5B engine, burning a mixture of liquid hydrogen and liquid oxygen, ignited to place Japan's newest surveillance satellite into polar orbit.
Mitsubishi Heavy Industries, the H-2A rocket's prime contractor, confirmed in a statement that the Information Gathering Satellite deployed as planned from the H-2A's upper stage. MHI announced the satellite separation about 18 minutes after liftoff.
The launch marked the 46th flight of an H-2A rocket since the Japanese launcher debuted in 2001.
Japan's space agency and Mitsubishi Heavy Industries, the H-2A rocket's prime contractor, did not provide a live webcast of Tuesday's launch. Japanese launch officials typically provide live video coverage of space launches, but not for missions carrying the country's spy satellites.
The satellite launched Jan. 25, named IGS Radar 7, carries a synthetic aperture radar imaging payload capable of resolving objects on the ground day and night, regardless of weather conditions.
The spacecraft's specifications, including its imaging performance, are kept secret by the Japanese government. But the government has acknowledged the satellite will join a fleet of Information Gathering Satellites operated by the Cabinet Satellite Intelligence Center, which reports directly to the Japanese government's executive leadership.
The IGS Radar 7 satellite is Japan's eighth radar reconnaissance satellite. The radar observers operate in tandem with electro-optical surveillance satellites, which offer better resolution, but only when their imaging targets have clear skies overhead.
Japan started its spy satellite program in 1998 after a North Korean missile test flew over Japanese territory.
Email the author.
Follow Stephen Clark on Twitter: @StephenClark1.