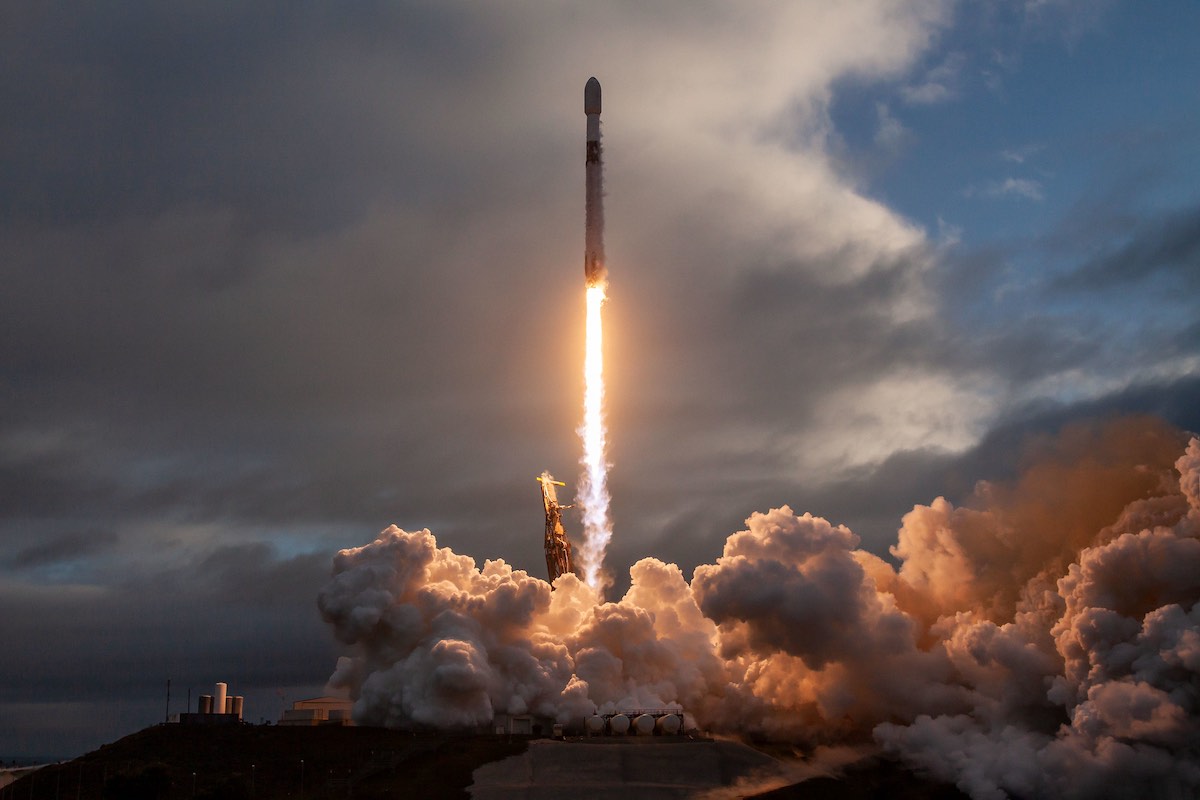 SpaceX's first launch of the year from California, and fourth mission overall in 2023, added 51 more satellites to the Starlink internet constellation Thursday, keeping pace with the company's goal of 100 Falcon rocket launches this year.
A Falcon 9 rocket took off from Space Launch Complex 4-East, or SLC-4E, at Vandenberg Space Force Base with 1.7 million pounds of thrust from nine Merlin 1D engines. The kerosene-fueled engines steered the rocket south-southeast from Vandenberg on a path over the Pacific Ocean.
Liftoff occurred at 7:43:10 a.m. PST (10:43:10 a.m. EST; 1543:10 GMT) Thursday, following more a week of delays due to a technical concern with the rocket and bad weather at the California spaceport, along with rough seas in a downrange recovery zone in the Pacific Ocean where the Falcon 9's first stage booster aimed to land on a ship.
The 229-foot-tall (70-meter) rocket lit its nine kerosene-fueled engines and climbed through scattered clouds, surpassed the speed of sound in about a minute, then shut down its first stage booster around two-and-a-half minutes into the mission. The booster, numbered B1075 in SpaceX's fleet, extended hypersonic titanium grid fins and successfully maneuvered to a controlled propulsive touchdown on a SpaceX drone ship west of Baja California.
The booster completed its first trip to space and will be returned to Southern California for refurbishment and use on a future SpaceX mission.
The Falcon 9's upper stage, meanwhile, ignited its single engine and accelerated to roughly 17,000 mph, entering orbit with the mission's 51 Starlink payloads. The rocket released the 51 satellites around 29 minutes after liftoff.
The rocket placed the 51 satellites into an orbit orbit inclined 70 degrees to the equator, deploying the spacecraft into Group 2 of the constellation.
SpaceX's first-generation Starlink fleet is spread out into five groups, or orbital shells, between 335 miles and 354 miles in altitude. The first-generation Starlink shells are inclined at different angles to the equator, with some satellites orbiting between 53 degrees north and south latitude, and others in orbits flying from pole-to-pole.
The Starlink satellites on this launch, named Starlink 2-4, circle Earth in an orbit inclined 70 degrees to the equator. Its the second launch into Group 2, following a mission in September 2021 that also carried 51 Starlink spacecraft into orbit.
SpaceX began launching satellites into its second-generation Starlink constellation, called Gen2, last month. The Starlink 2-4 mission will continue filling out the first-generation Starlink fleet. The satellites will use on-board electric propulsion to maneuver from their lower-altitude transfer orbit up to an operating altitude of 354 miles (570 kilometers).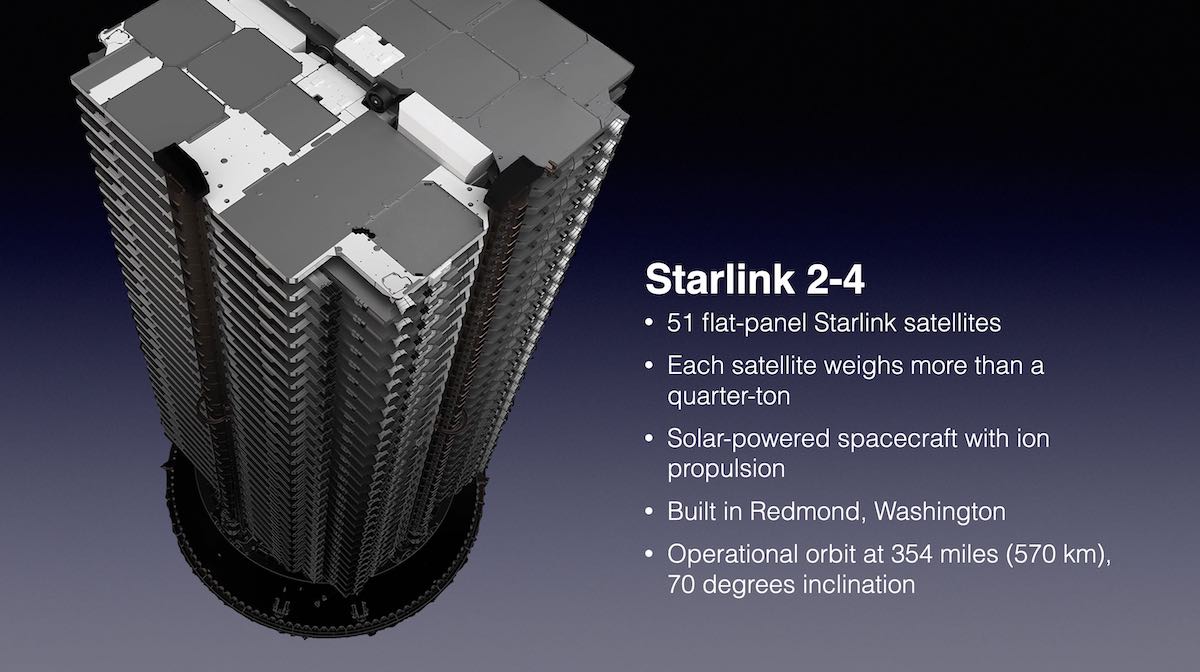 The Federal Communications Commission granted SpaceX approval Dec. 1 to launch up to 7,500 of its planned 29,988-spacecraft Starlink Gen2 constellation. The regulatory agency deferred a decision on the remaining satellites SpaceX proposed for Gen2.
The FCC previously authorized SpaceX to launch and operate roughly 4,400 first-generation Ka-band and Ku-band Starlink spacecraft that SpaceX has been launching since 2019.
The Gen2 satellites could improve Starlink coverage over lower latitude regions, and help alleviate pressure on the network from growing consumer uptake. SpaceX said last month the network now has more than 1 million active subscribers. The Starlink spacecraft beam broadband internet signals to consumers around the world, connectivity that is now available on all seven continents with testing underway at a research station in Antarctica.
The launch Thursday from California was SpaceX's fourth mission of 2023. SpaceX's founder, Elon Musk, said last year the company aimed to fly as many as 100 missions in 2023, an increase from the 61 launches SpaceX accomplished in 2022.
Michael Ellis, SpaceX's director for national security space launches, said in a conference call with reporters on Jan. 17 that the 100 missions include five flights of the company's Falcon Heavy rocket, made by combining three Falcon 9 rocket cores together into one vehicle. One of the Falcon Heavy launches this year has already flown, successfully hauling two U.S. military payloads into orbit from Florida on Jan. 15.
In order to reach 100 missions this year, SpaceX plans to launch four more Falcon Heavy rocket the rest of the year, with the remaining flights set to use Falcon 9 rockets, according to Ellis. His statement suggested that test flights of SpaceX's new Super Heavy and Starship rocket, planned to begin in the coming months, are not counted among the 100-mission goal SpaceX has publicized for 2023.
Email the author.
Follow Stephen Clark on Twitter: @StephenClark1.