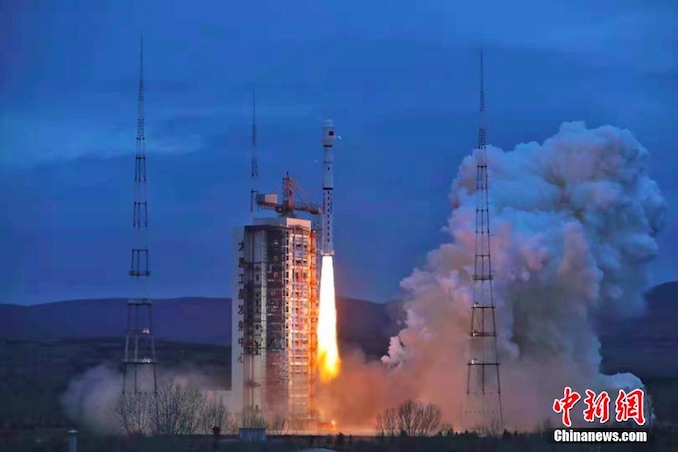 China's Haiyang 2B oceanography satellite, the follow-on to a space mission launched seven years ago, lifted off Wednesday from the country's Taiyuan launch base aboard a Long March 4B booster.
The nearly 150-foot-tall (45-meter) Long March 4B rocket fired its four main engines at 2257 GMT Wednesday (6:57 p.m. EDT) to climb away from the Taiyuan space center in northern China's Shanxi province around 265 miles (425 kilometers) southwest of Beijing.
Liftoff occurred at 6:57 a.m. Beijing time Thursday, and the three-stage Long March 4B rocket pitched toward the south from the inland launch center to place the Haiyang 2B satellite into a polar orbit approximately 580 miles (935 kilometers) above Earth.
China's state-run Xinhua news agency declared the launch a success, and the U.S. military published tracking data on two objects in orbit attributed to Wednesday's mission.
The Long March 4B's deployment of the Haiyang 2B satellite marked China's 29th space launch of the year — all successful — extending a record level of launch activity for the country's space program.
The Haiyang 2B satellite was launched into roughly the same orbit as the predecessor Haiyang 2A spacecraft, which flew into space aboard a previous Long March 4B rocket in August 2011.
In its report on the launch, Xinhua described Haiyang 2B as an "ocean dynamic satellite" that will form a marine environment monitoring network with two satellites set for launch in the coming years — Haiyang 2C and 2D.
China operates two families of Haiyang satellites — the Haiyang 1-series and Haiyang 2-series — that carry different sets of oceanography instruments. The latest member of the Haiyang 1 family, Haiyang 1C, launched in September with imaging sensors to measure ocean color, data which officials said will help track pollution and natural ocean constituents such as chlorophyll.
The instruments aboard Haiyang 2A include a radar altimeter to measure ocean topography, a microwave radiometer to map sea surface temperatures, and a scatterometer to collect wind data over the oceans.
The Haiyang satellite series is named for the Chinese word for "ocean."
Email the author.
Follow Stephen Clark on Twitter: @StephenClark1.