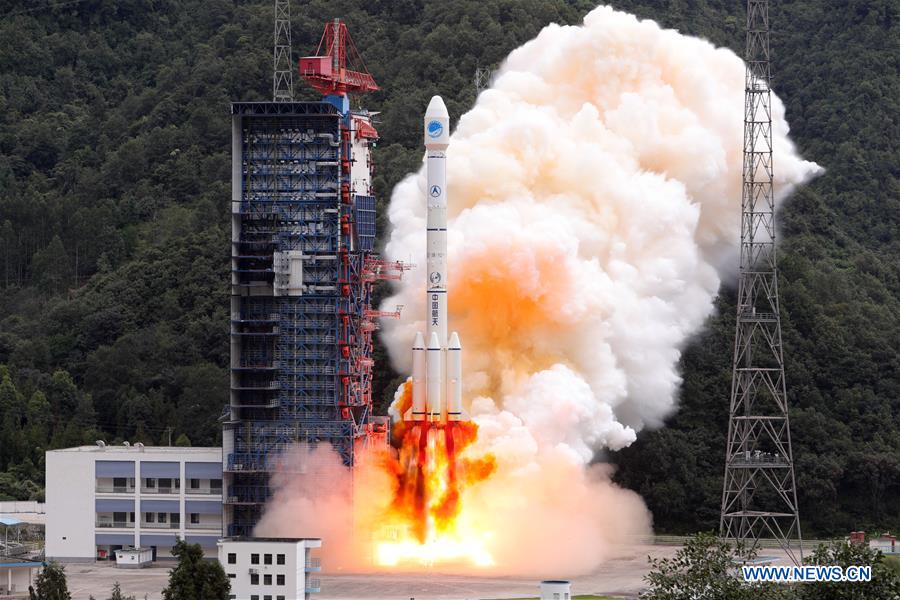 A Long March 3B rocket carried two more Beidou navigation satellites into orbit Monday, the 14th and 15th Chinese navigation spacecraft launched this year.
The liquid-fueled rocket lifted off at 0423 GMT (12:23 a.m. EDT) Monday from the Xichang space center in southwest China's Sichuan province, according to the China Academy of Launch Vehicle Technology, or CALT.
Liftoff occurred at 12:23 p.m. Beijing time.
Chinese officials confirmed the launch was a success after the Long March 3B rocket and its Yuanzheng upper stage delivered the two Beidou navigation satellites to a near-circular orbit averaging more than 13,500 miles (about 21,800 kilometers) above Earth, according to U.S. military tracking data.
The Long March 3B's third stage deployed the Yuanzheng upper stage, fitted with a restartable engine, which maneuvered the Beidou satellites into their targeted high-altitude perch inclined 55 degrees to the equator.
Monday's mission was the 28th Chinese space launch of the year. China has conducted more satellite launches than any other country so far in 2018, and many of the flights have carried Beidou navigation payloads, as the Chinese government aims for global navigation coverage by 2020.
The Long March 3B rocket is a workhorse for Beidou launches. Propelled by four strap-on boosters and a core stage fueled by hydrazine, the rocket produces 1.3 million pounds of thrust at liftoff. A hydrazine-fed second stage and a hydrogen-burning third stage are stacked atop the Long March 3B's first stage.
In a statement released after Monday's launch, the China Academy of Launch Vehicle Technology — prime contractor for most of China's satellite launchers — said the Long March 3B rocket carried equipment to record data and engineering measurements to prepare for future parachute landings of boosters.
CALT could attempt parachute landings of Long March boosters as soon as next year, according to the contractor's statement. The objective of the parachute landing tests is to accurately control where the boosters fall downrange from the launch site.
Rocket launched from China's inland space centers drop their spent boosters over land, and photos shared on Chinese social media often show the rocket stages falling near villages.
The Beidou satellite launched Monday are the 39th and 40th spacecraft sent into orbit for China's indigenous navigation network, an analog to the U.S. military's Global Positioning System.
The Beidou satellites began launching in 2000, and China has launched upgraded versions of Beidou spacecraft over the last 18 years. With Monday's launch, 16 Beidou satellites belonging to the latest, or third, generation are now in orbit.
China's state-run Xinhua news agency reported three more Beidou satellites are scheduled for launch — likely on two Long March rocket flights — later this year. The Beidou network has provided regional navigation services over the Asia-Pacific since the end of 2012, and China plans to roll out a wider coverage zone stretching over Asia, Europe and most of Africa at the end of this year.
"The system now covers more than 50 countries with a total population of more than 3 billion," Xinhua said. "By 2020, Beidou will provide first-class services around the globe."
Email the author.
Follow Stephen Clark on Twitter: @StephenClark1.