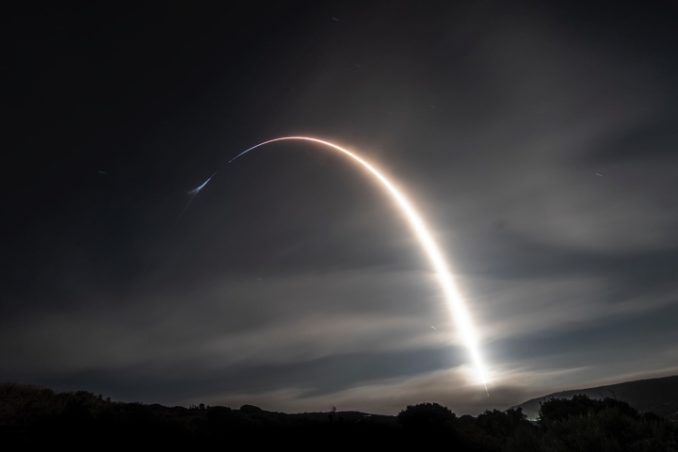 Firing through a veil of fog blanketing California's Central Coast, a Falcon 9 launcher climbed into orbit Wednesday with 10 more satellites for Iridium's voice and data relay constellation, pushing the upgraded network closer to completion as SpaceX accomplished another landing of the rocket's first stage booster.
The 229-foot-tall (70-meter) launcher lit its nine Merlin main engines after a problem-free countdown and lifted off from Space Launch Complex 4-East at Vandenberg Air Force Base at 4:39:30 a.m. PDT (7:39:30 a.m. EDT; 1139:30 GMT).
Riding 1.7 million pounds of thrust, the slender, two-stage launcher turned southward from Vandenberg, piercing a low-altitude marine layer hugging the coastline before exceeding the speed of sound about a minute after liftoff.
The first stage's main engines shut down around two-and-a-half minutes into the flight, and thrusters fed by high-pressure nitrogen gas pulsed to flip the booster around as a subset of the rocket's nine main engines ignited for a pair of boost-back and entry burns to guide the vehicle toward SpaceX's drone ship nearly 150 miles (235 kilometers) downrange from Vandenberg in the Pacific Ocean.
The center engine on the first stage slowed the booster down for landing, as four legs extended moments before touchdown on SpaceX's rocket recovery vessel named "Just Read the Instructions."
SpaceX confirmed a successful landing — the 27th time the company has recovered one of its Falcon rocket boosters following a satellite launch.
John Insprucker, SpaceX's principal investigation engineer, said a nearby boat designed to catch half of the Falcon 9's payload fairing was unable to recover the shroud due to rough seas and unfavorable winds.
"The recovery ship did confirm that we had bad weather out in the Pacific with that wind shear," Insprucker said on SpaceX's webcast of the mission. "They did see the payload fairing coming down, but they were not able to catch it in the net. We will continue to attempt that in the future as we learn how to bring fairings back, and then reuse them."
In a bid to reduce launch costs, SpaceX aims to eventually recover and reuse the payload fairing, which shields satellite against weather and aerodynamic forces in flight. The fairing comes off the rocket in two pieces like a clamshell, and both parts carry guidance systems, tiny cold gas thrusters and parafoils to steer them back to Earth from space.
The fairing recovery vessel, named Mr. Steven, was outfitted with a larger net for Wednesday's mission after attempts to catch the shroud earlier this year turned up empty.
But the fairing recovery attempt was purely an experimental objective on Wednesday's flight, and the Falcon 9's upper stage engine continued into orbit with the 10 Iridium communications satellites fastened to a specially-designed multi-payload dispenser.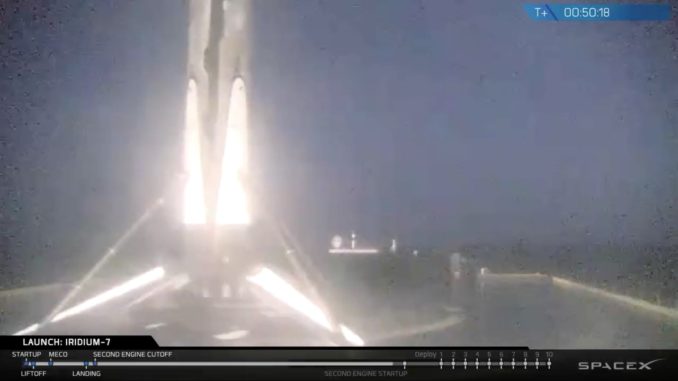 Two firings of the Falcon 9 second stage placed the satellites in an on-target orbit roughly 388 miles (625 kilometers) above Earth. The upper stage released each of the 1,896-pound (860-kilogram) satellites one-by-one over a 15-minute deployment sequence, with the final Iridium spacecraft deployment concluding nearly 72 minutes after liftoff.
Live video beamed back to Earth from the rocket through ground stations showed some of the satellites flying away from the upper stage as the Falcon 9 sailed over Africa and the Middle East.
Matt Desch, Iridium's chief executive officer, said all 10 satellites — built by Thales Alenia Space and Northrop Grumman Innovation Systems — checked in with their ground stations shortly after arriving in orbit. The signal acquisition confirmed all 10 spacecraft were alive following their fiery trip into space.
With Wednesday's mission, SpaceX has delivered 65 satellites to orbit for Iridium on seven launches since January 2017. Iridium has one more mission booked with SpaceX for another liftoff later this year from Vandenberg with 10 more spacecraft on-board.
"This historic constellation refresh is one launch away from completion," Desch said in a statement. "We know our partners are just as excited about the new network being finished as we are, and how that will bring the full power of the Iridium Next constellation to life.
"We've come a long way, and we are particularly excited to see the financial transformation enabled by the completion of the Iridium Next system and the associated drop in capital expenditures," Desch said.
The Iridium Next network will replace the company's aging fleet of communications satellites, which provide global coverage for phone calls, messaging, asset tracking and data relays.
Iridium's first-generation Block 1 satellites, built by Lockheed Martin, launched in the late 1990s and early 2000s and were designed for seven-year missions. Nearly all the Block 1 spacecraft outlived their design lives, and the upgraded Iridium Next satellites are built to last at least 15 years.
The $3 billion Iridium Next network will offer faster L-band broadband connections, improved functionality and 3G-equivalent cellular phone services for Iridium's pool of roughly one million subscribers, a client list that includes the U.S. military, oil and gas companies, aviation and maritime operators, and mining and construction contractors.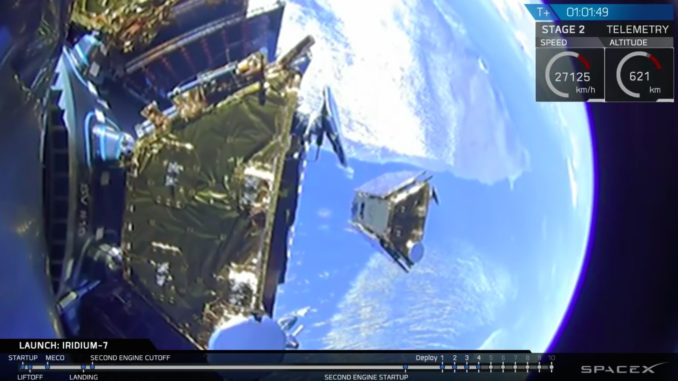 The satellites launched Wednesday will join Plane 5 of the Iridium constellation, which includes 66 active spacecraft spread among six orbital planes, enabling worldwide coverage. The network works with the help of inter-satellite Ka-band radio links, allowing communications traffic to travel around the globe from spacecraft-to-spacecraft without the need to pass through a ground station.
Each spacecraft will boost itself into a higher orbit at an altitude of 476 miles (780 kilometers), maneuvering alongside a Block 1 satellite before ground controllers at Iridium's operations center in Leesburg, Virginia, switch the relay links from the old spacecraft to the new one.
The procedure, called a slot swap, is the point at which an Iridium Next satellite joins the network.
Desch said Wednesday that more than 80 percent of traffic on the Iridium network currently goes through one of the company's new-generation satellites. That figure will rise to more than 90 percent in the next six weeks, when the spacecraft on Wednesday's launch become operational, he said.
Each Iridium Next satellite also hosts an aircraft tracking transceiver built by Harris Corp. The air traffic monitoring project, led by an Iridium affiliate named Aireon, will become operational once at least 66 Iridium Next spacecraft are in space.
Aireon said in a press release Wednesday that the airplane-tracking system will go live later this year, with the service initially becoming available to air traffic controllers in Canada. The Aireon system is designed to provide global aircraft tracking services, replacing ground-based radars that do not cover the oceans and other parts of the world.
Operational trials using Aireon's service over the busy North Atlantic flight corridor will begin next year. In addition to Canada's air traffic control organization, air traffic authorities in the United Kingdom, Ireland, Denmark, Italy and parts of Africa plan to use Aireon. The Federal Aviation Administration is testing the Aireon service for potential incorporation of the system's satellite-based tracking capability in U.S. airspace.
"We're getting closer to the finish line," said Don Thoma, CEO of Aireon, in a statement. "Perhaps most exciting though is that the system has been functioning beyond expectation, resulting in even greater coverage redundancy than initially planned.  We're seeing double coverage, and in many cases triple redundancy from our payloads before the constellation is even completed.  With this seventh successful launch completed, we're now preparing to begin a new era for the aviation industry."
Most of the Iridium Next satellites also carry ship tracking antennas for exactEarth, a Canadian company.
Iridium reserved its launches with SpaceX in 2010 with a contract officials said at the time was valued at nearly $500 million, then the most lucrative commercial launch agreement ever signed. The first version of SpaceX's Falcon 9 rocket, now long-retired, had only achieved one test flight when Iridium secured launches with the company.
In a tweet following Wednesday's launch, Desch said SpaceX's launch prices in 2010 were less than half those of the other bidders considered by Iridium officials.
"Thanks for taking a chance on SpaceX so many years ago! Looking forward to using the new Iridium constellation," SpaceX founder and chief executive Elon Musk tweeted in reply to Desch.
Iridium ordered 81 satellites from Thales Alenia Space and Northrop Grumman Innovation Systems, formerly known as Orbital ATK. Six of the spacecraft have been designated ground spares and could be launched at a later time.
Wednesday's launch was the third mission using a first stage based on SpaceX's improved "Block 5" version of the Falcon 9 rocket. It was the second Falcon 9 launch in a little more than three days, coming after a liftoff early Sunday from Cape Canaveral with the Telstar 19 VANTAGE communications satellite.
Next up on SpaceX's launch schedule is another mission from Florida set for no earlier than Aug. 4 with the Merah Putih communications satellite for Telkom Indonesia. The launch window Aug. 4 opens at 1:19 a.m. EDT (0519 GMT).
Email the author.
Follow Stephen Clark on Twitter: @StephenClark1.