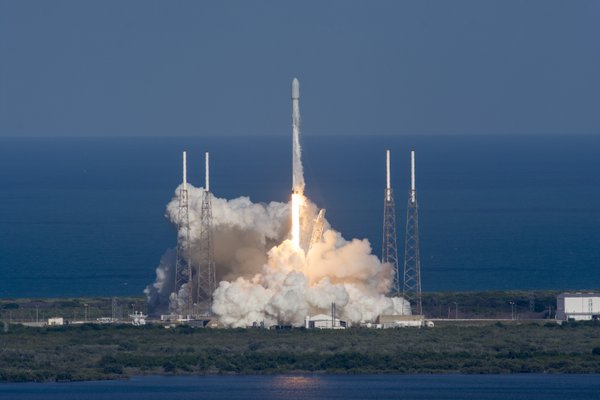 A Falcon 9 rocket took off from Cape Canaveral and climbed into space Friday, propelling a Thai television relay satellite into orbit and achieving its third dramatic ocean landing in a row, adding to SpaceX's growing inventory of recovered rocket boosters.
Flying into crystal clear skies over Florida's sun-splashed Space Coast, the 229-foot-tall (70-meter) Falcon 9 rocket slowly cleared Cape Canaveral's Complex 40 launch pad on the power of nine kerosene-burning Merlin 1D main engines at 5:39 p.m. EDT (2139 GMT).
Running a day late to allow SpaceX to review a glitch in an upper stage engine actuator, the slender white launcher, topped with a bulbous aerodynamic shroud covering the Thaicom 8 communications satellite, tilted on an easterly trajectory over the Atlantic Ocean, bound for an equator-hugging geostationary transfer orbit.
The Falcon 9's second stage, powered by a single Merlin engine, fired two times to inject Thaicom 8 into the correct orbit. Separation of the spacecraft, made by Orbital ATK in Virginia, occurred approximately 32 minutes after liftoff.
The rocket's first stage booster used cold gas nitrogen thrusters to flip around moments after its release high in the atmosphere, then fired a subset of its nine engines while flying tail first to slow down and settle to a landing on a specially-outfitted barge positioned 420 miles (680 kilometers) east of Cape Canaveral.
The landing was a secondary objective, but it is a key facet of SpaceX's plan to cut launch costs by reusing Falcon 9 booster stages for more than one mission.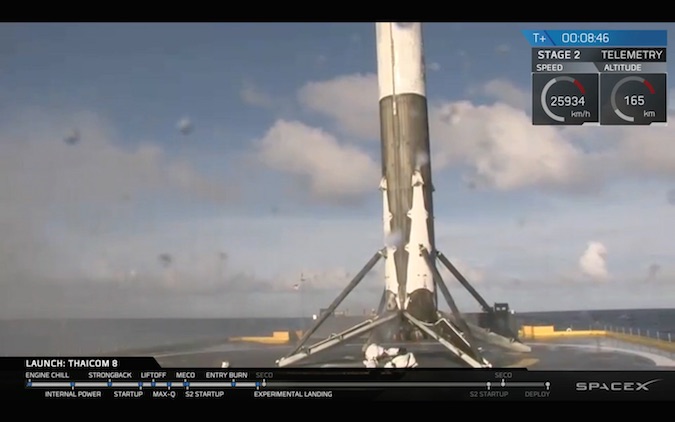 Meanwhile, SpaceX declared success on the primary goal of Friday's mission moments after the Thaicom 8 satellite sailed away from the Falcon 9's second stage over Africa.
Engineers programmed the rocket to target a "supersynchronous" transfer orbit, a trajectory with a high point of more than 56,000 miles (90,000 kilometers) and a minimum altitude of about 124 miles (250 kilometers), according to an official with Thaicom, the satellite's Bangkok-based owner and operator.
The rocket reached an on-target orbit Friday, completing the Falcon 9's 25th mission since its debut in June 2010. Friday's flight was the fifth SpaceX launch of 2016, and the second this month.
"Satellite deployed to 91,000 km apogee," SpaceX founder and chief executive Elon Musk tweeted. "All looks good."
It was the second time SpaceX launched a dedicated mission for Thaicom.
The 6,669-pound (3,025-kilogram) Thaicom 8 satellite, based on Orbital ATK's GEOStar 2 spacecraft bus, will steer into a circular geostationary orbit over the coming weeks, using its on-board thruster to move into an orbit about 22,300 miles (35,700 kilometers) over the equator.
Thaicom 8 should be ready to enter service around July 1, according to Patompob Suwansiri, Thaicom's chief commercial officer.
It will be co-located in a geostationary orbital slot at 78.5 degrees east with the Thaicom 5 and Thaicom 6 satellites, adding capacity for the company's television broadcast portfolio, which currently totals more than 700 channels of programming.
"What Thaicom 8 is going to do is actually increase the capacity for satellite TV in the region," Suwansiri told Spaceflight Now in an interview Thursday. "Particularly, right now there is a lot of conversion from standard definition to high definition, and ultimately in the future to to 4K (Ultra HD), so the Thaicom 8 satellite will serve to expand our services, ultimately to 4K."
In documents submitted to the Thai stock exchange in 2014, Thaicom said the new satellite's construction and launch services would cost about $178 million. That figure does not include insurance, which Thaicom procured later.
Suwansiri said Thaicom has sold 17 percent of the new satellite's payload capacity, which includes 24 Ku-band transponders. The company aims to sell up to 50 percent of the transponder capacity within a year of the launch.
The launch of Thaicom 8 is a case of repeat business for Thaicom, Orbital ATK and SpaceX. Thaicom ordered the satellite and launch services soon after a Falcon 9 rocket deployed the Thaicom 6 communications craft in orbit in January 2014.
Thaicom was also involved in the launch of a satellite for AsiaSat of Hong Kong later in 2014. The Thai operator reserved half of the AsiaSat 8 satellite's communications capacity, branding its portion of the payload Thaicom 7.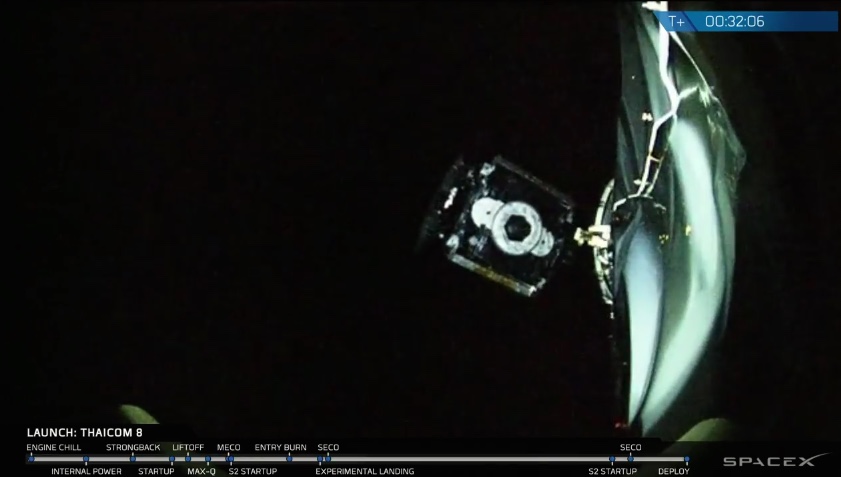 "It's been a very good experience," Suwansiri said. "They are very innovative, and they are very cost-effective, so we are very pleased with their service."
The Falcon 9's first stage landing in the Atlantic Ocean gives SpaceX four previously-flown boosters in its inventory.
One of the returned rocket bodies, which made the first successful landing on land in December, will be put on display at SpaceX's headquarters in Hawthorne, California. A rocket that landed at sea after blasting off with Japan's JCSAT 14 communications satellite May 6 withstood intense heating and aerodynamic pressures during its descent. SpaceX will keep that vehicle on the ground for a series of tests to ensure future boosters can safely fly again.
The Falcon 9 stage that made the first-ever landing on the offshore barge, or drone ship, in April is the vehicle SpaceX wants to launch again.
SpaceX intends to send its next Falcon 9 rocket into orbit in mid-June, perhaps as soon as June 16 around 10:30 a.m. EDT (1430 GMT), with two Boeing-built communications stations for Eutelsat and Asia Broadcast Satellite.
That will be followed by another SpaceX launch from Cape Canaveral on July 16 with a Dragon supply ship heading for the International Space Station. SpaceX hopes to return its Falcon 9 booster to a landing zone on shore on that flight, the first time the company has attempted such a return-to-launch-site maneuver since a landing in December.
Email the author.
Follow Stephen Clark on Twitter: @StephenClark1.