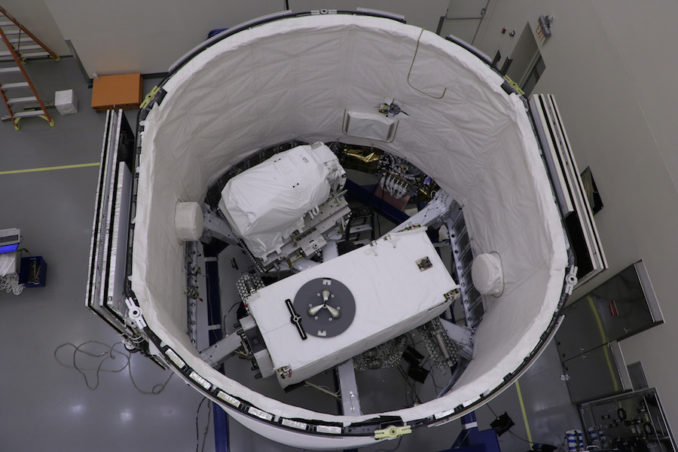 A Falcon 9 rocket and Dragon supply ship, primarily using previously-flown hardware, are scheduled for liftoff before dawn Friday at Cape Canaveral on SpaceX's 15th cargo launch to the International Space Station under contract to NASA.
The 213-foot-tall (65-meter) liquid-fueled rocket will take off from Cape Canaveral's Complex 40 launch pad at 5:42:42 a.m. EDT (0942:42 GMT), around 45 minutes before sunrise on Florida's Space Coast.
If clouds stay away, the launch could provide a spectacular early morning display for sky-watchers in Central Florida. The Falcon 9 rocket is expected to climb into sunlight a few minutes after liftoff, illuminating the launcher's expanding exhaust plume in the rarefied upper atmosphere.
Check out this viewing guide for tips on where to go to get the best view of the launch.
Forecasters at the U.S. Air Force's 45th Weather Squadron predict a 90 percent probability of favorable weather at launch time Friday. Clouds left over from storms over the Space Coast on Thursday evening should dissipate in time for the launch, but forecasters kept a low probability of cumulus and anvil clouds remaining in the area and violating weather criteria.
"We would have to be particularly unlucky," said Mike McAleenan, the Air Force's launch weather officer.
SpaceX engineers on Thursday afternoon were examining a concern with a thermal protection panel on the Dragon cargo craft, according to Jessica Jensen, the company's director of Dragon mission management.
Engineers are conducting thermal analysis on the panel to ensure it will perform as expected when subjected to heating during launch and re-entry, Jensen said.
Otherwise, all systems are "go" for launch.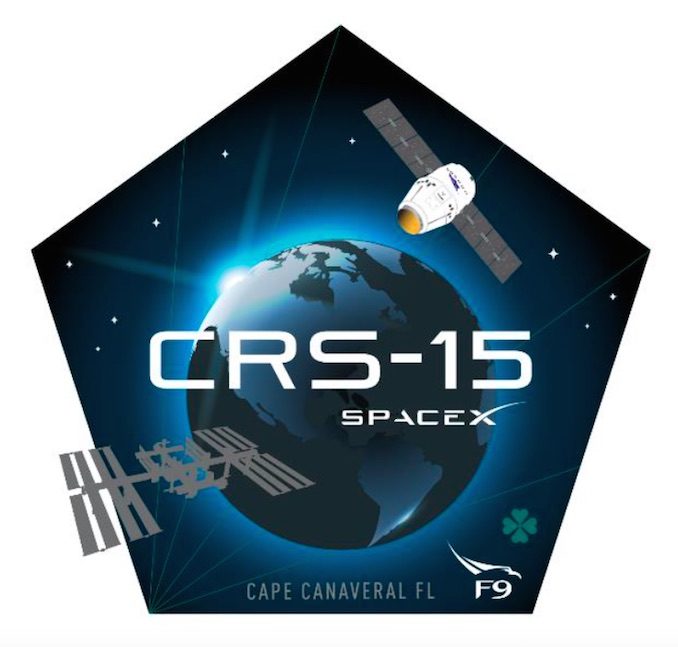 The Falcon 9 rocket set for liftoff Friday will use the same first stage booster flown April 18 with NASA's Transiting Exoplanet Survey Satellite. SpaceX recovered the stage at sea after sending the TESS mission, designed to find planets circling other stars in our sun's neighborhood, toward its perch in space.
The first stage was the final one manufactured by SpaceX using the company's discontinued "Block 4" configuration. SpaceX debuted the upgraded "Block 5" version of the Falcon 9 rocket May 11.
The Falcon 9 Block 5 design is optimized for reusability of the first stage, and SpaceX founder and chief executive Elon Musk said the upgraded Block 5 boosters could be launched, landed and flown again in as little as 24 hours, eventually requiring little more than the cost of new propellants and processing costs.
The Block 4 configuration was not capable of such rapid re-flights, requiring disassembly of its landing legs, inspections, refurbishment and the installation of new heat shield material and grid fins used on descent. The work took time and cost millions of dollars, but SpaceX officials said the expense of refurbishing Block 4 boosters was less than the cost of manufacturing an all-new vehicle.
"Our teams have just gotten extremely efficient at refurbishment processing," Jensen told reporters Thursday. "They know what to look for, they know what signs they're looking for, they know what's going to have to be replaced. We've just gotten extremely efficient, and we were able to turn this one around in just over two months."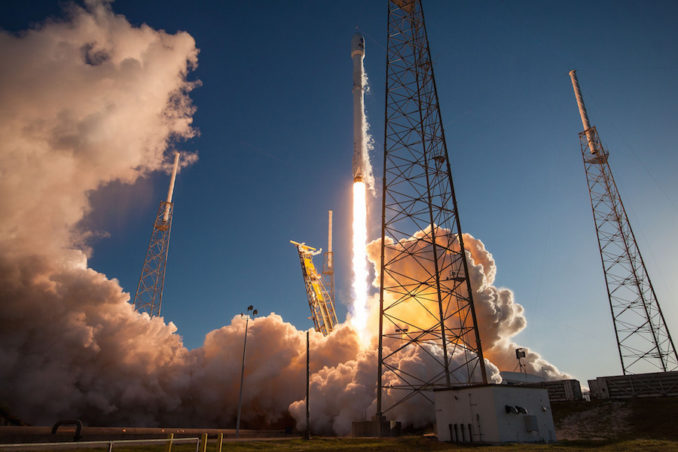 Going into Friday's launch, the quickest turnaround between flights by the same first stage was around four-and-a-half months.
Friday's mission will be the final launch of a Block 4 first stage, Jensen said.
If launch does not occur Friday, SpaceX has a backup launch opportunity Sunday at 4:54 a.m. EDT (0854 GMT). Officials plan to skip a launch attempt Saturday due to limitations caused by the position of the space station in its orbit.
Ground crews at pad 40 were loading time-sensitive cargo into the Dragon capsule's pressurized compartment Thursday, before the launch team planned to lift the Falcon 9 rocket vertical ahead of the predawn countdown Friday.
Rocket-grade kerosene is set to begin flowing into the Falcon 9 rocket at 4:32 a.m. EDT (0832 GMT), followed by the start of liquid oxygen loading 5:07 a.m. EDT (0907 GMT). The automated countdown sequencer will also send commands to load helium pressurant into the Falcon 9 launcher.
After a final steering check and checkouts of the Falcon 9's navigation computer, the rocket's nine first stage Merlin engines will ignite at around T-minus 3 seconds. Hold-down restraints will open as the countdown clock reaches zero, allowing the rocket to climb away from Cape Canaveral with 1.7 million pounds of thrust.
The Falcon 9 will head to the northeast to align with the space station's orbit, passing the speed of sound in about a minute before shutting down its first stage engines at T+plus 2 minutes, 45 seconds.
The first stage on Friday's launch will not be recovered by SpaceX.
After stage separation, the Falcon 9's second stage, propelled by a single Merlin engine, will ignite for more than five-and-a-half minutes to place the Dragon spacecraft into a preliminary elliptical orbit approximately 200 miles (300 kilometers) above Earth.
Deployment of the Dragon capsule from the Falcon 9 upper stage is timed for T+plus 9 minutes, 31 seconds, and the spacecraft will begin extending its power-generating solar panels around 90 seconds later.
While the Dragon supply ship begins its three-day rendezvous with the space station, the Falcon 9's upper stage will continue in orbit on a long-duration coast demonstration, Jensen said.
A warning zone outlined in a notice to pilots and mariners suggests the Falcon 9's second stage will fall into the Atlantic Ocean following a de-orbit burn around six hours after liftoff Friday.
SpaceX has not disclosed the purpose of the long-duration coast experiment, but rocket stages are typically required to operate for six hours and conduct multiple engine firings to place payloads, such as clandestine military surveillance satellites, directly into geostationary orbit more than 22,000 miles over the equator.
If the mission gets off the ground on time Friday, the Dragon capsule is set to reach the space station Monday. The station's Canadian-built robotic arm will grapple the free-flying capsule around 7 a.m. EDT (1100 GMT), then place the spacecraft on a berthing port on the Harmony module.
Astronauts will manually unpack the contents of Dragon's pressurized cargo module, which SpaceX is reusing from a previous resupply mission that launched in July 2016.
The mission is slated to deliver 5,946 pounds (2,697 kilograms) of equipment, experiments and provisions to the orbiting research laboratory. About 3,774 pounds (1,712 kilograms) of that tally will be carried inside Dragon's internal cabin, including:
2,718 pounds (1,233 kilograms) of scientific investigations
452 pounds (205 kilograms) of crew supplies
392 pounds (178 kilograms) of vehicle hardware
139 pounds (63 kilograms) of spacewalk equipment
46 pounds (21 kilograms) of computer resources
27 pounds (12 kilograms) of Russian hardware
The equipment launching to the space station inside the Dragon's trunk includes a spare Canadian-built latching end effector for the research lab's robotic arm, plus a 1,213-pound (550-kilogram) instrument developed by NASA's Jet Propulsion Laboratory to be mounted outside the station's Japanese Kibo lab module to measure the temperature of plants from space.
The temperature measurements will tell scientists about the health of the plants, how much water they are using, and the resiliency of crops to extreme conditions like heat waves and droughts.
"When a plant is so stressed that it turns brown, it's often too late for it to recover," said Simon Hook, ECOSTRESS principal investigator at JPL. "But measuring the temperature of the plant lets you see that a plant is stressed before it reaches that point."
Developed under a cost cap of $30 million, the ECOSTRESS instrument is a pathfinder for future missions, and it will collect data from its mounting fixture outside the space station for about one year.
"ECOSTRESS will allow us to monitor rapid changes in crop stress at the field level, enabling earlier and more accurate estimates of how yields will be impacted," said Martha Anderson, an ECOSTRESS science team member with the U.S. Department of Agriculture in Beltsville, Maryland. "Even short-term moisture stress, if it occurs during a critical stage of crop growth, can significantly impact productivity."
The Dragon spacecraft will depart the space station Aug. 2 and return to a splashdown in the Pacific Ocean with nearly two tons of equipment, cargo and research specimens for analysis by engineers and scientists on the ground.
Email the author.
Follow Stephen Clark on Twitter: @StephenClark1.