STORY WRITTEN FOR CBS NEWS & USED WITH PERMISSION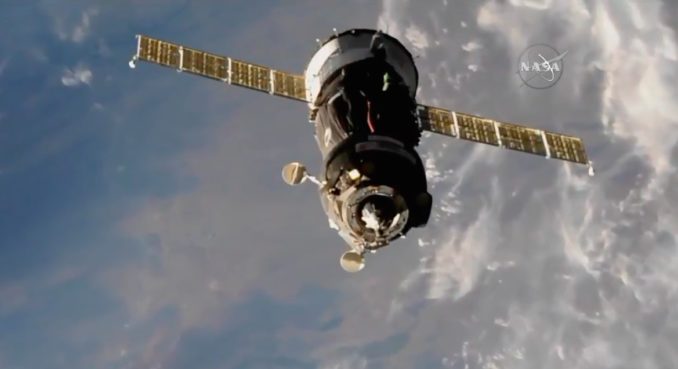 Two days after launch from Kazakhstan, a Russian Soyuz spacecraft carrying a crew of three wrapped up a problem-free rendezvous Friday, docking at the International Space Station's Earth-facing Rassvet port less than a week after three other crew members departed.
With Soyuz MS-09/55S commander Sergey Prokopyev at the controls, the ferry ship's docking mechanism engaged its space station counterpart at 9:01 a.m. EDT (GMT-4) as the two spacecraft sailed 253 miles above the Pacific Ocean and the Philippines. Hooks and latches retracted a few moments later, locking the ship in place.
Prokopyev, flight engineer Alexander Gerst and NASA physician-astronaut Serena Auñón-Chancellor then stood by for another 90-minute trip around the world while flight controllers verified an airtight, structurally sound seal before opening hatches to lab complex.
Standing by to welcome them aboard were Expedition 56 commander Drew Feustel, flight engineer Ricky Arnold and Russian cosmonaut Oleg Artemyev, commander of the Soyuz MS-08/54S ferry ship that carried them into space last March 21.
The first items on the agenda were a traditional video chat with friends and family standing by in Moscow followed by a safety briefing.
"Usually, the arriving crew is given a couple of days off to catch their breath and relax after a trip from the launch pad in Baikonur to the station," said NASA commentator Rob Navias. "That will not be the case this weekend."
Next Thursday, Feustel and Arnold plan to continue work outside the station and Navias said Gerst and Auñón-Chancellor face a busy weekend helping their crewmates prepare.
Prokopyev and Auñón-Chancellor are making their first space flight while Gerst, a German geophysicist representing the European Space Agency, is making his second following a 165-day stay aboard the station in 2014.
Auñón-Chancellor should be well suited for life aboard the space station. She spent more than nine months in Star City near Moscow supporting medical operations with space station crew members, two months in Antarctica searching for meteorites as part of a scientific expedition and later served as an aquanaut aboard the Aquarius underwater laboratory.
Compared to her past experience, the space station should be downright roomy.
"Funny enough, the space station is as big as a five bedroom house, and I've often heard there are whole days that go by where you will not see most of your crew the entire day because they're working in one section, you're working in another, and you may catch each other at mealtime," she said in a pre-flight interview.
"It's amazing to think that the size fo the space station we have up there right now can support this big family. There's plenty of room."
And, with the station's crew back up to six, plenty of time for a full slate of scientific research.
Gerst said he looked forward to a medical study charting how brain function changes during long-term exposure to the microgravity environment of space.
"They're going to look at detailed changes during the flight because when we're up there, it's a little bit like what people suffer after having a stroke, which is certain regions of the brain are not working properly anymore," he said. "For us up there in space, that's the sense of balance, our orthostatic senses are not completely working anymore, the brain has to compensate for that.
"How does it do that, how does it not lose orientation in space? It switches over to the visual sense, and that switch over is very similar to what people experience when they have a stroke and have to re-learn how to walk, to speak, all those things. The processes are similar. … For us, luckily, (those changes are) reversible, but we hope we can use that to develop a treatment for people on Earth."
Auñón-Chancellor plans to put her medical training to work using herself as a research subject. Roughly half the men and women who fly in space suffer nausea and other symptoms brought on by weightlessness as fluids shift in the body during the first few days in orbit.
"You hear all these stories about how people feel, the fluid shift they feel in their bodies, everything in those first few days of flight," she said. "So the first kind of big experiment is almost my own case study where I look at myself and see how I react and maybe compare that with those of my colleagues."
She said she was particularly interested in how the body responds to "low-level chronic insults."
"What I mean by that is how well the body with adapting to low-level radiation, levels of carbon dioxide that are maybe a little higher on station than they are on Earth, a change in nutrition, microgravity itself," she said. "The body does a fantastic job adapting, but you still see markers of that. So what markers are we missing?"
She'll have a full six months to find out. Feustel's crew is scheduled to return to Earth Oct. 4 while Auñón-Chancellor and her crewmates plan to remain aloft until Dec. 13.