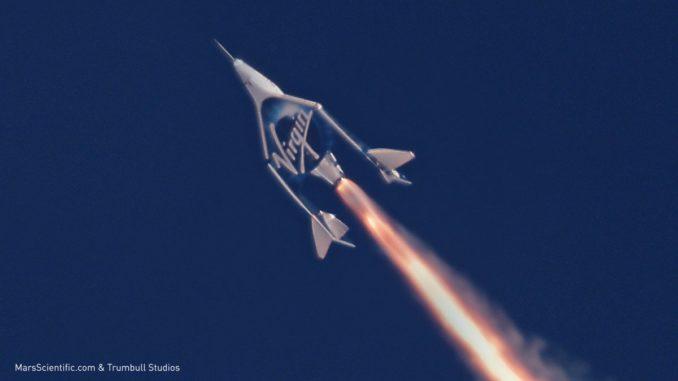 Helmed by two test pilots, Virgin Galactic's SpaceShipTwo rocket plane set new altitude and speed records for the company's test program Tuesday during a powered flight over California's Mojave Desert.
Tuesday's test flight moved Virgin Galactic closer to eventually flying paying passengers to the edge of space on short, suborbital trips after multiple delays in the privately-funded program, including a 2014 accident that killed a test pilot, injured another, and destroyed the company's first SpaceShipTwo vehicle.
Carried aloft under a carrier jet named VMS Eve from the Mojave Air and Spaceport in Mojave, California, the VSS Unity SpaceShipTwo vehicle was dropped from its mothership and ignited its hybrid rocket motor around 12:43 p.m. EDT (1643 GMT; 9:43 a.m. EDT).
Burning a mixture of rubber-based solid fuel — called HTPB — and nitrous oxide, VSS Unity fired its rocket motor for 31 seconds as pilots Dave Mackay and Mark "Forger" Stucky steered the craft on a steep climb. The rocket plane reached a maximum speed of Mach 1.9 and a peak altitude of around 114,500 feet (34,900 meters) on Tuesday's flight, according to Virgin Galactic.
Mackay and Stucky guided VSS Unity back to Earth, activating a "feathering" mechanism to raise its twin tail boom, helping orient and slow the craft during descent. The pilots then reconfigured the vehicle for landing, deployed its landing gear, then touched down on a runway at the Mojave Air and Spaceport to complete Tuesday's flight.
The powered test flight Tuesday was the second for VSS Unity after an April 5 test that took the vehicle to a top speed of Mach 1.87 and an altitude of 84,271 feet (about 25,700 meters).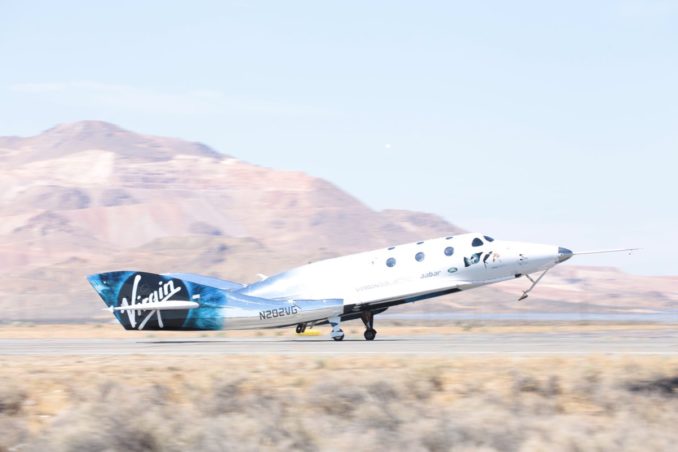 Engineers intended for Tuesday's test flight to improve their understanding of the craft's supersonic handling characteristics and control system performance with VSS Unity flying in a configuration that was closer to the layout to be used on commercial passenger flights, Virgin Galactic said in a statement.
Ground crews added passenger seats and related equipment for VSS Unity's second powered test flight, shifting the vehicle's center of gravity rearward, the company said.
On a typical commercial flight, two pilots will command SpaceShipTwo, with six passengers seated behind them.
In an interview with CNBC after Tuesday's flight, Virgin Galactic founder Richard Branson said around two or three more SpaceShipTwo test flights are planned before the vehicle reaches space for the first time.
"It was great to see our beautiful spaceship back in the air and to share the moment with the talented team who are taking us, step by step, to space" Branson said in a statement. "Seeing Unity soar upwards at supersonic speeds is inspiring and absolutely breathtaking. We are getting ever closer to realizing our goals. Congratulations to the whole team!"
Branson viewed Tuesday's flight at Mojave, and he plans to be among the first to ride SpaceShipTwo when commercial operations commence.
Virgin Galactic is facing stiff competition from Blue Origin, backed by Amazon billionaire Jeff Bezos, to be the first company to launch a commercial space tourism business. Unlike Virgin Galactic's SpaceShipTwo rocket plane, Blue Origin's reusable New Shepard rocket takes off from a launch pad and carries a crew capsule, which descends back to Earth under parachutes.
While Virgin Galactic says hundreds of people have signed up for rides on SpaceShipTwo, Blue Origin has not started selling tickets for its space tourism vehicle, or revealed the price for a seat.
Email the author.
Follow Stephen Clark on Twitter: @StephenClark1.