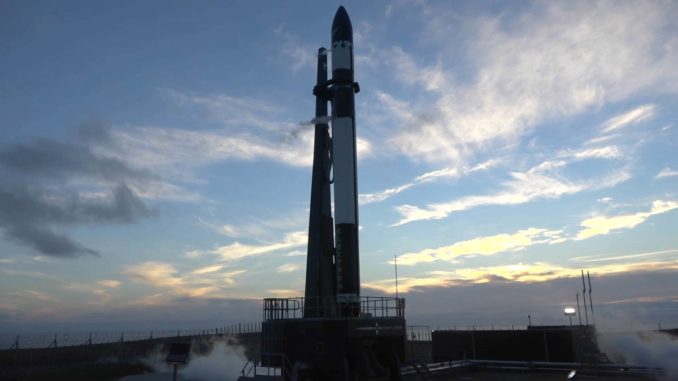 After a two-month delay to resolve a technical concern, Rocket Lab plans to launch its first commercial mission as soon as June 22, U.S. time, from the company's rocket base in New Zealand, the company announced Friday.
Rocket Lab has four-hour launch windows available during a 14-day period extending from June 22 through July 5, U.S. time, with the daily window opening at 8:30 p.m. EDT. That translates to 0030 GMT or 12:30 p.m. New Zealand time the following day.
The company's third privately-developed Electron rocket, and its first fully commercial mission, was scheduled to lift off in April, but engineers discovered "unusual behavior" in a motor controller inside one of the booster's nine first stage engines, Rocket Lab officials said.
"The team used the additional time to review data, identify the cause of the issue and put corrective measures in place," Rocket Lab said in a statement.
The Electron rocket will blast off from Rocket Lab's commercially-operated launch site on Mahia Peninsula on the eastern shore of New Zealand's North Island.
Rocket Lab said it took advantage of the two-month delay to add two more payloads to the mission, which the company has christened "It's Business Time."
One of the new satellite passengers is Irvine01, a educational CubeSat built by California high school students. Irvine01 is part of the Irvine CubeSat STEM Program, comprising members from six high schools in Irvine, California.
The other payload added to the next Electron launch is a drag sail technology demonstrator named NABEO. Developed by High Performance Space Structure Systems in Germany, the NABEO small satellite mission will test a deployable membrane uses aerodynamic drag to slow down and de-orbit, a capability that could reduce space junk in low Earth orbit.
Rocket Lab said Ecliptic Enterprises and Tyvak Nano-Satellite Systems assisted with accommodating the Irvine01 and NABEO payloads on the Electron mission.
Peter Beck, Rocket Lab's founder and CEO, said in a statement that the rapid accommodation of the two additional payloads demonstrates the company's responsiveness to changing launch demand.
"Rocket Lab's responsive space model is crucial to support the exponential growth of the small satellite market," Beck said. "That a customer can come to us seeking a ride to orbit and we can have them booked to launch in weeks is unheard of in the launch business."
"Small satellites are playing an increasingly important role in providing crucial services that benefit millions of people on Earth. Frequent access to orbit is the key to unlocking the potential for these satellites, and Rocket Lab is the only small launch provider currently enabling this access."
Rocket Lab's Electron launcher reached orbit for the first time in January, on its second test flight after a maiden mission fell short of orbit in May 2017 due to a ground tracking error that led safety officials to prematurely terminate the launch.
The Jan. 20 test flight placed four small satellites in orbit, but the mission's primary objective was to demonstrate the Electron's performance. The successful test flight led Rocket Lab officials to declare the launcher ready for commercial service, beginning with its next mission.
The Electron booster can carry up to 330 pounds (150 kilograms) to a polar orbit around 310 miles (500 kilometers) above Earth. The rocket's capacity to a lower-altitude orbit is up to 500 pounds (225 kilograms), according to Rocket Lab.
The rocket company, founded in New Zealand and headquartered in Southern California, says it can launch an Electron rocket for less than $5 million per flight.
The Irvine01 and NABEO payloads will join two CubeSats for Spire Global, and one nanosatellite for GeoOptics that were already booked on the upcoming Electron launch.
The Spire and GeoOptics payloads will measure GPS satellite navigation signals passed through Earth's atmosphere to derive information about weather and climate.
The flight profile for the launch next month will place the satellites into an orbit ranging between 155 miles and 310 miles (250 kilometers and 500 kilometers) at an inclination of 85 degrees, then the Electron's Curie kick stage will circularize the orbit, according to Rocket Lab.
Rocket Lab's fourth launch, set to follow soon after the next mission, will be dedicated to launching CubeSats sponsored by NASA and developed by U.S. research institutions.
Email the author.
Follow Stephen Clark on Twitter: @StephenClark1.
Comments removed due to insulting language.