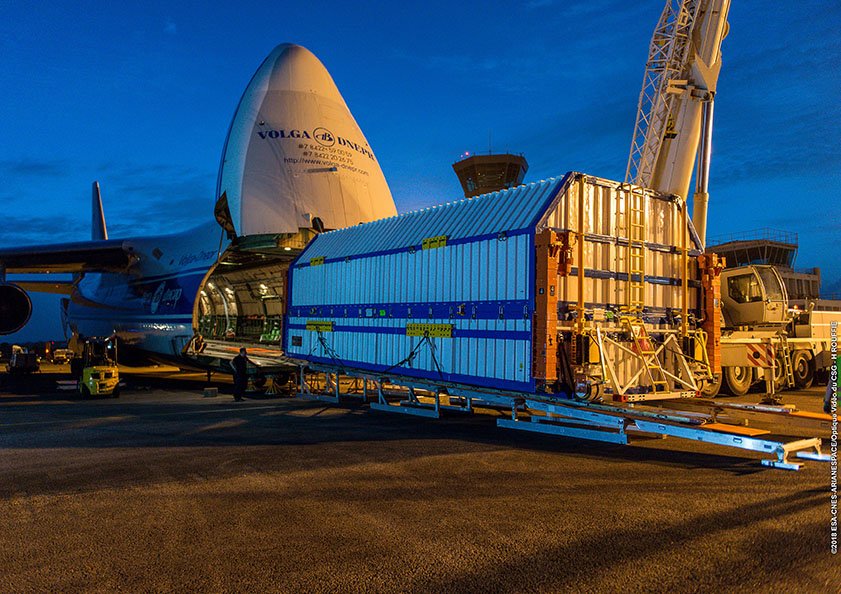 India's most powerful communications satellite will soon be flown back to its manufacturing plant in Bangalore for additional checks, officials said this week, forcing Arianespace to scrap plans for an Ariane 5 launch in late May that was to be co-manifested with a U.S.-built television broadcast satellite for Intelsat and the government of Azerbaijan.
Managers from the Indian Space Research Organization, which built and owns the GSAT 11 spacecraft, ordered the additional testing in the wake of the loss of another communications satellite, named GSAT 6A, a few days after its launch March 29 aboard an Indian Geosynchronous Satellite Launch Vehicle.
Ground controllers have been unable to restore contact with GSAT 6A since losing communications with the spacecraft after a successful launch from India's Sriharikota space base. Indian officials have pointed to a failure in GSAT 6A's power system as a possible cause for the satellite's loss.
GSAT 11 is the biggest satellite ever built by India, and it is expected to weigh nearly 13,000 pounds — about 5,870 kilograms — fully fueled for launch. The high-power spacecraft is designed to provide broadband connectivity across India and neighboring regions, offering major capacity upgrades over India's existing communications satellites.
ISRO and Arianespace did not elaborate on the reasons for the additional technical checks in their statements announcing the delay, but ISRO chairman K. Sivan told the Times of India newspaper: "GSAT 11 has been recalled from French Guiana not because of any glitch. We want to carry out more tests on the satellite to ensure its launch is glitch-free.
"Our team in French Guiana is working on modalities to bring the satellite back to India. After all the tests and checks on GSAT 11 in India, we will decide on its next launch date," Sivan told the Indian newspaper.
Arianespace had assigned the Azerspace 2/Intelsat 38 communications satellite as GSAT 11's co-passenger on the next Ariane 5 launch, which was scheduled for May 25. The upcoming flight, designated VA243 in Arianespace's launch sequence, will now be bumped after the following Ariane 5 mission scheduled for July 25, the company said in a statement.
The July 25 launch, which will keep the designation VA244, will deploy four Galileo navigation satellites into a high-altitude orbit for the European Commission and the European Space Agency.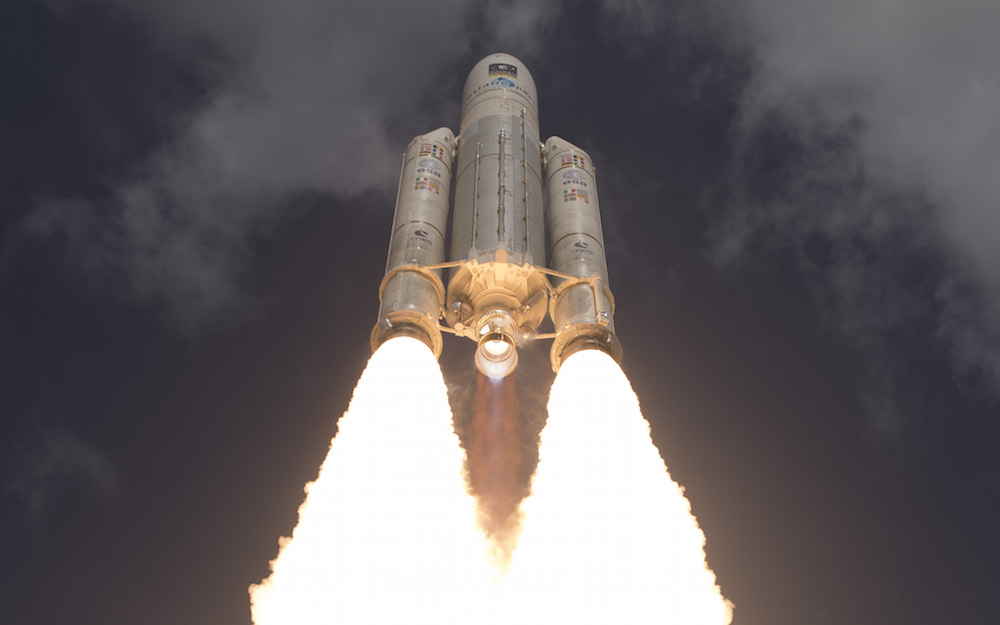 A new launch date this summer and a new co-passenger for the Azerspace 2/Intelsat 38 satellite will be announced "shortly," Arianespace said.
Azerspace 2/Intelsat 38 is a joint project between Azercosmos, Azerbaijan's national satellite operator, and the commercial satellite company Intelsat. The spacecraft was built by SSL in Palo Alto, California, where it will remain until a new launch date is confirmed.
The launch schedule shuffle will likely make the launch of Azerspace 2/Intelsat 38 the 100th flight of an Ariane 5 rocket, a distinction that was originally expected for the Galileo mission in July. The VA243 and VA244 missions will use different versions of the Ariane 5 launcher, with the Galileo flight requiring a different upper stage capable of multiple restarts in space.
A source familiar with launch operations in French Guiana said ISRO has proposed returning GSAT 11 to French Guiana in time for a launch with the Azerspace 2/Intelsat 38 satellite in late June. But launch officials believe satellite teams are unlikely to complete their checks in time for a late June liftoff.
Commercial Ariane 5 launches typically carry two communications satellites into orbit on a single mission. GSAT 11 is sized to ride in the upper compartment of the Ariane 5's payload fairing, while the smaller Azerspace 2/Intelsat 38 spacecraft was assigned to the more compact lower position in the dual-satellite launch configuration.
If the Azerspace 2/Intelsat 38 satellite is assigned a new co-passenger, as Arianespace managers anticipate, the likely payloads to be paired with it are Hellas-Sat 4/SaudiGeoSat 1, a communications craft built for Arabsat by Lockheed Martin, or the Boeing-built Horizons 3e high-bandwidth satellite owned by a joint venture between Intelsat and Japan's Sky Perfect JSAT Corp., industry officials said.
Arianespace already has the Hellas-Sat 4/SaudiGeoSat 1 and Horizons 3e satellites under contract for Ariane 5 launches later this year.
The French launch provider said the GSAT 11 delay will cause no further impacts to the company's launch schedule this year.
Other Arianespace missions planned later this year include the next launch of the company's light-class Vega booster no earlier than Aug. 21 with ESA's Aeolus research satellite to measure winds in Earth's atmosphere, a Sept. 18 launch of a Russian-made Soyuz rocket from French Guiana with the European MetOp C weather satellite, and the Oct. 5 liftoff of an Ariane 5 rocket with the BepiColombo interplanetary probe traveling to Mercury.
Email the author.
Follow Stephen Clark on Twitter: @StephenClark1.