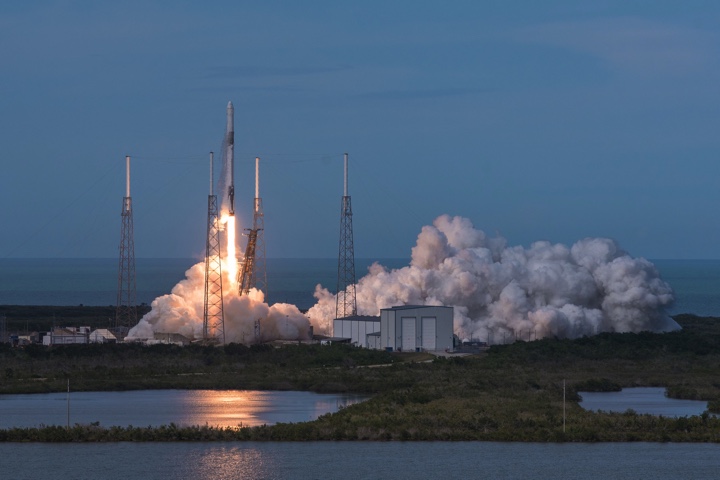 Hauling nearly three tons of supplies, hardware and experiments, a SpaceX Falcon 9 rocket shot into orbit Monday from Cape Canaveral, with a previously-flown Dragon cargo carrier riding a reused first stage booster to kick off a nearly two-day journey to the International Space Station.
The commercial cargo delivery flight departed Cape Canaveral with a roar from the Falcon 9's Merlin 1D main engines, producing 1.7 million pounds of thrust to dispatch the 213-foot-tall (65-meter) rocket toward the northeast over the Atlantic Ocean.
The Falcon 9's on-board guidance computer pivoted the rocket on a trajectory to align with the space station's orbital track, and the slender kerosene-fueled launcher climbed through wispy high-level clouds, broke the sound barrier, and arced away from Florida's Space Coast trailing a flickering tongue of orange exhaust.
Nine minutes later, the Falcon 9's upper stage delivered the Dragon supply ship into orbit, followed by deployment of the SpaceX-owned cargo capsule. The Dragon spacecraft extended its solar arrays to begin generating electricity a few minutes later.
"Dragon is in a good orbit, solar arrays have deployed, and the propulsion system is operating nominally," said Jessica Jensen, director of Dragon mission management at SpaceX.
The robotic supply ship will fine-tune its approach to the space station Tuesday, setting up for a laser-guided rendezvous Wednesday that will culminate in the Dragon's capture by the lab's Canadian-built robotic arm around 7 a.m. EDT (1100 GMT).
The supply haul is the 14th cargo mission to the space station launched by SpaceX under a contract with NASA valued at more than $2 billion, covering 20 logistics deliveries through 2019. SpaceX also has a follow-on contract, along with competitors Orbital ATK and Sierra Nevada Corp., for additional resupply missions through 2024.
Monday's launch was the second time SpaceX has flown a reused rocket booster and a reused cargo capsule on the same mission. In sum, SpaceX has launched previously-flown Falcon 9 rocket stages 11 times, all successfully, including two modified boosters on the maiden flight of the company Falcon Heavy rocket.
And all of SpaceX's upcoming resupply missions to the space station, at least for this year and 2019, will employ reused Dragon capsules plucked from the sea and refurbished for future flights.
"What's really neat about this is it's becoming the norm," Jensen said in a pre-launch press conference. "And we like that.
"Reusability is really important for the future of spaceflight," she said, echoing the ethos of SpaceX founder Elon Musk. "It's the only way we're going to get thousands of people to space, to explore the stars, the moon, Mars and to make life multi-planetary. Otherwise, it's just going to be a cost-prohibitive dream."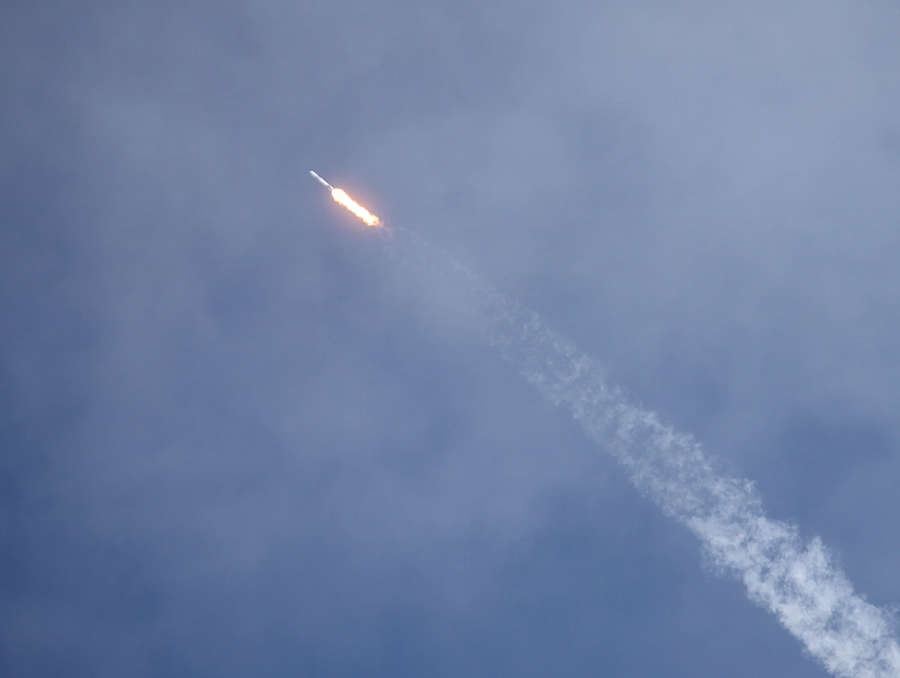 The first stage of the Falcon 9 rocket launched Monday first flew in August 2017 on SpaceX's 12th space station resupply mission, then returned to a landing at Cape Canaveral a few minutes later. The Dragon capsule made a round-trip journey to the space station and back to Earth in April and May of 2016, and the craft was the first to debut improved sealing to prevent sea water from infiltrating critical internal components after splashdown in the Pacific Ocean.
The water sealing upgrade "really paid off," Jensen said. "We were able to … reuse many more components on this vehicle compared to previous Dragons. On this vehicle that's flying … there are only a handful of things that we are not reusing. Obviously, the trunk is all new, and we still have to have a new heat shield, as well as new parachutes, but almost everything on the interior of the capsule we were able to reuse."
SpaceX did not try to land the first stage on Monday's mission, electing to use the rocket for experimental maneuvers downrange from Cape Canaveral over the Atlantic Ocean.
"We are looking forward to reuse in the long term, and it's always good for us if we can get data that is sort of pushing the bounds," Jensen said before the launch. "In this case, we have a booster that has already flown. We were looking at the service lifetime of that and trading should we bring it back to land or the drone ship, or should we do a demonstration mission.
"This one seemed like a really good opportunity to fly a trajectory a little bit out more toward the limits, and that way our engineers can collect additional data not only during re-entry, but for the landing, that will be useful for the future."
The rocket was expected to make a hard splashdown in the Atlantic Ocean, Jensen said.
Monday's blastoff was the second by a Falcon 9 rocket in three days.
A Falcon 9 rocket, also powered by a previously-flown first stage booster, launched Friday from Vandenberg Air Force Base, California, with 10 commercial Iridium communications satellites. The quick turnarounds from coast-to-coast are nothing new for SpaceX, which conducted Falcon 9 flights from Cape Canaveral and Vandenberg as close as two days apart last year.
SpaceX's next rocket launch is scheduled for April 16, when a newly-manufactured booster will hurl NASA's Transiting Exoplanet Survey Satellite into an orbit that eventually will each the beyond the moon. The science probe will try to find planets orbiting bright, relatively nearby stars, worlds that might be ripe for follow-up by bigger observatories like the James Webb Space Telescope.
Engineers at SpaceX's headquarters at Hawthorne, California, will keep busy in the coming days with the Dragon mission.
After its arrival at the space station Wednesday, the Dragon will be maneuvered to a parking port on the Harmony module for a month-long stay. Astronauts will open hatches leading to the cargo freighter, then begin unpacking the approximately 3,794 pounds (1,721 kilograms) of equipment and provisions inside Dragon's pressurized compartment.
Cargo loaded inside Dragon's internal cabin includes food, clothing, care packages, and more than a ton supplies related to scientific investigations.
The experiments carried in Dragon's pressurized module include a robotic testbed satellite that will be released from the space station in the next few months to study the effectiveness of techniques to capture a chunk of space junk and move it out of Earth orbit.
Developed in a public-private partnership between the European Commission and European industry, the RemoveDebris mission will test the utility of nets and harpoons to capture tumbling objects in space, repurposing devices commonly used in fishing to pluck debris out of orbit and bring them into Earth's atmosphere to burn up.
Guglielmo Aglietti, principal investigator for the RemoveDebris mission, calls the project a "proof-of-concept."
Scientists also developed experiments to look at the effects of microgravity on bone marrow and wound healing. Lessons from those studies could help researchers develop ways to counteract negative health effects of long-duration spaceflight or bedrest, and investigate treatments for wounds soldiers suffer in combat.
There is also an experiment in sintering that could help engineers fabricate or repair tools and spacecraft components on future missions.
New high-definition cameras and a custom HP printer for station astronauts also launched inside the Dragon capsule Monday.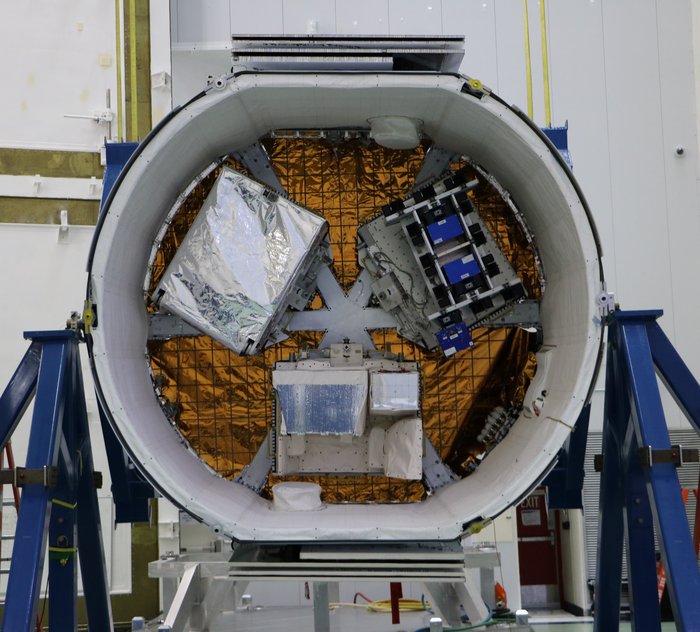 While astronauts transfer cargo delivered inside the Dragon module, mission control will command the station's robotic arm to pull three payload packages out of the spaceship's unpressurized trunk section.
One of the payloads is the Atmosphere-Space Interactions Monitor, or ASIM, an instrument funded by the European Space Agency and led by Danish scientists to study lightning from the space station.
The instrument's optical, X-ray and gamma ray sensors will observe electrical discharges high above thunderstorms — with names like blue jets, red sprites and elves — that extend up to the edge of space.
Scientists know little about how the discharges are triggered, said Torsten Neubert, ASIM science team coordinator at the Technical University of Denmark.
Lightning processes are slowed at high altitude, Neubert said, making it a good laboratory for studying how electrical discharges emanate through the atmosphere.
"They are really lightning, except they are lightning processes in the upper atmosphere," Neubert said of sprites and jets. "So they look a little bit different, but if we understand them, we'll also understand normal lightning much better."
Once mounted outside the European Columbus module, the lightning monitor may help scientists pinpoint the sources of flashes of gamma rays detected coming from Earth's atmosphere by some astronomical instruments in space. Scientists also hope to study lightning's effects on ozone and other gases in the atmosphere during the instrument's two-year observing campaign.
Also inside the trunk: A platform to expose materials like polymers, coatings, fabrics, computer chips, and solar cells to the harsh environment of space, helping engineers design future spacecraft. The Materials ISS Experiment Flight Facility, or MISSE-FF, was developed by Alpha Space, a Houston-based company that wants to offer the platform to companies seeking to test the resilience of materials to extreme temperatures, ionizing radiation, space junk and other hazards of spaceflight.
NASA is also sending up a refurbished coolant pump for staging outside the space station as a spare for the orbiting lab's huge power truss segments.
The Dragon spacecraft is scheduled to remain at the space station until May 2, when the robotic arm will detach the capsule and release it for a re-entry back into Earth's atmosphere. Parachutes will slow the ship's descent into the Pacific Ocean, where SpaceX recovery crews will stand by to retrieve Dragon and its contents.
The Dragon spacecraft will return to Earth with more than 4,000 pounds of equipment and experiment specimens, including a humanoid robot named Robonaut that has been on the space station since 2011. Engineers want to bring Robonaut back home for repairs.
"Robonaut has had some issues with being able to power up on-orbit … and after a lot of troubleshooting on-orbit and a lot of analysis on the ground, they've concluded pretty conclusively that there's a short of some sort on one of the circuitboards, and they need to bring it home in order to repair that," said Pete Hasbrook, NASA's associate space station program scientist.
Developed as a testbed to see whether robots could help astronauts clean and maintain the space station, Robonaut launched aboard the final flight of the space shuttle Discovery in 2011. A SpaceX Dragon cargo capsule delivered legs for Robonaut in 2014.
Robonaut could be re-launched on a future mission after the repairs are finished.
"The plan is to bring this one down, understand why it failed, and then make the decision of where we want to go in the future," said Joel Montalbano, NASA's deputy space station program manager.
Email the author.
Follow Stephen Clark on Twitter: @StephenClark1.