STORY WRITTEN FOR CBS NEWS & USED WITH PERMISSION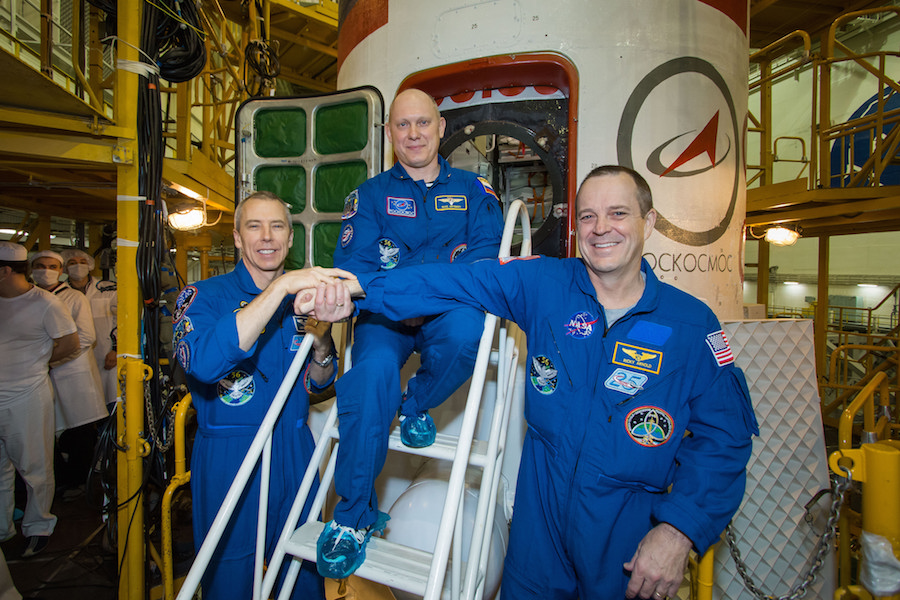 Engineers readied a Russian Soyuz rocket for launch Wednesday to ferry a veteran cosmonaut and two NASA shuttle fliers to the International Space Station for a five-month stay.
Soyuz commander Oleg Artemyev, flight engineer Andrew "Drew" Feustel and Richard "Ricky" Arnold are scheduled for launch aboard the Soyuz MS-08/54S spacecraft from the Baikonur Cosmodrome in Kazakhstan at 1:44 p.m. EDT (GMT-4; 11:44 p.m. local time).
As usual, the launching is timed to roughly coincide with the moment Earth's rotation carries the pad into the plane of the space station's orbit, a requirement for spacecraft attempting to rendezvous with targets moving at nearly five miles per second.
Artemyev, veteran of a 2014 stay aboard the station, is making his first flight as Soyuz commander. Feustel, a self-described "gearhead" with a doctorate in geology and a passion for car restoration, will serve as co-pilot in the Soyuz's left seat.
"It's just amazing," Feustel said of the Russian vehicle. "The spacecraft is well designed, it's got a lot of great redundant features to it … and it has some incredible capabilities. It's beauty is in it simplicity. It's been a thrill to learn how well engineered that vehicle is."
But he added that learning to handle the Soyuz systems while training in a second language was no small challenge. He credited the Russian training team in Star City near Moscow with getting him up to speed.
"If you can take a geologist and put him in the left seat and teach him how to fly a spacecraft, I think that's a great feat!" he said. "It's been challenging, but I'm happy to say I think we've made it out on the other side of training in a very positive way, and we'll be well prepared to launch into space."
If all goes well, Artemyev, strapped into the Soyuz command module's center seat, flanked on the left by Feustel and on the right by Arnold, will monitor an automated approach to the space station, moving in for docking at the lab's upper Poisk module at 3:41 p.m. Friday.
Arnold, like Feustel a shuttle veteran, said he was excited by a chance to fly aboard a Soyuz, although the spacecraft is not known for its creature comforts.
"I'm a pretty tall guy, and the Soyuz was not designed for people over six feet tall," he said of the two-day rendezvous in the cramped ship. "However, it does a great job of getting us to and from orbit, it provides a lifeboat for us in case we need to come home in an emergency. I'm incredibly thankful to have to have the opportunity to fly both of those iconic spacecraft."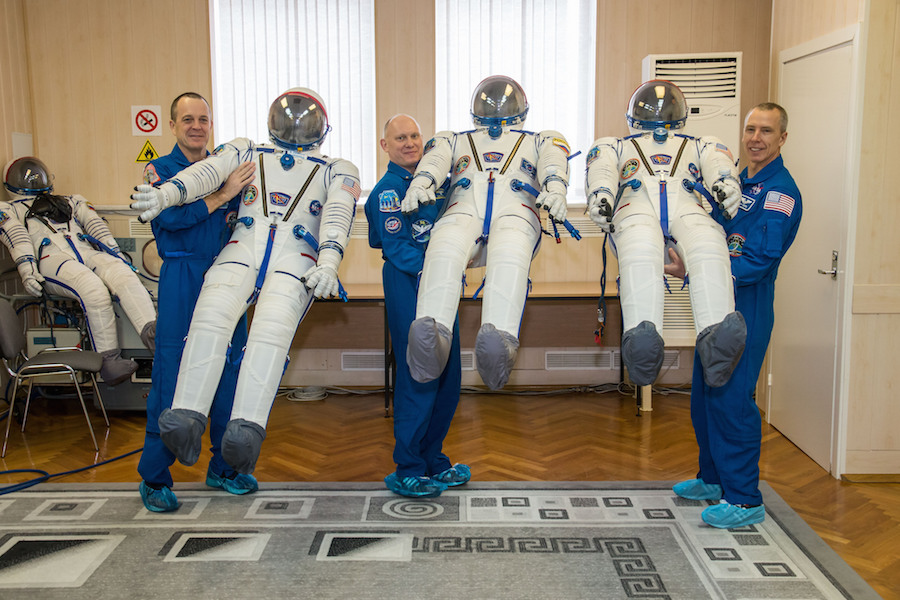 Once docked at the station, Artemyev and his crewmates will be welcomed aboard by Expedition 55 commander Anton Shkaplerov, NASA astronaut Scott Tingle and Japanese crewmate Norishige Kanai. They've had the station to themselves since three other crew members — Alexander Misurkin, Mark Vande Hei and Joe Acaba — returned to Earth on Feb. 27 to close out a 168-day stay in space.
All three members of the Soyuz MS-08 crew are spaceflight veterans with a combined 10 spacewalks between them, experience that will come in handy during up to four planned EVAs, three U.S. and one Russian, during their station expedition.
Artemyev completed a 169-day stay aboard the station in 2014, participating in two spacewalks totaling 12 hours and 34 minutes. Arnold, an educator with a degree in marine science who has taught at schools around the world, flew a single mission aboard the shuttle Discovery in 2009 and logged two spacewalks totaling 12 hours 34 minutes helping install one of the station's main solar array truss segments.
"Oleg Artemyev is one of the best guys you can meet but honestly, I never met a cosmonaut in the last 18 years that I didn't like and get along with," Feustel said in an interview with CBS News. "We have a great relationship with these individuals, they're very professional, they're very technically skilled, and I can't speak more highly of him and having him as a crewmate. I really look forward to spending time with him on orbit."
Arnold agreed, saying "he is a great guy."
"He comes from an EVA background, which is the job I had prior to being assigned to this mission," Arnold added. "He's been here a long time, he's very technically sharp. It's his second mission, his first time in command of the Soyuz. He's very kind, he has a great sense of humor, and I think he does a really good job of bringing people together and making them feel part of the team."
Of the three new station crew members, Feustel has the most spacewalk experience. He participated in two shuttle missions for a combined 28 days 15 hours in space, one in 2009 to service the Hubble Space Telescope and another in 2011 to help finish construction of the space station.
He logged 21 hours and 20 minutes of EVA time during three excursions at the space station and another 20 hours and 58 minutes during three spacewalks to work on the Hubble telescope.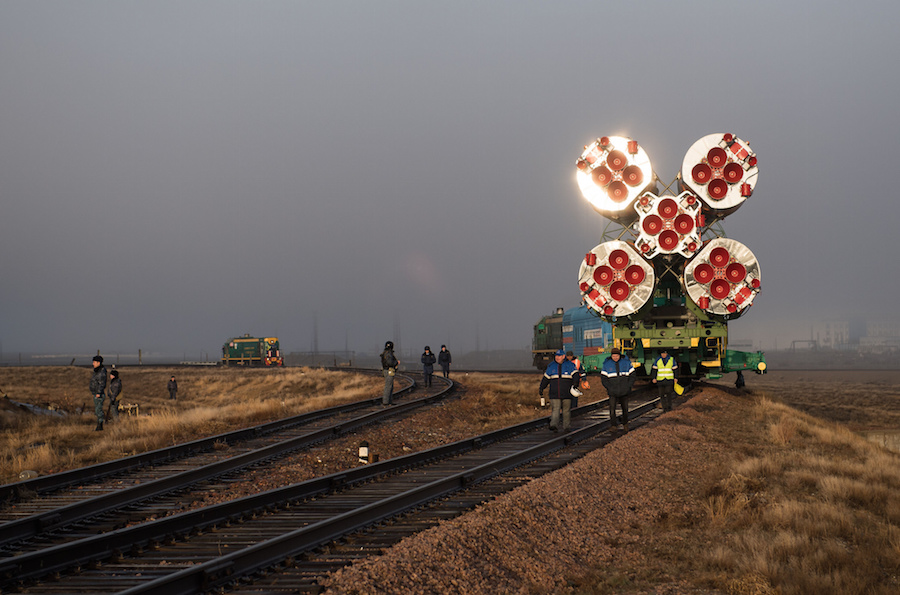 Feustel and Arnold expect to venture outside the space station on March 29 to install wireless communications gear that will be used by an external payload and, eventually, by approaching commercial crew ferry ships being built by Boeing and SpaceX. They also plan to swap out a high-definition camera and remove aging hoses in the station's ammonia coolant system.
Two more NASA spacewalks are expected in the May-June timeframe, followed by a Russian excursion in August. But the primary goal of the mission is science, with a full agenda of experiments and research on tap, along with the usual station maintenance work.
Asked what he was looking forward to the most, Artemyev said through an interpreter "I really hope our work will be a step forward towards further solar system exploration."
"Everything that we're doing on the station is a step forward to future flights to the moon, to Mars and farther," he said. "And, of course, we need to stay friends throughout our joint endeavour. … We cannot allow politics to rule our life on the ISS."
Arnold said he was looking forward to living on the station long term rather than visiting as a "quick house guest" like he did on his previous shuttle mission.
"You don't really get the sense of living and working in space" on a short visit, he said. "You're kind of there to do a specific job and then turn around and go home. The pace will be different, I believe, the continuity and the science, actually seeing day to day how the flight plan lays out and then when we do have some time off to be able to enjoy the view. I think it's just going to have a different feel to it."
A graduate of the U.S. Naval Academy, Arnold taught middle school science in Maryland, earned a master's degree in environmental science and later taught in Casablanca, Morocco, Riyadh, Saudi Arabia, West Papua, Indonesia, and Bucharest, Romania.
Arnold said he also hopes to follow in the footsteps of the Acaba, a fellow teacher, "to really shine a light on the people who are working in our nation's and the world's classrooms, just to kind of say this is what's possible, these are amazing people, we have really talented folks working in the classroom and just to kind of say thanks to them."
For Feustel, it's the science and a chance to maintain the equipment that's most appealing about a long-term stay aboard the station. He worked as an auto mechanic while attending community college in Michigan, restoring 1950s-era Jaguars, before earning a doctorate in geology and eventually working as a geophysicist for Exxon.
"I'm looking forward to the science," he said, "but what I'm really looking forward to is the opportunity to keep the space station living for another six months and have it well prepared to receive the next crew that comes on after us.
"As you know, we're the hands, eyes and ears of the researchers, and our job is just to keep things operating and executing the science. Most of us don't make up science experiments to take to space, but we're really there to make sure everything gets done to ensure the success of the mission.
"I'm a bit of a gearhead, so putting my hands on the hardware to make sure we can keep it operating will be a fun challenge."
Shkaplerov, Tingle and Kanai are scheduled to return to Earth on June 3 to close out a 167-day voyage while Artemyev, Feustel and Arnold expect to remain in space for 159 days, returning to a landing on the steppe of Kazakhstan on Aug. 28.