EDITOR'S NOTE: Updated at 5 p.m. EST (2200 GMT) with orbit details.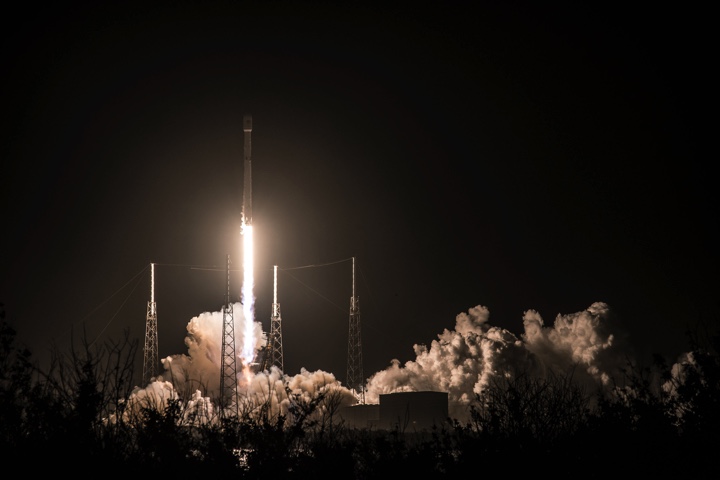 A Spanish-owned, U.S.-built commercial communications satellite climbed into orbit early Tuesday from Cape Canaveral on the 50th flight of a SpaceX Falcon 9 rocket, launching on a 15-year mission to relay video, data and broadband signals across the Americas, Europe and North Africa.
Heading for a post in geostationary orbit more than 22,000 miles (nearly 36,000 kilometers) over the equator, the Hispasat 30W-6 satellite took off at 12:33 a.m. EST (0533 GMT) Tuesday from Cape Canaveral's Complex 40 launch pad.
A 229-foot-tall (70-meter) Falcon 9 rocket, firing nine Merlin 1D main engines with 1.7 million pounds of ground-shaking thrust, cleared the seaside launch complex and arced to the east from Cape Canaveral, aligning on a heading to place its powerhouse payload into orbit.
The Falcon 9's first stage switched off its main engines around two-and-a-half minutes after liftoff, and the booster detached for a controlled descent into the Atlantic Ocean. SpaceX's rocket recovery ship was not in position in the downrange recovery zone because of rough seas, preventing the booster from making an intact landing for the company to reuse on a future flight.
A single Merlin engine on the Falcon 9's upper stage ignited to head into orbit, and the rocket shed its nose cone around three-and-a-half minutes into the mission, once the fairing structure was no longer needed to protect the Hispasat 30W-6 satellite.
The upper stage engine accomplished a six-minute firing to reach a preliminary parking orbit, then the rocket coasted across the Atlantic before reigniting the engine over Africa for a planned 55-second burn to raise the orbit's apogee, or high point, closer to the altitude of the Hispasat 30W-6 spacecraft's final operating location nearly 22,300 miles (35,800 kilometers) above Earth.
An engineer on SpaceX's launch team confirmed an on-target orbital insertion on the company's commentary loop, and a live video feed from the rocket showed the Hispasat 30W-6 spacecraft deploying from the Falcon 9 upper stage after the vehicles flew into an orbital sunrise.
An official from Madrid-based Hispasat, the satellite's owner, said ground controllers received initial telemetry signals from the spacecraft shortly after its release from the Falcon 9 rocket.
Built by Space Systems/Loral in Palo Alto, California, Hispasat 30W-6 is one of the heaviest geostationary communications satellites to launch on a Falcon 9 rocket.
With a launch weight of more than 13,400 pounds — approximately 6.1 metric tons — Hispasat 30W-6 carries a tri-band communications payload with broad reach from the Americas and the Caribbean, to North Africa, to Europe and the Mediterranean, with an emphasis on Spain and Portugal.
The heavy weight of the satellite, combined with SpaceX's original plan to recover the Falcon 9's first stage booster, meant the Hispasat payload was injected into a lower orbit than is typical for a geostationary launch. The first stage flew with grid fins and landings legs, which engineers had installed when SpaceX intended to land the booster at sea.
U.S. military tracking data indicated the Hispasat 30W-6 satellite was placed in an orbit ranging in altitude between 115 miles (185 kilometers) and 13,285 miles (22,250 kilometers) above Earth, inclined approximately 27 degrees to the equator.
Those orbital parameters were close to pre-flight predictions.
Telecom spacecraft destined for geostationary orbit are usually deployed into elliptical transfer orbits with apogees, or high points, at or above the satellites' final operating altitude of more than 22,000 miles. But the Falcon 9's first stage keeps a fuel reserve for landing maneuvers, reducing the energy and speed it can give the rocket's payload on ascent.
Heavy geostationary satellites launched on past Falcon 9 flights have flown on expendable versions of the SpaceX rocket, which devote all their propellant to their payloads.
The Hispasat 30W-6 satellite launched Tuesday will use its own fuel to raise the high and low points of its orbit, and shift its track to hug the equator.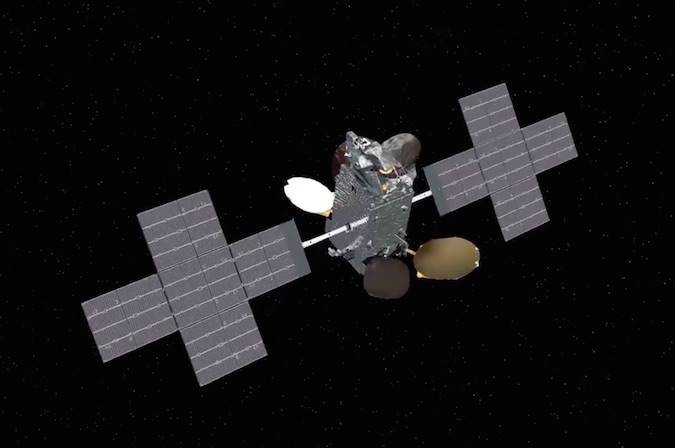 "This new satellite will allow us to meet the growing connectivity demand detected in the market," said Carlos Espinós, CEO of Hispasat. "In the hyperconnected world in which we live, access to quality broadband is an essential need for economic, social and even personal development, and this satellite fulfils this need in places other technologies cannot reach. Hispasat 30W-6 allows us to broaden capacity and services, while completing the current phase of the company's growth plan."
Forty Ku-band transponders on Hispasat 30W-6 will focus on two coverage areas in Europe and North Africa, and in the Americas, stretching from Canada to Patagonia. Ten C-band transponders will support communications services in the southern United States, the Caribbean and South America.
Hispasat 30W-6 also adds Ka-band capacity to the company's portfolio, carrying seven high-throughput beams covering Spain, Portugal, other regions in Europe, plus North Africa. The Ka-band payload will distribute Internet connectivity to rural areas in Spain and Morocco through a partnership between Hispasat and Eurona Wireless Telecom, a Spanish communications company.
With the combination of Hispasat 30W-6 and another Hispasat spacecraft launched last year, more than 30,000 homes in Spain and parts of Morocco will have access to high-speed Internet services via satellite, officials said.
Hispasat 30W-6, formerly known as Hispasat 1F, will also enable connectivity on ships and trains in the Caribbean and Mediterranean regions.
The spacecraft also hosts a Spanish-designed experiment using photonics technology in an on-board Ka-band receiver, demonstrating an advancement that could reduce the mass and volume of future communications satellites.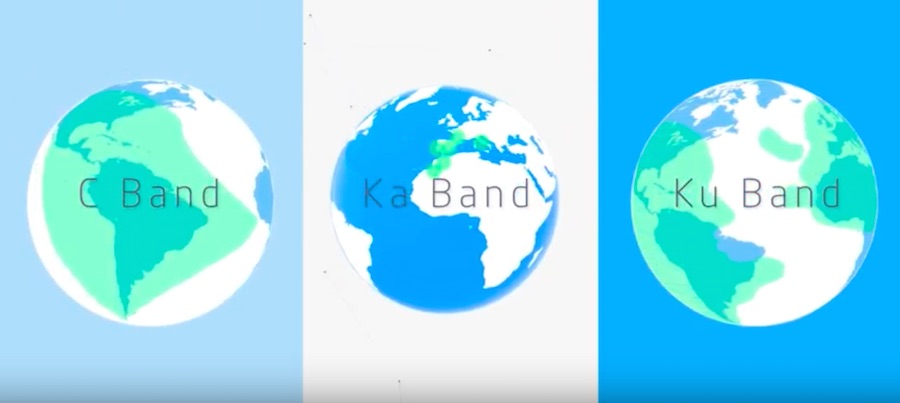 Hispasat 30W-6 began extending its power-generating solar panels soon after its launch Tuesday, officials said, and the craft's main thruster will fire several times in the coming weeks to maneuver into a circular geostationary orbit, where its velocity will keep pace with Earth's rotation.
The new satellite will hover over the equator at 30 degrees west longitude, where it will replace the aging Hispasat 30W-4 spacecraft, which launched in September 2002 from Cape Canaveral aboard an Atlas 2AS rocket.
The launch of Hispasat 30W-6 was scheduled for Feb. 25, but SpaceX delayed the mission to conduct extra testing on a pressurization system on Falcon 9 rocket's payload fairing. A range conflict with a previously-scheduled launch of an Atlas 5 rocket from Cape Canaveral last week kept the Falcon 9 flight grounded until Tuesday, SpaceX said.
Tuesday's launch marked the 50th flight of a Falcon 9 rocket, and the fourth Falcon 9 flight of 2018. SpaceX has also logged one launch of the powerful triple-body Falcon Heavy rocket this year, bringing the company's tally for 2018 to five missions.
SpaceX's launch schedule has 30 missions on the calendar for this year, an increase from 18 in 2017.
Up to six Falcon 9 missions from three launch pads are planned over the next two months, beginning with a flight March 29 from Vandenberg Air Force Base in California with a batch of 10 Iridium voice and data relay satellites.
SpaceX's next resupply flight to the International Space Station is set for takeoff no earlier than April 2 from pad 40 at Cape Canaveral, followed no sooner than April 5 by a Falcon 9 launch from nearby pad 39A at NASA's Kennedy Space Center with Bangladesh's first communications satellite.
A NASA astronomy satellite designed to search for planets circling other stars is being prepped for blastoff April 16 on a Falcon 9 rocket from pad 40 at Cape Canaveral, and five more satellites for Iridium's upgraded mobile communications network could launch as soon as April 28 from Vandenberg in tandem with two U.S.-German probes to map Earth's gravity field.
A high-power all-electric telecom satellite owned by SES could be ready for launch from Cape Canaveral in late April or early May.
Email the author.
Follow Stephen Clark on Twitter: @StephenClark1.