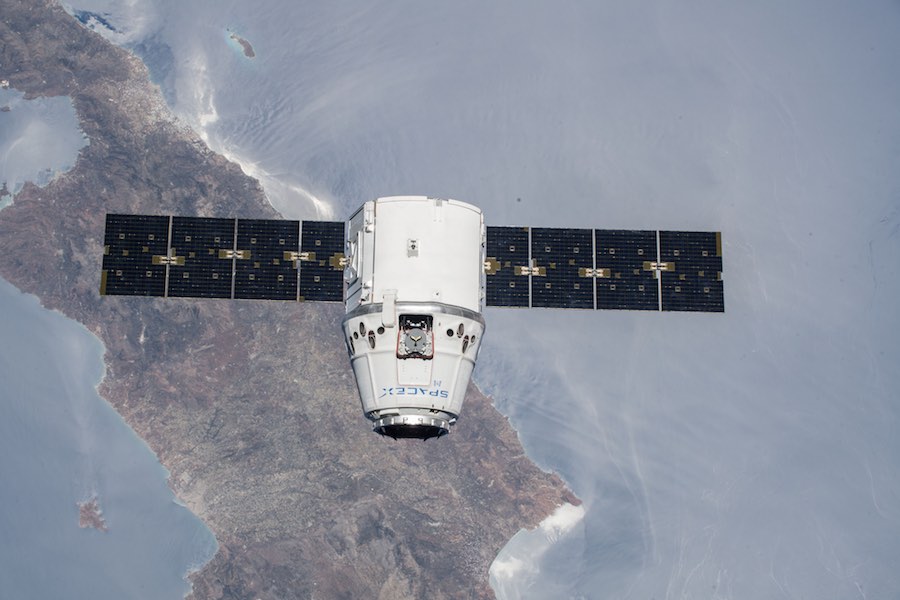 NASA has announced a one-day delay in SpaceX's next cargo launch until Wednesday to allow time for ground teams to replace moldy food bars meant for 40 mice heading for the International Space Station as part of a biological research experiment, denying the launch company a chance at two Falcon 9 missions on back-to-back days.
The commercial cargo flight, previously set for Tuesday, is now scheduled for 1:16 p.m. EST (1816 GMT) Wednesday from Cape Canaveral's Complex 40 launch pad aboard a Falcon 9 rocket. The Falcon 9 will loft SpaceX's Dragon cargo capsule into orbit in pursuit of the space station, where astronauts will snare the supply ship with the station's robotic arm.
The flight will be SpaceX's second launch of the week, following Monday's liftoff of a Falcon 9 rocket carrying 64 commercial smallsats into orbit from Vandenberg Air Force Base, California. If the cargo launch from Cape Canaveral had occurred Tuesday, it would have marked SpaceX's second Falcon 9 flight in barely 24 hours.
As it stands, a launch from Cape Canaveral on Wednesday will still set a record for SpaceX's quickest turnaround between two Falcon 9 missions, with less than 48 hours separating the two flights from the West Coast and East Coast. The shortest span between Falcon 9 launches to date occurred in June 2017, when two rockets blasted off from Florida and California a little more than 49 hours apart.
NASA officials said in a press conference Monday afternoon that the SpaceX supply mission could be pushed back a day after ground crews discovered moldy food bars intended to feed mice set to ride to the station in the Dragon's pressurized cabin. The space agency confirmed the one-day slip in a brief statement Monday night.
"The launch was moved to Wednesday after mold was found on food bars for a rodent investigation prior to handover to SpaceX," NASA said in Tuesday night's update. "Teams will use the extra day to replace the food bars."
NASA determined the rodent research experiment is critical enough for the space station's experiment program to keep the Dragon cargo flight on the ground until the food bars can be replaced. Fresh food bars were to be delivered to Cape Canaveral from NASA's Ames Research Center in California late Monday for loading into the Dragon capsule, but officials were racing a clock to seal the spacecraft's hatch and raise the Falcon 9 rocket vertical for final countdown preparations in advance of a Tuesday afternoon liftoff.
"Today, when we were in the process of preparing the rodents to be loaded on-board the vehicle, we were looking at some of the food bars that are necessary for the rodents," said Joel Montalbano, NASA's deputy space station program manager. "They were contaminated with some mold on there. So we have to go ahead and remove those.
"We're working hard with the SpaceX team, but it's going to be tight," Montalbano said Monday, hours before NASA confirmed the one-day launch delay.
The 40 mice, carried inside special habitats, were to be packed inside the Dragon spacecraft at the launch pad Monday while the Falcon 9 rocket sat horizontal. The "late load" capability on the eve of launch allows scientists to add time-critical specimens to the Dragon spacecraft cargo complement.
"We're assuming all the food is suspect, not only the food that was loaded today, but the food we already had loaded, so we're going to replace all of that food," Montalbano said. "Rodents is one of our primary mission objectives, so it's important enough for us that if we're not ready to go with the rodents, we'll go ahead and delay a day."
Researchers are sending the mice to the space station to study the effects of microgravity on the animals' immune systems, muscles and bones, information that scientists compare to the condition of a control group of mice kept on Earth. The mice set to fly to space are also divided into young and old groups for comparative studies to chart how spaceflight affects aging processes in the body.
"Responses to spaceflight in humans and model organisms such as mice resemble certain aspects of accelerated aging," scientists wrote in a summary of the experiment on NASA's website. "This investigation provides a better understanding of aging-related immune, bone, and muscle disease processes, which may lead to new therapies for use in space and on Earth."
The Dragon capsule is set to carry 5,673 pounds (2,573 kilograms) of research experiments, crew provisions and space parts to the station.
In addition to the biological experiments stowed inside the Dragon's internal compartment, the spaceship's rear cargo bay contains a pair of NASA payloads to be mounted outside the space station. One will demonstrate new tools and techniques that could lead to a future capability to refuel satellites with cryogenic propellants in space, and another will scan the planet with a laser to measure the height, density and structure of forest canopies, data that could tell scientists more about the role of forests in the carbon cycle.
The Dragon spacecraft is set to remain at the space station until mid-January, when it will depart and head for a re-entry over the Pacific Ocean, culminating in a parachute-assisted splashdown off the coast of California, where SpaceX teams will recover the capsule.
Wednesday's resupply launch will be the 16th conducted by SpaceX in a $3.04 billion, 20-flight contract with NASA. SpaceX also holds a follow-on cargo transportation contract covering at least six additional flights to the station through 2024, and a separate NASA contract for development and operations of the new Crew Dragon spaceship to ferry astronauts to and from the space station.
NASA also has cargo delivery contracts with Northrop Grumman and Sierra Nevada Corp., and a commercial crew contract with Boeing.
SpaceX aims to land the Falcon 9 rocket's first stage at Cape Canaveral a few minutes after Wednesday's launch, the first rocket return to Florida's Space Coast since a pair of boosters touched down during the Falcon Heavy rocket's inaugural flight in February. All the Falcon 9 flights from Florida's Space Coast since then have either featured landings on SpaceX's drone ship in the Atlantic Ocean, or they disposed of the first stage.
The booster set for launch Wednesday is an all-new vehicle, and the Dragon capsule is a veteran of a previous space station resupply mission that launched in February 2017.
Email the author.
Follow Stephen Clark on Twitter: @StephenClark1.