EDITOR'S NOTE: Updated at 9 a.m. EST (1400 GMT) on Feb. 3 after confirmation of successful flight.
Video credit: JAXA
A modified sounding rocket originally designed to loft science instruments on high-altitude suborbital arcs blasted off Saturday from the Uchinoura Space Center in southern Japan and soared into orbit to become the world's smallest satellite launcher.
The SS-520-5 rocket lifted off at 0503 GMT (12:03 a.m. EST; 2:03 p.m. Japan Standard Time), the opening of a 10-minute window. It released a small satellite into orbit seven-and-a-half minutes later, according to the Japan Aerospace Exploration Agency, which declared the launch a success.
A live webcast of the launch provided by JAXA experienced technical difficulties, but it briefly showed the SS-520-5 launcher soaring into a clear afternoon sky.
Standing just 31 feet (9.5 meters) tall and spanning around 20 inches (52 centimeters) in diameter, the SS-520-5 rocket was modest by launcher standards. With Saturday's successful flight, the solid-fueled booster became the smallest rocket to ever put an object in orbit around Earth.
A student-built shoebox-sized CubeSat named TRICOM 1R — weighing in at about 10 pounds (3 kilograms) — was mounted on top of the SS-520-5 rocket for liftoff from the Uchinoura Space Center in Japan's Kagoshima prefecture.
The SS-520-5 rocket headed east from Uchinoura over the Pacific Ocean with the TRICOM 1R payload.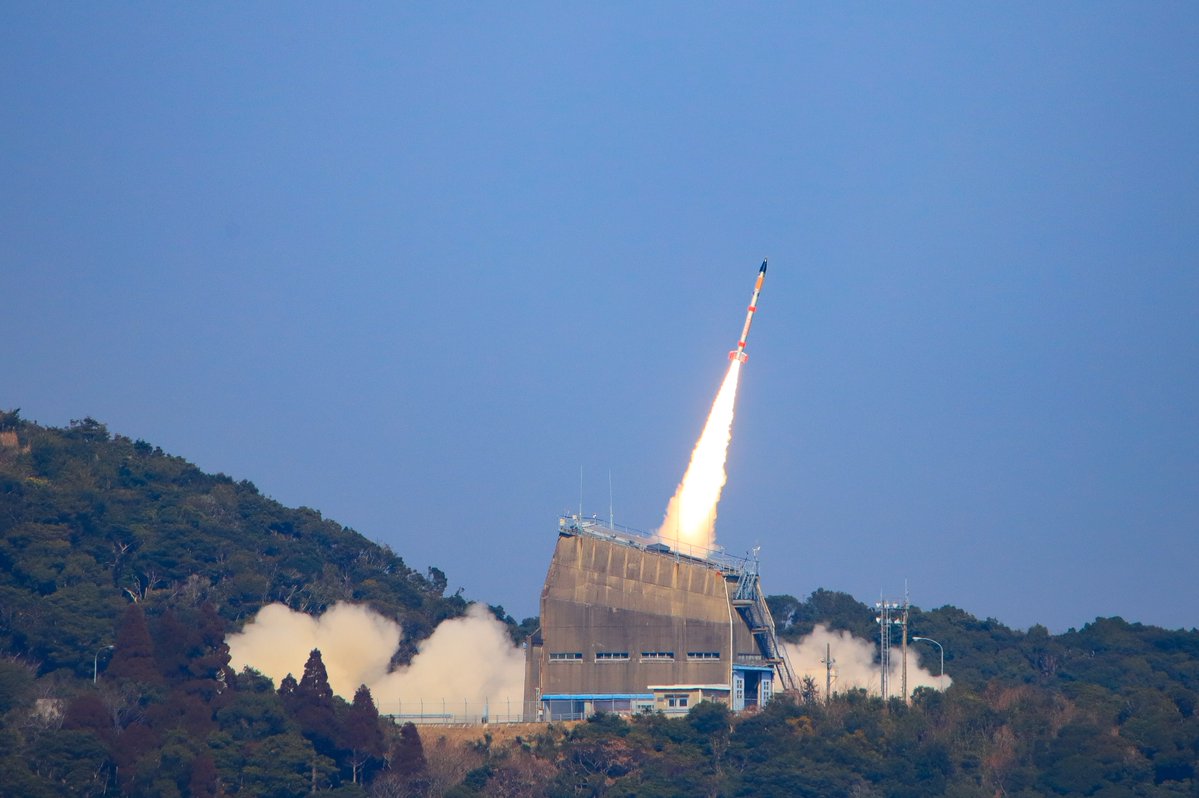 Billed as an experimental test flight, Saturday's launch came a year after Japan first tried to turn the SS-520 sounding rocket into a launcher capable of placing a small satellite into orbit.
The so-called SS-520-4 rocket failed to reach orbit Jan. 14, 2017, when ground teams lost contact with the vehicle around 20 seconds after liftoff, when the booster's first stage was still firing. Investigators traced the problem to a power supply failure in the rocket's telemetry and command system, which was likely caused by a damaged wire that caused a short circuit.
Japanese officials decided to attempt the test flight again in the wake of last year's mishap. Saturday's launch profile was expected to closely match the flight plan attempted last year, heading to the same target orbit with a copy of the TRICOM 1 CubeSat lost on the SS-520-4 launch.
The SS-520-5 booster is based on Japan's SS-520 sounding rocket, a two-stage vehicle developed by IHI Aerospace and JAXA's Institute of Space and Astronautical Science, which has flown twice on suborbital research missions from Uchinoura and Svalbard, Norway, in 1998 and 2000.
The SS-520 is designed to propel more than 300 pounds (140 kilograms) of science research instrumentation to an altitude of nearly 500 miles (800 kilometers) for a few minutes of exposure to space before falling back to Earth.
Engineers added a third stage on top of the basic SS-520 booster to give it the capability to reach orbital speeds of more than 17,000 mph (27,000 kilometers per hour).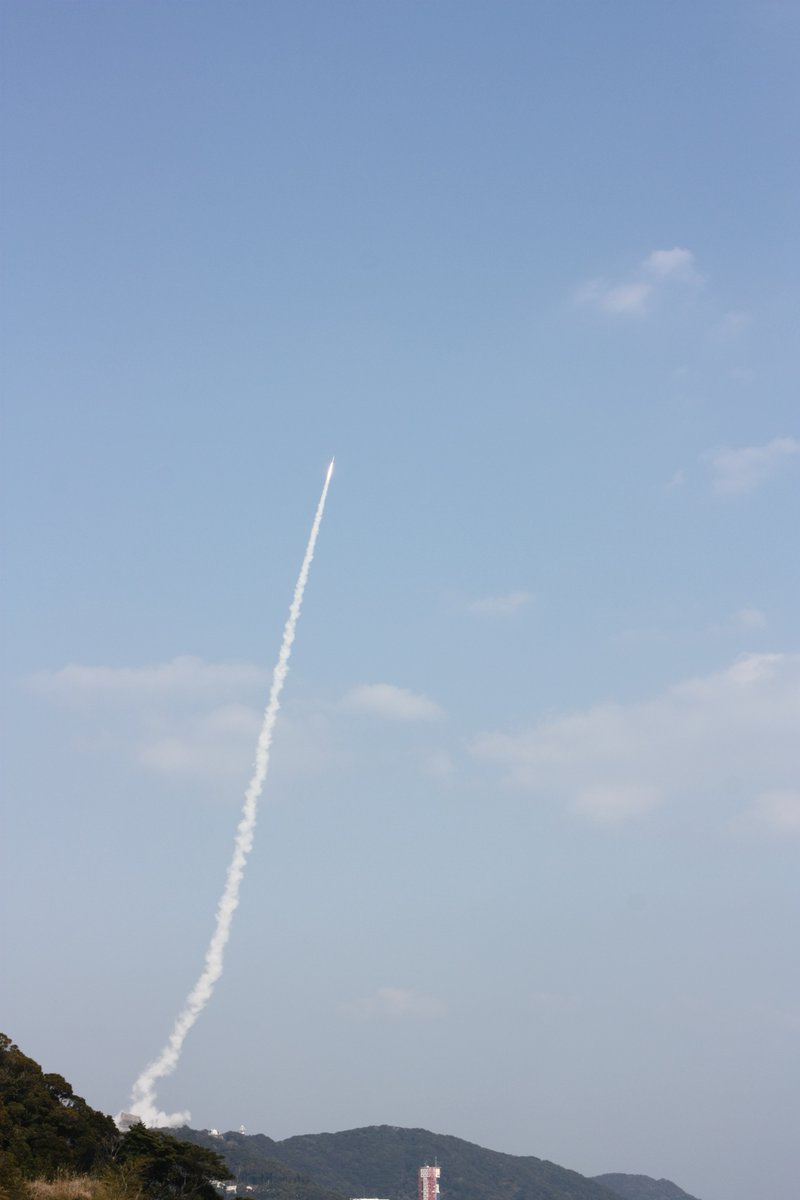 According to JAXA documents, the SS-520-5 weighed nearly 2.9 tons (2.6 metric tons) at launch, with nearly 2.2 tons (2 metric tons) of that weight made up of pre-packed solid propellants. The SS-520-5's first stage, fitted with spin-stabilizing fins, was loaded with nearly 3,500 pounds (1,587 kilograms) of HTPB solid fuel.
A gaseous nitrogen thruster package was designed to keep the SS-520-5 rocket pointed correctly during a one-and-a-half minute coast phase between the launcher's first and second stage burns.
The second and third stages consumed 716 pounds (325 kilograms) and 172 pounds (78 kilograms) of propellant, respectively.
The rocket targeted an orbit ranging between 111 miles (180 kilometers) and 932 miles (1,500 kilometers) in altitude, with an inclination of 31 degrees.
U.S. military tracking data published online indicated two objects from the the SS-520-5 launch — presumably the rocket's third stage and the TRICOM 1R spacecraft — reached an orbit between 118 miles (191 kilometers) and approximately 1,249 miles (2,010 kilometers), tilted at a 30.9-degree angle to the equator.
Here's an overview of the SS-520-5 rocket's flight sequence:
T+plus 31.7 seconds — First stage burnout at an altitude of 85,000 feet (26 kilometers)
T+plus 1 minute, 7.0 seconds — Nose cone separation at an altitude of 265,000 feet (81 kilometers)
T+plus 1 minute, 8.0 seconds — First stage separation
T+plus 1 minute, 10.5 seconds — Nitrogen attitude control system activation
T+plus 1 minute, 57.6 seconds — Nitrogen attitude control ends
T+plus 2 minutes, 27.0 seconds — Attitude control package jettisoned
T+plus 2 minutes, 37.0 seconds — Flight assessment before second stage ignition
T+plus 2 minutes, 44.0 seconds — Second stage ignition command sent
T+plus 3 minutes — Second stage ignition at an altitude of 111 miles (179 kilometers)
T+plus 3 minutes, 24.4 seconds — Second stage burnout at a speed of 8,050 mph (3.6 kilometers per second)
T+plus 3 minutes, 55.0 seconds — Second stage separation
T+plus 3 minutes, 58.0 seconds — Third stage ignition
T+plus 4 minutes, 23.6 seconds — Third stage burnout
T+plus 7 minutes, 30.0 seconds — TRICOM 1R separation
Developed by the University of Tokyo, the TRICOM 1R CubeSat carries a store and forward communications radio and an Earth-imaging camera.
The project to test the SS-520 sounding rocket's suitability as a satellite launcher was led by the Japanese Ministry of Economy, Trade and Industry. While there are no existing plans to commercialize the uprated SS-520 as a satellite launcher, Japanese government officials said the project aims to validate low-cost technology and launch operations procedures for a future "nano-launcher" to deploy tiny satellites in orbit on dedicated rides.
Several companies have similar small satellite launchers in development, and one has successfully placed payloads into orbit.
Rocket Lab's Electron rocket, capable of placing up to 330 pounds (150 kilograms) into a circular sun-synchronous polar orbit, successfully flew for the first time in January. The orbital demonstration flight came eight months after the first Electron rocket fell short of orbit due to a ground tracking system error.
Email the author.
Follow Stephen Clark on Twitter: @StephenClark1.