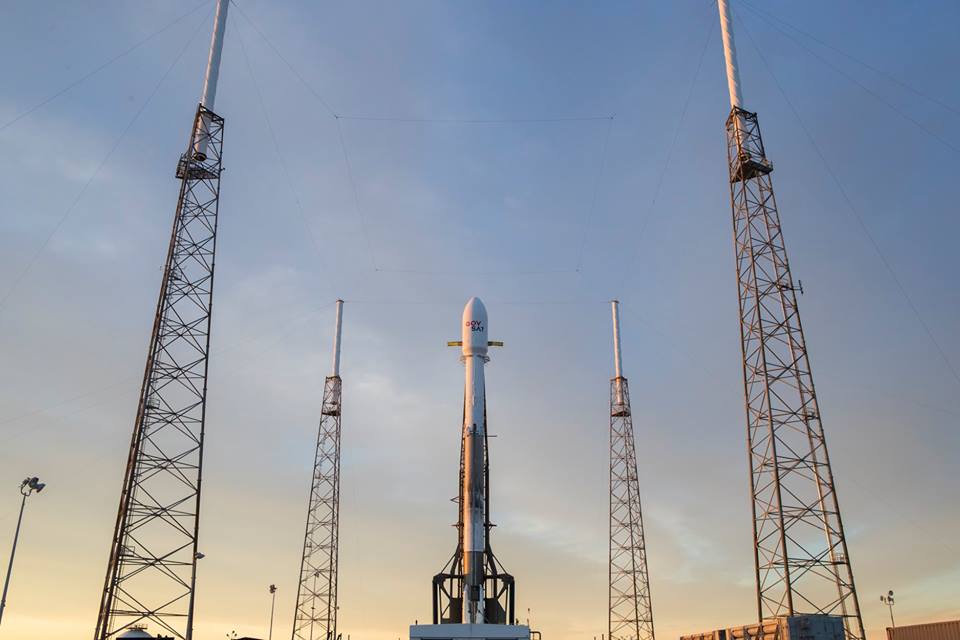 SpaceX's launch director halted a countdown Tuesday to replace a sensor on the upper stage of a Falcon 9 rocket set to blast off with the GovSat 1 communications craft, the product of a joint venture between the commercial satellite operator SES and the government of Luxembourg.
The launch company plans another launch attempt Wednesday during a window opening at 4:25 p.m. EST (2125 GMT) and extending until 6:46 p.m. EST (2346 GMT).
The Falcon 9 rocket was expected to be rotated horizontal at Cape Canaveral's Complex 40 launch pad overnight, giving ground teams access to swap out a transducer on the rocket.
Officials were also monitoring stiff ground winds at the Florida spaceport during Tuesday's countdown, which threatened to push back the liftoff until late in the day's available launch window until the SpaceX launch director declared a scrub.
The launch with GovSat 1, a 4.7-ton (4.2-metric ton) telecom satellite manufactured by Orbital ATK, will be SpaceX's second Falcon 9 flight of the year. The California-headquartered launch provider, founded and led by Elon Musk, plans up to 30 missions in 2018 from launch pads in Florida and California.
GovSat 1 will provide military-grade secure relay links for the government of Luxembourg and allied nations during a 15-year mission.
Weather conditions during Wednesday's launch window are forecast to be more favorable than those on Tuesday, with a 90 percent probability of acceptable weather predicted in an outlook issued Tuesday morning.
The gusty northerly winds at Cape Canaveral on Tuesday afternoon will diminish by Wednesday.
"Winds continue dropping off overnight, allowing maximum cooling and a cold Wednesday morning with lows in the 40s (Fahrenheit)," forecasters from the U.S. Air Force's 45th Weather Squadron wrote. "Temperatures rebound quickly as winds turn easterly, bringing in some scattered low-level cloudiness. Mid-level moisture also increases slightly, creating a very small threat of thick cloud layers. Maximum upper-level winds will be from the west at 100 knots near 40,000 feet."
Once the 229-foot-tall (70-meter) Falcon 9 booster blasts off, its nine Merlin engines will steer it to the east from Florida's Space Coast, heading on a course over the Atlantic Ocean before releasing GovSat 1 into a highly elliptical, egg-shaped orbit over Africa.
SpaceX says it does not plan to recover the first stage flying on the GovSat 1 mission, but it is fitted with aerodynamic grid fins and landing legs.
The first stage set for launch with GovSat 1 is making its second flight after sending a classified National Reconnaissance Office spy payload toward orbit during a mission on May 1, 2017.
GovSat 1 will mark the sixth mission in which SpaceX has used a recycled first stage booster, and the third time an SES satellite has flown on a reused Falcon 9 rocket.
The Falcon 9's upper stage will use up nearly all its propellant during two firings to inject the GovSat 1 spacecraft into a "supersynchronous" transfer orbit. Programmers have configured the rocket's guidance computer to fly in "minimum residual shutdown" mode, burning the upper stage's single Merlin engine to send GovSat 1 into the highest orbit possible.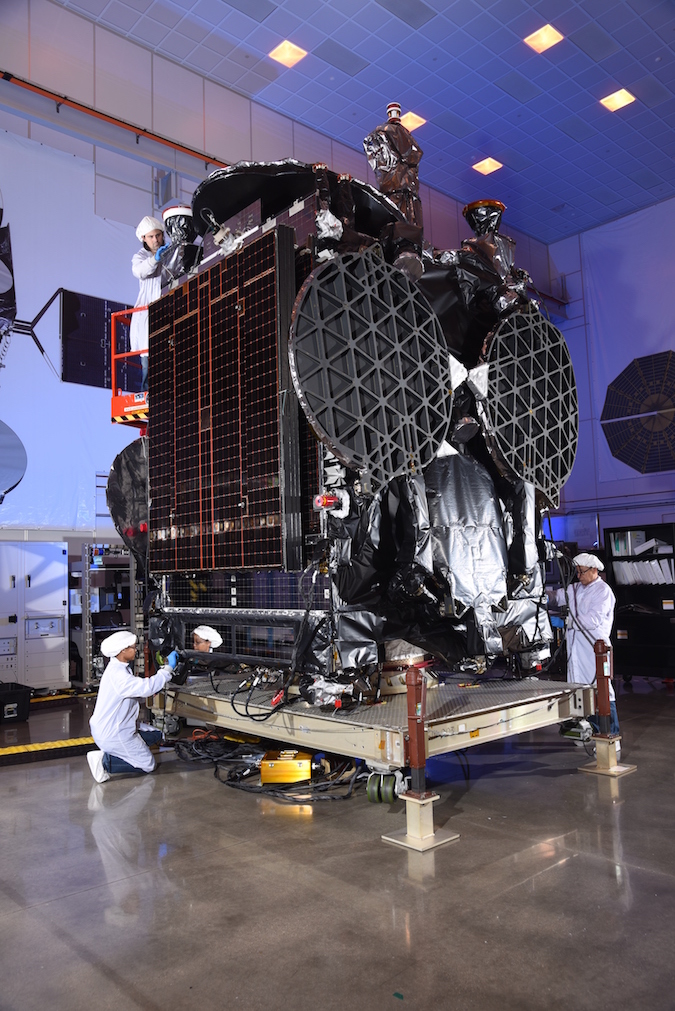 The Falcon 9 is predicted to deploy GovSat 1 in an orbit stretching between 158 miles (255 kilometers) and around 36,040 miles (58,000 kilometers) in altitude. The upper stage will aim to place GovSat 1 in an orbit inclined 25.1 degrees to the equator, officials said.
The high-altitude deployment into an elliptical transfer orbit is aimed at minimizing the fuel GovSat 1 needs to consume to maneuver into its final orbital perch.
GovSat 1 should reach its planned circular geostationary orbit nearly 22,300 miles (nearly 35,800 kilometers) over the equator at 21.5 degrees east longitude by mid-February, according to Patrick Biewer, CEO of GovSat, the 50-50 joint venture created by SES and the government of Luxembourg.
After one or two weeks of final testing, GovSat 1 should enter service at the beginning of March, Biewer said.
GovSat 1 will offer Luxembourg and its allies in NATO and in Europe a new station to relay data, signals, and other secure communications traffic.
"The launch of the GovSat 1 satellite is certainly the most exciting moment in our young company's history, the company being founded back in 2015," Biewer told reporters during a pre-launch briefing Tuesday. "We intend to pioneer a new approach to what's known as secure communications services, and we want to provide this to governments and institutions for defense and civilian use."
Email the author.
Follow Stephen Clark on Twitter: @StephenClark1.