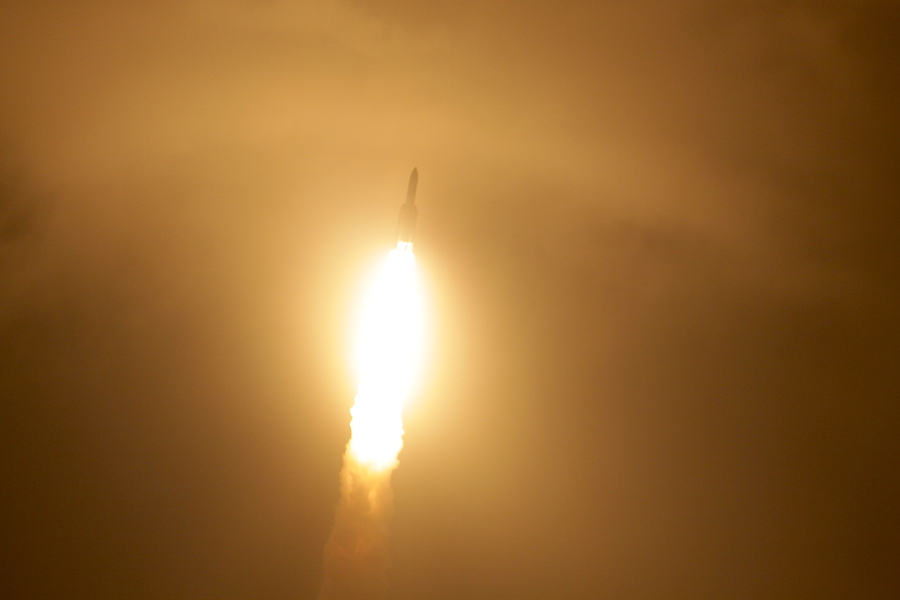 KOUROU, French Guiana — Arianespace will convene an independent inquiry board chaired by a top European Space Agency official to investigate why an Ariane 5 rocket flew off course Thursday night after liftoff from French Guiana with the SES 14 and Al Yah 3 telecom satellites, but both payloads will be salvaged to accomplish their planned missions, officials said Friday.
SES and Yahsat, owners of the two satellites launched by the Ariane 5 rocket, confirmed Friday their spacecraft were delivered to suboptimal orbits following liftoff from French Guiana.
But both payloads are healthy and in contact with ground controllers, and SES and Yahsat said the satellites will be able to make up the altitude shortfall caused by an anomaly that occurred during the Ariane 5 flight.
Arianespace, the French launch company which manages Ariane 5 missions, said the rocket experienced a "trajectory anomaly" shortly after liftoff at 2220 GMT (5:20 p.m. EST; 7:20 p.m. French Guiana time) Thursday.
The company said ground tracking stations lost contact with the Ariane 5 rocket 9 minutes, 26 seconds, after liftoff from the Guiana Space Center, a European-run spaceport on the northern coast of South America around 350 miles north of the equator.
"Initial investigations show that the situation results from a trajectory deviation," Arianespace said in a statement. "At the end of the mission, the launcher separated both satellites on a stable orbit. SES and Yahsat have acquired their respective satellites which are operating nominally."
An independent commission chaired by Toni Tolker-Nielsen, inspector general at the European Space Agency, will investigate the rocket mishap, Arianespace said.
Launch campaigns in French Guiana are proceeding as scheduled, according to Arianespace.
The company's next flight is set for March 1, when a Europeanized version of Russia's Soyuz rocket will loft four O3b broadband satellites from the spaceport in South America. Before Thursday's flight, the next Ariane 5 launch was scheduled for March 16 with the Superbird 8/DSN 1 and Hylas 4 communications craft.
Tracking data published by the U.S. military, which catalogs human-made objects in orbit, indicated the Ariane 5 and its satellite passengers veered off course during the flight. The payloads were deployed in an orbit farther from the equator then planned, but near the pre-flight altitude prediction.
According to the orbit data, the Ariane 5 reached an an orbit with a low point of approximately 144 miles (232 kilometers), a high point of around 26,800 miles (43,200 kilometers), and an inclination — or angle to the equator — of 20.6 degrees.
The rocket was supposed to place SES 14 and Al Yah 3 into an elliptical drop-off orbit ranging between 155 miles (250 kilometers) and 28,107 miles (45,234 kilometers) above Earth. The launcher was programmed to release the satellites in an orbit inclined 3 degrees to the equator.
The Ariane 5 was supposed to head near due east from the French Guiana space base, which sits at approximately 5 degrees north latitude. The 20.6-degree inclination suggests the rocket strayed from its intended easterly course.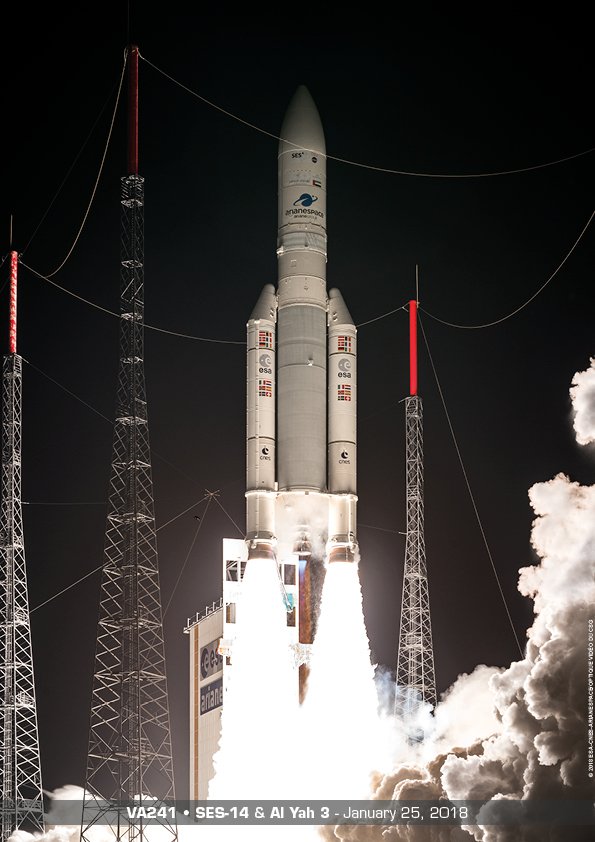 The SES 14 telecom satellite, along with a NASA space weather research instrument hosted on-board, will reach its orbital position in geostationary orbit around 22,300 miles (35,800 kilometers) over the equator around four weeks later than originally planned, SES said in a statement.
"Following the anomaly that occurred during the launch on an Ariane 5 rocket last night, SES announces that it has successfully established a telemetry and telecommand connection to its SES 14 spacecraft and is setting up a new orbit-raising plan now," the Luxembourg-headquartered company said. "SES 14 would thus reach the geostationary orbit only four weeks later than originally planned. SES confirms that the spacecraft is in good health, all subsystems on board are nominal, and the satellite is expected to meet the designed life time."
SES 14 is powered by electric thrusters, not conventional rocket engines, and was expected to take several months to reach its targeted circular orbit, even with a fully successful launch.
The xenon-fueled electric propulsion units on the Airbus-built spacecraft produce low thrust, but they are more efficient than conventional rocket engines, providing more impulse per unit of propellant.
Before Thursday night's launch, officials expected SES 14 to be operational by August or September.
Abu Dhabi-based Yahsat said its Al Yah 3 communications satellite was delivered to an off-target orbit by the Ariane 5 rocket.
"The mission experienced some challenges during the launch stages which resulted in the Al Yah 3 satellite being inserted into an orbit that differed from the flight plan," Yahsat said in a press release. "However, the satellite is healthy and operating nominally. A revised flight plan will be executed in order to achieve the operational orbit and fulfil the original mission."
Built by Orbital ATK and based on the manufacturer's new GEOStar 3 platform, the Al Yah 3 spacecraft is Yahsat's third telecom satellite. Like SES 14, it is heading to geostationary orbit more than 22,000 miles over the equator.
Al Yah 3 carries a hydrazine-fueled main engine for major orbital firings like most large telecom satellites, but Orbital ATK designed the spacecraft with hybrid propulsion, and smaller electric thrusters were supposed to take over for fine stationkeeping maneuvers once the satellite arrived in geostationary orbit.
"We are pleased to know that the satellite is healthy, and that the necessary steps are being taken to ensure the original mission is fulfilled," said Masood M. Sharif Mahmood, Yahsat's CEO. "I would like to thank our technology partner Orbital ATK and the Yahsat team in ensuring the Al Yah 3 objectives are met."
"Based on data from initial communications, I can report that Al Yah 3 is in orbit, healthy and responding to commands from our mission operations team," said Frank Culbertson, president of Orbital ATK's space systems group. "We will continue to work closely with our customer, Yahsat, to meet their mission objectives and remain confident that we will deliver a fully operational satellite to the planned orbit."
Yahsat said Al Yah 3 will begin commercial service "later in 2018." Orbital ATK officials originally planned to hand over control of the satellite to Yahsat in early March, had the craft reached its planned orbit.
Both satellites will have to dip into fuel reserves to make up for the Ariane 5's shortfall.
SES 14 and Al Yah 3 were designed for 15-year missions. In its statement, SES said its satellite will still be able to meet its design lifetime, despite its delivery to an off-target orbit. Yahsat did not explicitly address its lifetime expectations for Al Yah 3.
The first phase of Thursday night's launch appeared to go according to plan, with the Ariane 5's twin solid-fueled boosters burning out and falling into the Atlantic Ocean, and the rocket's payload shroud jettisoned on time.
The range operations director at the Guiana Space Center's Jupiter control center monitored telemetry coming from the rocket during its climb into space. He confirmed the Ariane 5's core stage Vulcain 2 main engine shut down as scheduled, and the first stage separated a few seconds later.
He announced ignition of the upper stage's HM7B engine as expected, then said the Ariane 5 was outside the range of the Galliot tracking station near the launch base in Kourou, French Guiana.
A network of downrange tracking sites in Brazil, Ascension Island, Gabon and Kenya never established contact with the Ariane 5, leaving guests and customer representatives pensive. The downrange stations were programmed to detect the Ariane 5 where it was expected to appear in the sky, but the off-course launch led the rocket away from its normal trajectory.
It was not known Friday when the Ariane 5 showed the first sign of trouble.
Stephane Israel, Arianespace's CEO, made a statement around an hour after liftoff to say the Ariane 5 suffered an anomaly during launch.
"We know that there is no launch with no risk," Israel said. "We know that launch is always difficult, and tonight Ariane 5 has had an anomaly, so let's take time now to better understand the situation of the satellites."
Israel apologized for the mishap before ending his remarks, but reports trickled in over the next hour suggesting the Ariane 5 may have dodged disaster.
Arianespace issued a written statement around three hours after liftoff to announce both of the mission's payloads achieved orbit. Officials did not confirm whether the satellites were located in their targeted elliptical "supersynchronous" orbits.
The SES and Yahsat updates and military tracking data released Friday confirmed the Ariane 5 did not place the satellites into their planned orbits.
The off-target launch ends a streak of 82 flawless missions dating back to the last Ariane 5's last failure on Dec. 11, 2002.
Thursday's launch was the first of up to seven Ariane 5 missions scheduled in 2018. Arianespace also has up to four Soyuz flights and three launches with the light-class Vega booster planned this year in French Guiana.
The 9,751-pound (4,423-kilogram) SES 14 satellite rode in the upper position of the Ariane 5's dual-payload berth.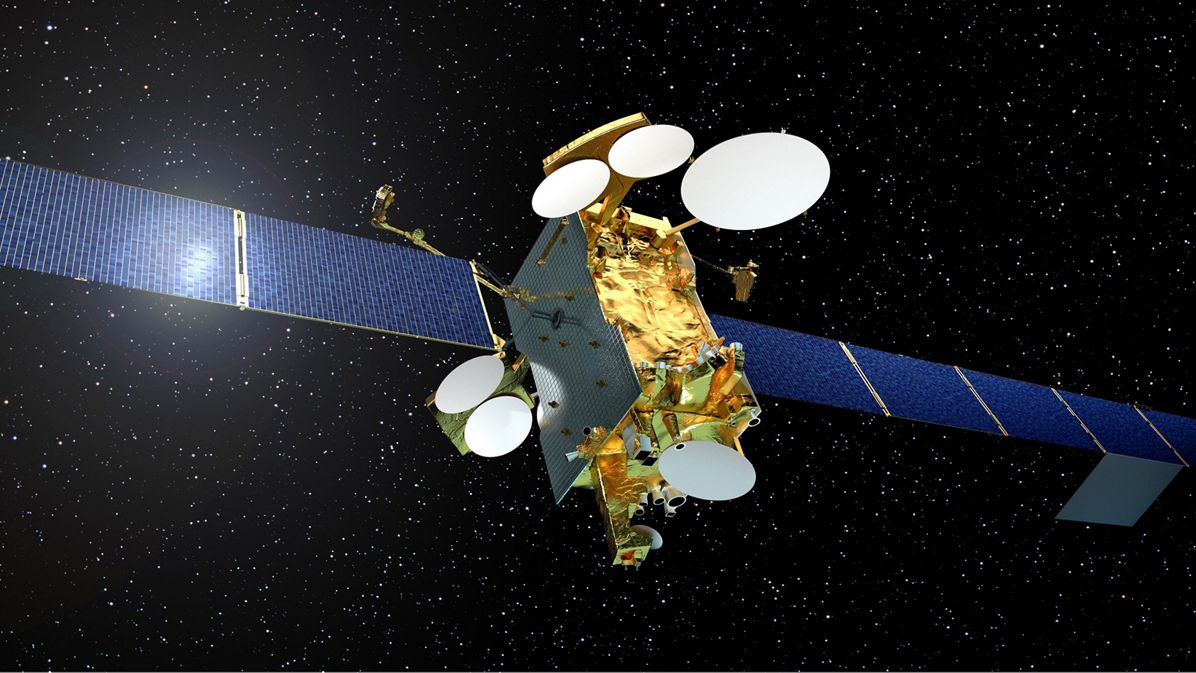 Built on the Airbus Eurostar E3000 satellite bus, the spacecraft will provide aeronautical and maritime mobility connectivity, wireless communications, broadband delivery, and video and data services over North, Central and South America, the Caribbean, the North Atlantic and parts of Europe, replacing the NSS-806 satellite for SES of Luxembourg.
The craft hosts a secondary payload for NASA named the Global-scale Observations of the Limb and Disk, or GOLD, instrument. The GOLD instrument's $66 million mission — broken down into $53 million in construction and development costs and a $13 million operations budget — will study the ionosphere and thermosphere layers in the upper atmosphere, where influences from solar activity and Earth-based weather systems combine to affect communications and navigation around the world.
Read our earlier story for details on GOLD's mission.
SES 14 will park itself in a position in geostationary orbit at 47.5 degrees wast longitude, where its orbital velocity will match the rate of Earth's rotation.
"The coverage is going right the way across Latin America and the Caribbean, North America, across the North Atlantic, Western Europe and the Mediterranean, so it's a phenomenal orbital position, and this what we want to try to exploit," said Martin Halliwell, chief technology officer at SES.
SES 14 is "two satellites in one," Halliwell said, with two C-band wide beams and five Ku-band beams, along with a Ka-band communications payload to offer higher throughputs. It will employ a digital processor to more effectively route broadband, data and television traffic.
"The services are going to be addressing direct-to-home and cable broadcasting, they're going to be addressing all of the aeronautical and maritime connectivity types of services, and on top of that, enterprise and backhaul sevices for the various different fixed operators," Halliwell said.
SES 14 was expected to extend its solar panels and unfurl robotic arms holding the craft's electric thrusters. The robotic appendages control the thrusters' orientation, guiding the satellite toward its planned orbital perch.
The orbit-raising maneuvers were planned to last five months, but the launch mishap will tack on another four weeks to that timeline.
The Al Yah 3 communications satellite launched in the lower position in the Ariane 5's payload fairing. The 8,366-pound (3,795-kilogram) spacecraft is owned by Al Yah Satellite Communications Co. based in Abu Dhabi, and it will be parked at 20 degrees west longitude in geostationary orbit.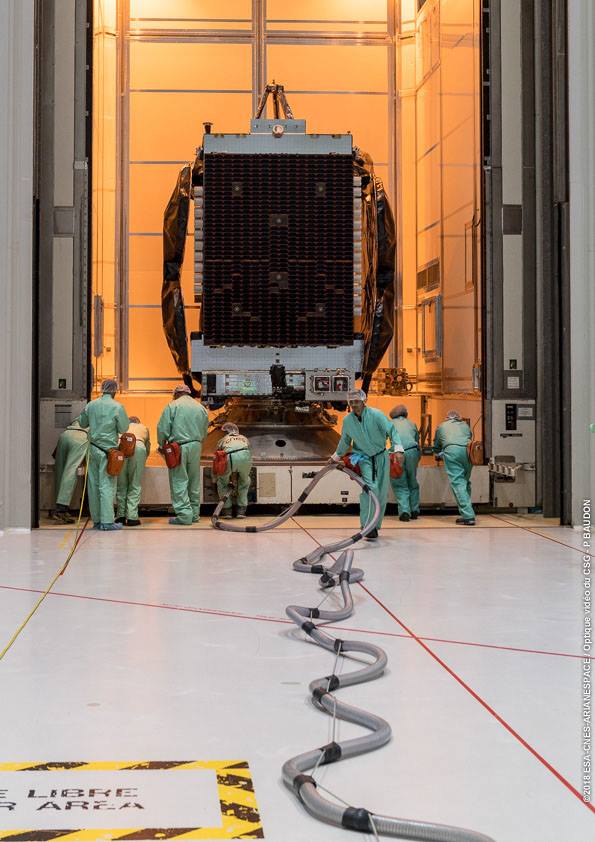 Al Yah 3 is the first in a new generation of higher-power, larger telecom satellites built by Orbital ATK. The new GEOStar 3 design adds additional capability to Orbital ATK's previous GEOStar 2 spacecraft platform.
The spacecraft will support broadband Internet and data services over Africa and Brazil.
Mahmood, Yahsat's chief executive, said before Thursday's launch that Al Yah 3 will double the company's broadband capacity.
Al Yah 3's telecom package includes 53 Ka-band beams to provide two-day communications services for high-speed data delivery such as broadband Internet and corporate networking. Mahmood said the satellite will give Yahsat, which beams broadband services into 14 countries in the Middle East and Africa, access to more markets.
"It will give us coverage into 17 additional markets in Africa," Mahmood said. "It will give us our first entry into Latin America, specifically into Brazil.
"With Al Yah 3, we will have coverage of more than 95 percent of the population of Brazil," he said. "If any of you know the market in Brazil, it's a continent of its own. With Al Yah 3, we will have coverage for 60 to 65 percent of the population of Africa."
Email the author.
Follow Stephen Clark on Twitter: @StephenClark1.