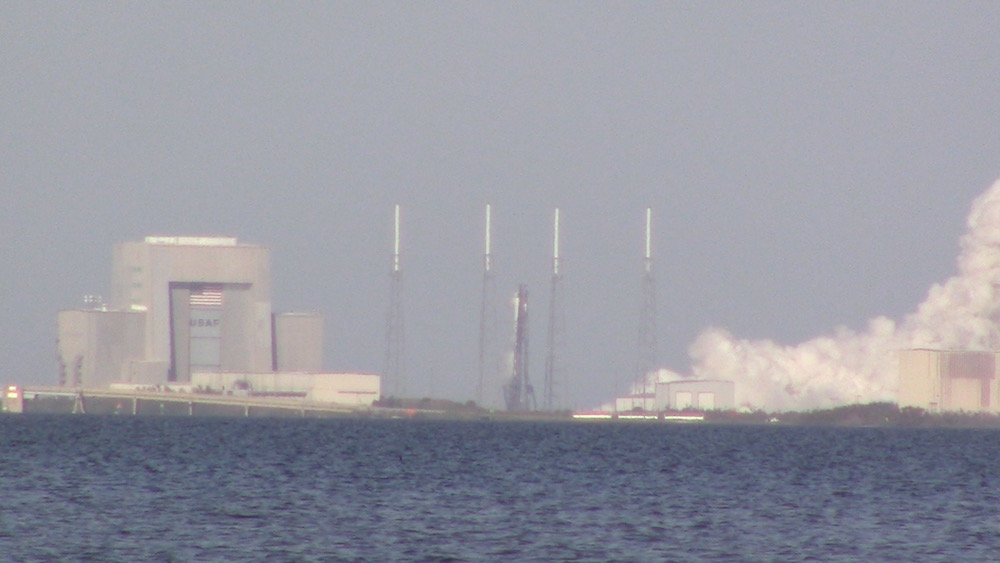 SpaceX ignited a reused Falcon 9 first stage booster at Cape Canaveral's Complex 40 launch pad Wednesday ahead of a planned space station resupply launch Dec. 12, a major step in restoring the repaired facility to service after a catastrophic explosion interrupted operations there last year.
Nine Merlin 1D engines on the Falcon 9's first stage ignited at 3 p.m. EST (2000 GMT) Wednesday, sending a plume of exhaust out of the flame trench at pad 40. It was the first time a rocket has fired at pad 40, a former Titan rocket launch facility now operated by SpaceX, since a rocket exploded during fueling before a pre-flight static fire test Sept. 1, 2016.
SpaceX confirmed the completion of the customary pre-launch static fire test on Twitter.
The Falcon 9 will be returned to SpaceX's hangar at pad 40 for attachment of a Dragon cargo capsule loaded with several tons of supplies and experiments heading to the International Space Station.
The fully-assembled launcher will return to pad 40 next week for liftoff, which is currently targeted for Tuesday, Dec. 12, at 11:46 a.m. EST (1646 GMT).
The launch slipped four days from its previous target to complete preparations on pad 40, among other concerns.
"This new launch date takes into account pad readiness, requirements for science payloads, space station crew availability, and orbital mechanics," NASA said in a statement.
SpaceX will have a backup day Dec. 13 to launch if the countdown Dec. 12 is scrubbed.
Mission managers will have to work in SpaceX's cargo launch around other space station traffic.
Space station commander Randy Bresnik and crewmates Sergey Ryazanskiy and Paolo Nespoli are scheduled to depart the station in their Soyuz MS-05 early Dec. 14. The trio will land in Kazakhstan several hours later to wrap up a 139-day flight, leaving behind new station commander Alexander Misurkin and astronauts Mark Vande Hei and Joe Acaba.
Three new crew members are set for launch from the Baikonur Cosmodrome in Kazakhstan on Dec. 17, and will reach the orbiting research complex two days later.
NASA and its space station partners prohibit cargo and crew ships arriving and departing from the station on the same day, leaving limited launch opportunities for SpaceX's resupply mission in mid-December.
Assuming the Dragon cargo capsule launches Dec. 12, it will reach the space station Dec. 15 for a month-long stay.
The upcoming cargo launch is the 13th resupply mission mounted by SpaceX under contract to NASA, and the first in which the space agency has agreed to fly its equipment on a previously-used Falcon 9 first stage. The booster assigned to next week's mission first flew June 3 on another space station resupply launch.
The Dragon capsule's pressurized module is also reused. SpaceX refurbished the spacecraft after a round-trip flight to the station in April and May of 2015.
Pad 40's return to service frees up nearby pad 39A, where SpaceX has based all its East Coast launches so far this year, for final upgrades and modifications to accommodate the maiden flight of the Falcon Heavy rocket, a huge triple-body launcher made of up three Falcon 9 first stages mated together.
The Falcon Heavy's first test launch could occur next month, a few weeks after its own static fire test at pad 39A.
SpaceX also confirmed Wednesday the launch of a mysterious U.S. government payload named Zuma is slated to occur from pad 40 in early January, next in line after the Dec. 12 cargo launch. Zuma's launch was postponed from mid-November to study a technical concern with the Falcon 9's payload fairing, a structure that shields satellites during liftoff.
The Zuma mission was originally supposed to launch from pad 39A, but pad 40's reactivation allows SpaceX to move it there, clearing the former Apollo- and shuttle-era launch pad for the Falcon Heavy.
The Dragon cargo capsule does not use a fairing like other Falcon 9 payloads, allowing the resupply flight to go forward.
The last SpaceX launch of the year is scheduled for Dec. 22 from Vandenberg Air Force Base in California with 10 Iridium voice and data relay satellites.
Email the author.
Follow Stephen Clark on Twitter: @StephenClark1.