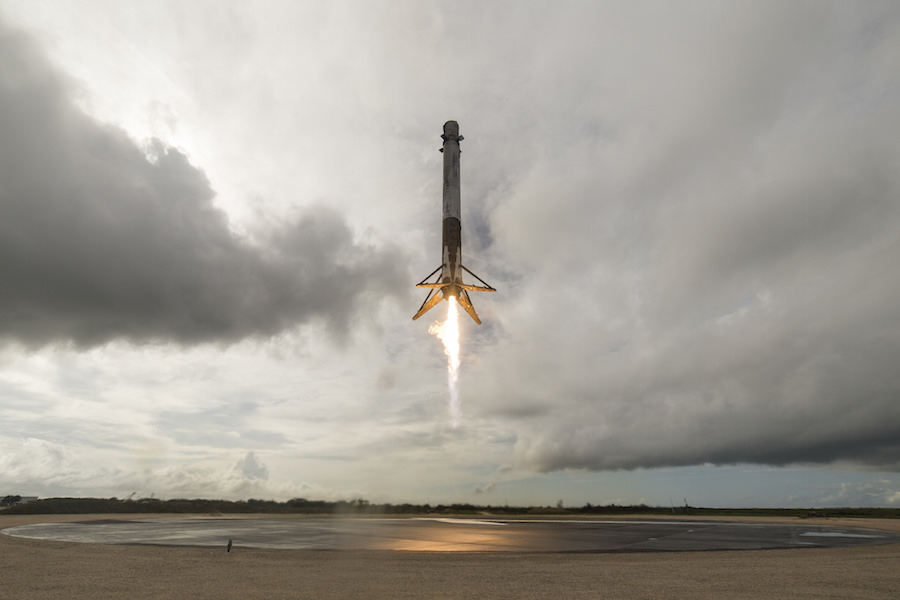 SpaceX will launch a space station-bound cargo ship with nearly 2.5 tons of supplies and experiments next Friday, Dec. 8, with a previously-flown Falcon 9 rocket booster after winning NASA approval for the reuse plan, agency officials said Wednesday.
Managers confirmed reports in the last few weeks that the resupply mission would likely use a recycled Falcon 9 first stage.
Sam Scimemi, director of the International Space Station program at NASA Headquarters, told Spaceflight Now on Wednesday that agency officials received a final briefing on SpaceX's rocket reuse plan in the last few weeks. He said NASA made a final decision on the matter in the last few days.
NASA joins several of SpaceX's commercial customers — SES, Space Systems/Loral, Iridium and Israel's Spacecom Ltd. — in agreeing to fly their payloads on a reused booster.
Liftoff of SpaceX's 13th resupply flight to the space station is scheduled for 1:20 p.m. EST (1820 GMT) on Dec. 8 from pad 40 at Cape Canaveral Air Force Station, Florida.
The launch will mark the first liftoff from pad 40 since August 2016. A Falcon 9 rocket exploded on the pad on Sept. 1, 2016, during a pre-launch fueling test, knocking the facility offline. When the Falcon 9 returned to service early this year, SpaceX based all its East Coast launches from nearby pad 39A, an Apollo- and shuttle-era launch complex at NASA's Kennedy Space Center.
Scimemi said the Dec. 8 launch date remains tentative, and it depends on pad 40's readiness for the mission.
NASA engineers in Florida and at NASA's Johnson Space Center in Houston carefully studied SpaceX's refurbishment and test processes before approving SpaceX's proposal to launch the Dragon cargo craft on a previously-flown booster, according to Bill Gerstenmaier, associate administrator of NASA's human exploration and operations directorate.
"Some components are removed and some new components are added," Gerstenmaier said in a meeting of the NASA Advisory Council's human spaceflight committee in Florida on Wednesday. "There's a detailed list of what inspections need to be done. They did a detailed test program. They did a detailed plan."
The upcoming cargo launch, known as CRS-13 in NASA and SpaceX's manifest parlance, will use the same 15-story first stage as the CRS-11 resupply flight that lifted off from Florida's Space Coast on June 3. SpaceX will attempt to land the rocket again at Landing Zone 1 at Cape Canaveral following next week's liftoff.
It will be the fourth time SpaceX has launched a Falcon 9 rocket powered by a reused first stage. The Dragon capsule heading for the space station will also make its second flight, following a round-trip orbital mission that launched in April 2015.
"We reviewed their requirements, and we basically looked at it and (asked) do we get the equivalent reliability from the reused booster that we would expect from a new booster, and the answer to that was yes," Gerstenmaier said. "That's why we accepted it.
"In this case, we accepted it only on this particular flight. We did not accept it in a generic sense," Gerstenmaier said. "We'll look at each one on a case-by-case basis, look at the history of the booster, look at the reuse review process that SpaceX does to make sure that the hardware we're getting (is reliable)."
NASA's Commercial Resupply Services, or CRS, contract with SpaceX is structured differently than launch contracts for the agency's robotic science missions.
"For CRS, we don't actually purchase the launch vehicle," Scimemi said. "We're actually purchasing the service … The requirements for station were (for cargo) delivery on orbit, and it had to meet station requirements, so there are no real launch requirements."
For most of NASA's science probes, and for commercial crew launches with astronauts on-board, the space agency levies standards for all phases of the mission.
According to a presentation by Scimemi, SpaceX prepared a new Falcon 9 booster for the CRS-13 launch in case NASA decided against flying on a reused rocket. The stage was test-fired at SpaceX's Central Texas test facility earlier this month, and the company will presumably use it on another future mission.
"SpaceX did a test program and did an analysis program to determine which seals or pieces should be replaced, and which should not be replaced," Gerstenmaier said of the rocket's refurbishment. "So it wasnt just pick these particular components. They did it based on analysis that they have. We reviewed that analysis and (those) tests, and determined that they were looking at the appropriate items and that they took the appropriate action to go change them out."
All three of SpaceX's launches using reused Falcon 9 booster airframes have been successful.
The first flight with a previously-used rocket stage in March deployed the SES 10 communications satellite, and another in June placed the BulgariaSat 1 television broadcast craft in orbit under a launch contract booked with satellite-builder Space Systems/Loral.
Most recently, an Oct. 11 blastoff from the Kennedy Space Center used a pre-flown rocket booster to place the SES 11/EchoStar 105 telecom satellite in orbit.
The Dec. 8 launch from Florida is one of two flights remaining on SpaceX's schedule this year.
Ten Iridium voice and data relay satellites are set to take off Dec. 22 from Vandenberg Air Force Base in California, again flying with a reused booster from a previous launch for Iridium in June.
At least two SpaceX launches are planned for January: The long-awaited debut of the Falcon Heavy rocket from pad 39A at KSC, and a communications satellite deployment for SES and the government of Luxembourg scheduled for liftoff from Cape Canaveral's pad 40 no earlier than Jan. 15.
Email the author.
Follow Stephen Clark on Twitter: @StephenClark1.