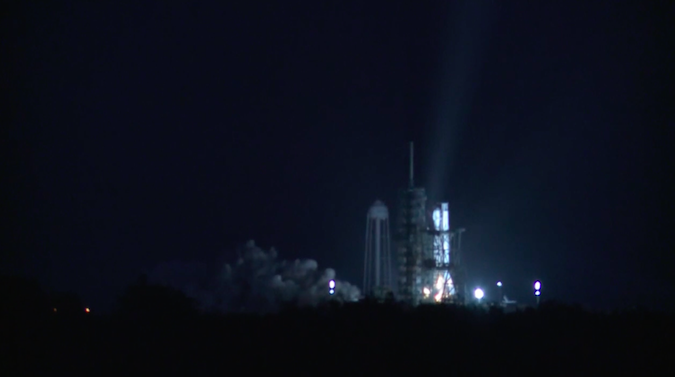 SpaceX moved closer to its next launch with a successful hold-down engine firing Saturday at the Kennedy Space Center in Florida, sailing through a readiness check for a planned liftoff Wednesday with a clandestine U.S. government payload named Zuma.
Throttling up to full power for a few seconds, the Merlin 1D engines ignited at 6 p.m. EST (2300 GMT) Saturday at NASA's Kennedy Space Center in Florida. The static fire test clears the way for final launch preparations ahead of the deployment of a clandestine U.S. government payload named Zuma in orbit Wednesday.
It will be SpaceX's 17th launch of the year, and the 45th flight of a Falcon 9 rocket since the commercial booster debuted in 2010.
SpaceX's launch team loaded super-chilled, densified kerosene and liquid oxygen propellants into the two-stage Falcon 9 rocket Saturday evening, then ignited the booster's nine main engines for several seconds while hold-down restraints keep the vehicle on the ground.
A plume of engine exhaust erupted from the north side of the launch pad, and SpaceX confirmed a good hold-down firing on Twitter a few minutes later.
The prelaunch static fire test is a customary step in all SpaceX launch campaigns.
The next step to prepare for Wednesday's launch will be the rollback of the Falcon 9 to SpaceX's hangar at pad 39A to meet Zuma, a mysterious payload for the U.S. government. Little is known about the mission, including which government agency is in charge of it. Northrop Grumman said last month it arranged for the payload's launch with SpaceX on behalf of the government.
Liftoff with Zuma is scheduled during a two-hour window Wednesday that opens at 8 p.m. EST (0100 GMT Thursday).
The Falcon 9's first stage booster will return to Landing Zone-1 at Cape Canaveral less than 10 minutes after liftoff, a maneuver that requires ample leftover fuel in the rocket after sending its payload toward orbit. The plan for a landing at Cape Canaveral, and not on an offshore ship, suggests the Zuma payload is likely heading for a relatively low-altitude orbit.
Saturday's hotfire test came less than two weeks after SpaceX's last launch from pad 39A on Oct. 30.
SpaceX plans to launch the following Falcon 9 flight from neighboring pad 40 in December, returning that launch complex to service for the first time since it was damaged in a rocket explosion last year.
Activity at pad 39A will focus on preparing for the first test flight of SpaceX's Falcon Heavy rocket, which could occur before the end of the year.
Email the author.
Follow Stephen Clark on Twitter: @StephenClark1.