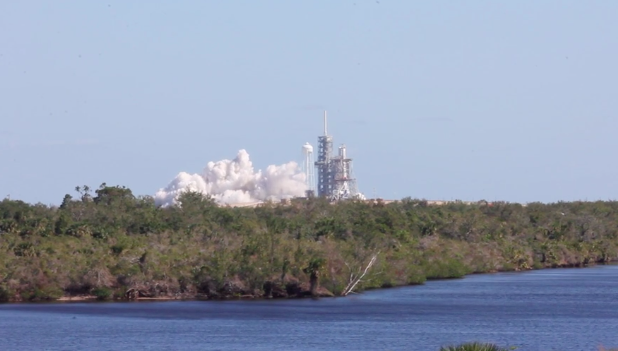 Moving closer toward launch Monday with a South Korean communications satellite, a SpaceX Falcon 9 rocket fired its nine Merlin main engines Thursday on a launch pad in Florida in a key preflight readiness test.
The Merlin 1D engines fired at 12 p.m. EDT (1600 GMT) Thursday as hold-down restraints kept the two-stage Falcon 9 rocket anchored at pad 39A. Once engineers complete a data review, ground crews will roll the Falcon 9 back to its hangar to meet the Koreasat 5A communications satellite.
The rocket was moved to pad 39A from SpaceX's integration hangar about a quarter-mile to the south, where technicians assembled the newly-built two-stage launcher. The Falcon 9 was without its payload for Thursday's hotfire test, a change in practice instituted last year after a rocket exploded minutes before a similar hold-down firing, destroying an Israeli communications satellite on-board.
Once the Falcon 9 is back in the hangar near pad 39A, workers will attach the rocket's payload shroud containing the Koreasat 5A satellite.
It will be rolled back out to pad 39A, a seaside launch complex formerly used by Saturn 5 moon rockets and the space shuttle, over the weekend for a liftoff currently scheduled for Monday afternoon.
Monday's launch window opens at 3:34 p.m. EDT (1934 GMT) and extends to 5:58 p.m. EDT (2158 GMT).
The Koreasat 5A launch will mark SpaceX's 16th mission of the year, and the 44th Falcon 9 flight overall since June 2010.
Built by Thales Alenia Space, Koreasat 5A will provide direct-to-home television broadcasting and other communications services in Korea, Japan, the Philippines, Guam, and Southeast Asia. Other coverage zones will include the Middle East and East Africa, where Koreasat 5A will support maritime communications.
The Falcon 9 rocket will deploy Koreasat 5A into an elliptical, egg-shaped transfer orbit on the way to an eventual operating position in geostationary orbit 22,300 miles (35,800 kilometers) over the equator.
Owned by KTsat of South Korea, the new satellite will replace Koreasat 5 launched in 2006.
The Falcon 9's first stage will aim for landing on SpaceX's drone ship floating several hundred miles downrange in the Atlantic Ocean for recovery and reuse.
Email the author.
Follow Stephen Clark on Twitter: @StephenClark1.