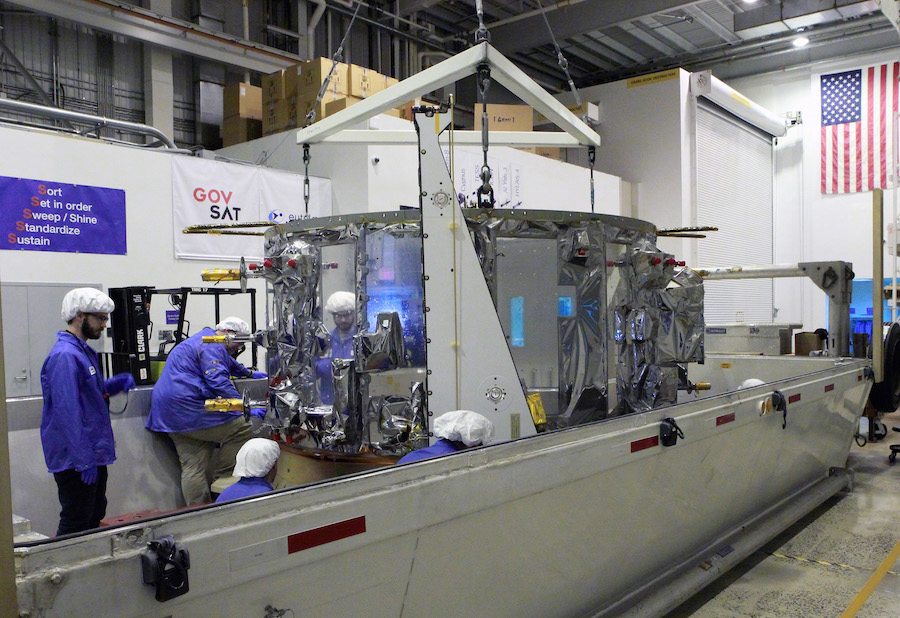 Orbital ATK shipped the final major piece of hardware for the next Cygnus space station resupply mission to a launch base on Virginia's Eastern Shore last week as technicians began loading cargo destined for delivery to the orbiting research lab next month.
Liftoff is scheduled for Nov. 10 from the Mid-Atlantic Regional Spaceport, a launch complex located at NASA's Wallops Flight Facility near Chincoteague, Virginia.
The Cygnus spacecraft's service module, which contains the ship's propulsion and power systems, arrived Oct. 4 at Wallops after a truck ride from Orbital ATK's headquarters and manufacturing plant in Dulles, Virginia.
The service module completed testing earlier this year to verify it can withstand the extreme environments of launch and spaceflight, and crews at Wallops will mate it with the Cygnus spacecraft's pressurized cargo module in the coming weeks. The cargo section, built by Thales Alenia Space in Turin, Italy, and ship's Antares rocket were already at Wallops undergoing final checks.
Ground teams were preparing for a launch during the summer, but managers delayed the mission at the request of NASA, which juggles arrivals and departures of visiting vehicles at the space station. NASA wanted more time to ensure the cargo slated to fly inside the Cygnus supply ship was ready, and to give astronauts time to conduct three spacewalks this month and repair the space station's robotic arm, which is used to snag the spacecraft on final approach to the orbiting outpost.
An Orbital ATK spokesperson said specialists have started packing cargo into the barrel-shaped logistics module, which is based on Thales's experience building cargo carriers that flew on NASA's space shuttles and on the European Space Agency's Automated Transfer Vehicle.
The service module will be filled with hydrazine and nitrogen tetroxide maneuvering propellant later this month, then delivered from a clean room on the mainland to Orbital ATK's Horizontal Integration Facility on Wallops Island for attachment to an Antares booster.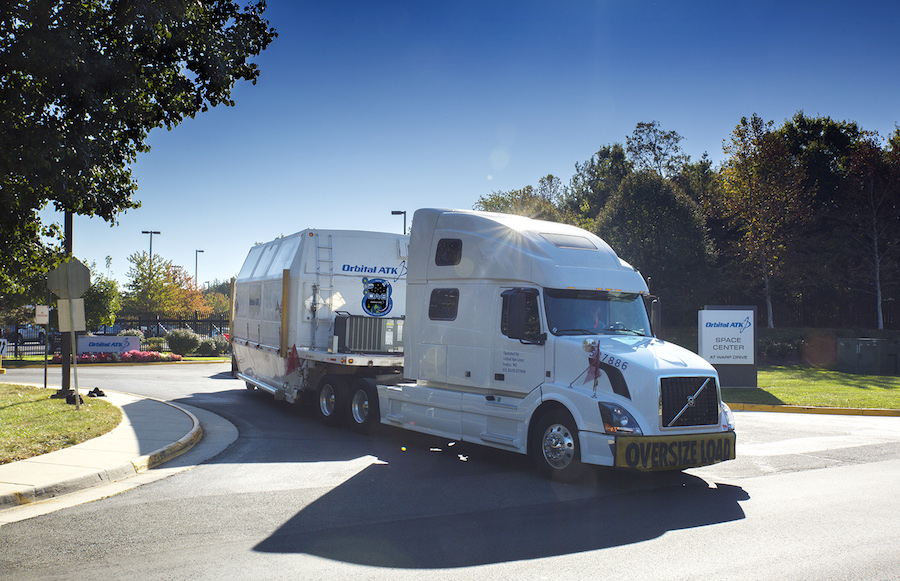 Once crews bolt the spacecraft to the Antares rocket, they will load time-critical cargo into supply ship, such as fresh food and experiments, then encapsulate Cygnus inside the launcher's payload shroud for rollout to pad 0A at Wallops.
The Antares rocket is set to roll out to the launch pad — owned by the Virginia Commercial Space Flight Authority — a few days before liftoff.
Launch is currently targeted for no earlier than Nov. 10 at approximately 8:02 a.m. EST (1302 GMT), with arrival at the space station currently expected four days later, when astronauts operating the lab's Canadian-built robotic arm will capture the automated Cygnus spaceship.
The upcoming resupply mission is named OA-8, the eighth of 11 space station cargo deliveries NASA has contracted to Orbital ATK through 2019.
The OA-8 mission is expected to haul approximately 7,400 pounds (around 3,350 kilograms) of cargo to the space station, the heaviest load ever launched by an Antares rocket.
It will be the fifth regular resupply flight to fly on an Antares rocket from Virginia, a tally that includes one launch failure. Orbital ATK also conducted a demonstration mission to the space station with an Antares rocket and Cygnus spacecraft in 2013, a flight not counted in the NASA cargo contract worth more than $2 billion.
Orbital ATK redesigned the Antares rocket's first stage in the wake of an October 2014 launch mishap, replacing decades-old Russian engines blamed for the failure with factory-fresh RD-181 engines, also from Russia. Two Cygnus cargo missions were launched from Cape Canaveral by United Launch Alliance Atlas 5 rockets while the Antares rocket remained grounded by the failure investigation and redesign.
The Antares rocket returned to flight in October 2016, successfully launching a Cygnus cargo craft with more than 2.5 tons of supplies and experiments.
Another Cygnus mission in April also took off on an Atlas 5 from Florida, but Orbital ATK's next four cargo flights are slated to launch from Virginia on the company's own Antares rockets.
NASA and Orbital ATK have a separate contract for at least six additional resupply missions to the space station from 2019 through 2024. Officials said some of the six flights could launch aboard Antares rockets, and others on Atlas 5s.
The space agency also has station cargo transportation contracts with SpaceX and Sierra Nevada Corp.
Email the author.
Follow Stephen Clark on Twitter: @StephenClark1.