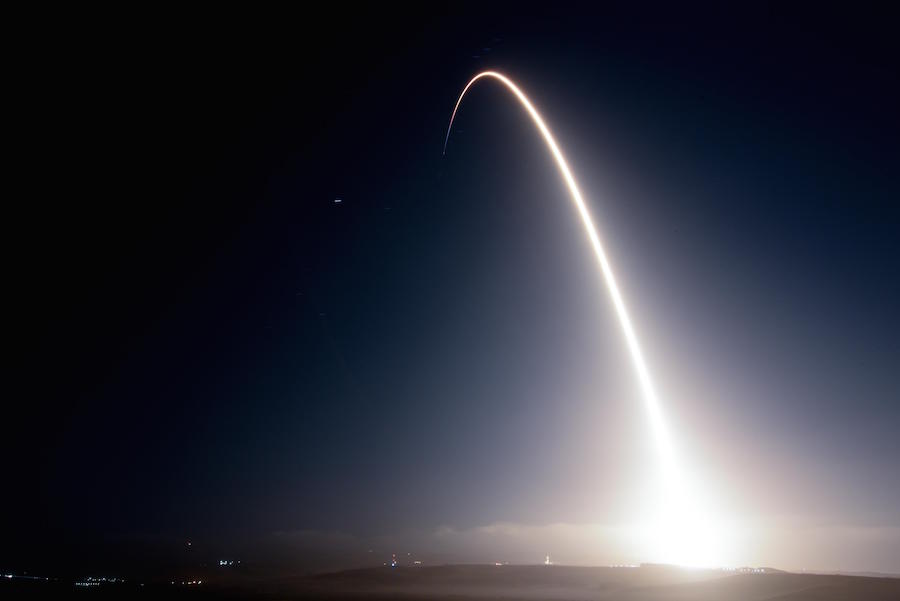 Ten more satellites for Iridium's upgraded voice and data communications fleet rode a SpaceX Falcon 9 rocket into a nearly 400-mile-high orbit from California's Central Coast Monday.
A few minutes after liftoff, the booster's first stage made a pinpoint landing on an offshore platform in the Pacific Ocean, adding to SpaceX's string of successful rocket recoveries for refurbishment and reuse.
The 10 French-designed, U.S.-built satellites deployed one-by-one from the Falcon 9's second stage around an hour after launch. Live video from the launcher showed the spacecraft releasing from a specially-designed carrier module on the upper stage.
Officials declared the mission a success, giving SpaceX a blistering 14-for-14 launch record since resuming flights in January following a catastrophic rocket explosion on a Cape Canaveral launch pad last year.
The rapid-fire launch cadence is set to continue Wednesday, when a Falcon 9 rocket is set to take off from NASA's Kennedy Space Center in Florida with a television broadcasting satellite for SES and EchoStar.
The 229-foot-tall (70-meter) Falcon 9 rocket carrying the Iridium payloads climbed away from Space Launch Complex 4-East at Vandenberg Air Force Base in California at 5:37:01 a.m. PDT (8:37:01 a.m. EDT; 1237:01 GMT).
The launch was timed to precisely place the 10 satellites into Plane 4 of the Iridium constellation, which is spread around the globe in six orbital planes, or pathways, to ensure worldwide coverage.
Nine Merlin 1D engines mounted to the bottom of the Falcon 9's first stage propelled the rocket into a moonlit predawn sky atop 1.7 million pounds of thrust, guiding the launcher south from Vandenberg over the Pacific Ocean.
The first stage detached about two-and-a-half minutes into the mission, giving way to the Falcon 9's single Merlin upper stage engine for a pair of firings to send the 10 Iridium satellites into a circular 388-mile-high (625-kilometer) orbit.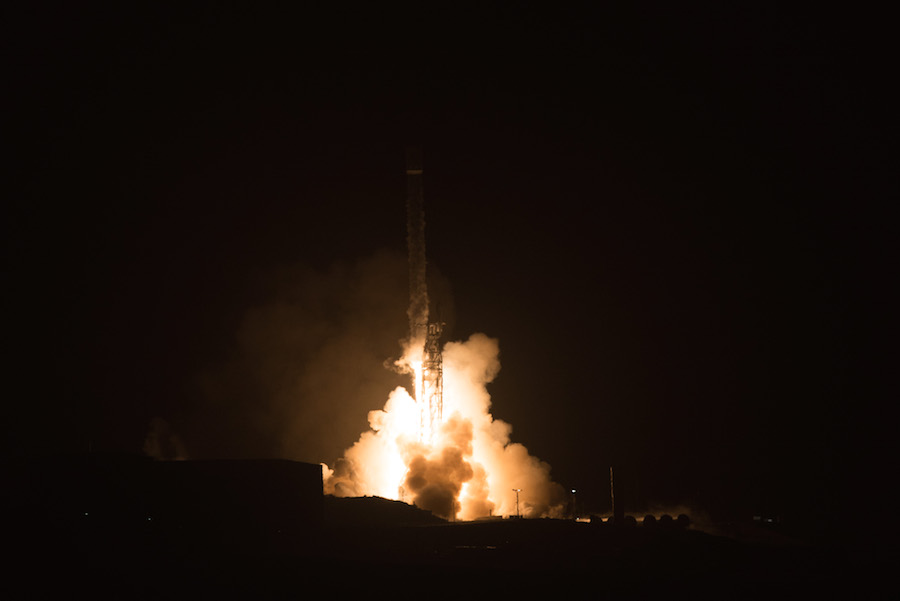 The Falcon 9's booster flipped around to fly tail first with the aid of cold gas nitrogen thrusters, then reignited three of its engines for two maneuvers to fine-tune its descent toward a barge in the Pacific Ocean downrange from Vandenberg.
A final landing burn with the first stage's center engine slowed the booster down just before reaching the drone ship, and four landing legs extended just before settling on the platform around seven-and-a-half minutes after liftoff.
The landing marked the 17th time SpaceX has recovered one of its first stage boosters intact, and the 10th time at sea. The company plans to inspect, refurbish and refly the stage on a future mission.
The Falcon 9's second stage continued into orbit, conducting both its required engine firings perfectly before releasing the 10 Iridium satellites in space, the primary objective of Monday's mission.
With the successful deployment of 10 more satellites Monday, the Iridium Next fleet has 30 members. Two Falcon 9 launches in January and June kicked off the deployment of the new-generation network, and another Falcon 9 flight no earlier than late November will add 10 more.
Monday's launch was the 14th Falcon 9 flight of the year — record launch pace for SpaceX — and the 42nd Falcon 9 mission overall since debuting in June 2010.
Iridium contracted with Thales Alenia Space of France to construct 81 Iridium Next satellites, each weighing 1,896 pounds (860 kilograms) at launch. Thales and subcontractor Orbital ATK oversee production of the satellites on an assembly line in Gilbert, Arizona.
SpaceX and Iridium have agreements for eight launches on Falcon 9 rockets until the constellation is completed in mid-2018. Seven of the missions are slated to launch 10 satellites at a time, and another next year will fly with 5 Iridium payloads, plus a pair of U.S.-German research satellites.
The Iridium fleet requires at least 66 operational satellites for constant global service.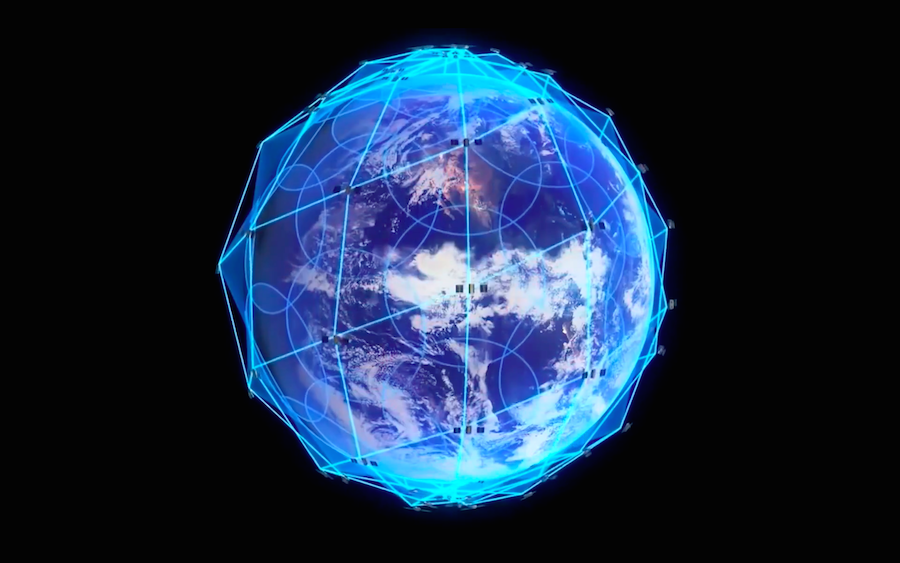 Launch preparations at Vandenberg began in August with the arrival of the first pair of Iridium satellites from their factory in Arizona. SpaceX shifted the launch to Monday from a target date of Sept. 30 to allow more time preparing the rocket's second stage, Iridium said.
Designed for 15-year lifetimes, the new satellites replace aging spacecraft that have relayed voice and data traffic around the world since the late 1990s and early 2000s.
Iridium has invested $3 billion in the next-generation network, ensuring the company's more than 900,000 subscribers have uninterrupted service, and debuting new communications capabilities — such as video and Internet — alongside the current telephone, messaging and tracking applications
"Each successful launch brings us one step closer to both a technological and financial transformation," said Matt Desch, Iridium CEO. "One of our core strategies is to offer new services that are either flat out impossible or not easily replicated by more traditional 'bent pipe' and geostationary systems. Satellite Time & Location, Short Burst Data and Iridium PTT are just a few examples of global services only possible on our network. For us and our partners, Iridium Next is an engine for innovation, and services like these are just the start. Moreover, we're on track to completion in 2018."
The Iridium network works through inter-satellite connections that bounce voice and data signals around the globe, allowing a user in one part of the globe to communicate with a person or equipment at sea, in the air, or on another continent without a terrestrial link.
Iridium announced last week that one new service set to debut with the Iridium Next fleet has begun in-orbit testing.
The Iridium Certus offering will permit customers to transmit and receive higher-bandwidth messages, including high-definition video and Internet services. Designed for ships, airplanes and other users on-the-go, Iridium Certus will provide Iridium customers with up to 1.4 megabits per second of L-band connectivity, up from 128 kilobits per second available with the existing satellites.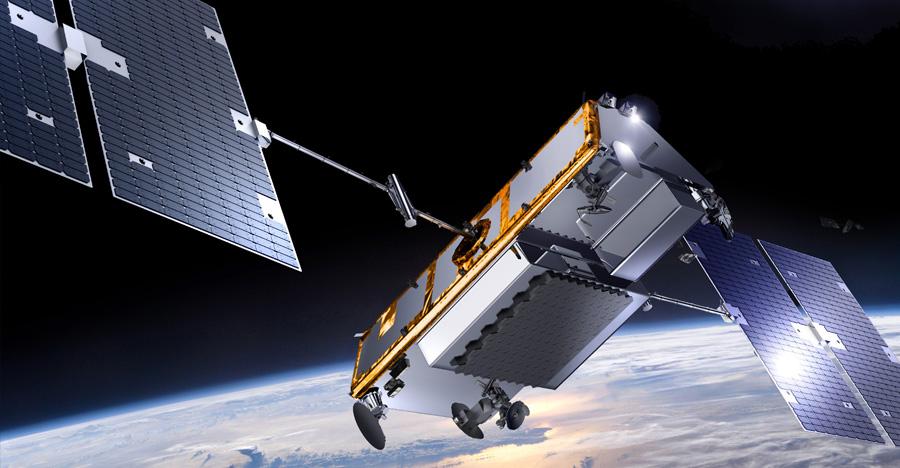 "Iridium Certus is going to fundamentally change the status quo in satellite connectivity for aviation, maritime, land-mobile, Internet of Things and government users," said Matt Desch, Iridium CEO. "Achieving this major milestone continues our momentum for our mission to introduce world-changing broadband services and applications designed to help our partners provide critical connectivity solutions, both standalone and in support of other broadband technologies."
Connecting with ground terminals fastened to vessels, aircraft and land vehicles, Iridium Certus will offer a range of service, from relatively low-bandwidth, low-cost asset tracking, remote monitoring, and emergency communications up to higher-throughput HD video, Internet and telemedicine applications.
Piggyback payloads on the Iridium satellites launched Monday will help commercial companies track and stay in contact with airplanes and ships outside the reach of land-based radars.
All of the Iridium Next satellites host radio receivers for Aireon, an affiliate of Iridium established in partnership with air traffic control authorities in Canada, Ireland, Italy and Denmark.
Eight of the 10 satellites delivered to orbit Monday carry ship tracking antennas for Harris Corp. and exactEarth, a Canadian company.
Of the 20 Iridium Next satellites launched to date, 13 are already in service, and the other seven are drifting to their designated orbital planes, according to Jordan Hassin, an Iridium spokesperson.
All 10 satellites launching Monday will go into service in Plane 4 within a few weeks of their arrival in space, taking the slots of the spacecraft currently occupying the plane.
"I am very pleased to see that the overall performances provided by the first 20 satellites are exceeding Iridium's expectations," said Denis Allard, vice president for the Iridium Next program at Thales Alenia Space. "This is a significant reward for all the teams who have worked hard for years on this program.
"In addition to being a real feat of technological prowess, Iridium Next, by integrating with the Iridium Block 1 constellation to provide global coverage without requiring local ground infrastructure, has recently proved its efficiency under the tragic circumstances in Puerto Rico, where 88 percent of the island's cell phone network fell down due to the hurricane," Allard said in a press release.
Thales Alenia Space said another 23 satellites — two launch's worth — have been completed at the Arizona factory, and assembly of the 64th Iridium Next spacecraft is underway.
While SpaceX teams at Vandenberg turn their attention to the next Iridium launch later this year, technicians at the company's launch site in Florida are preparing another Falcon 9 rocket for liftoff Wednesday.
A geostationary communications satellite for SES and EchoStar will ride a previously-flown Falcon 9 rocket — recovered after a flight in February — embarking on a 15-year mission broadcasting television programming over the Americas.
Email the author.
Follow Stephen Clark on Twitter: @StephenClark1.