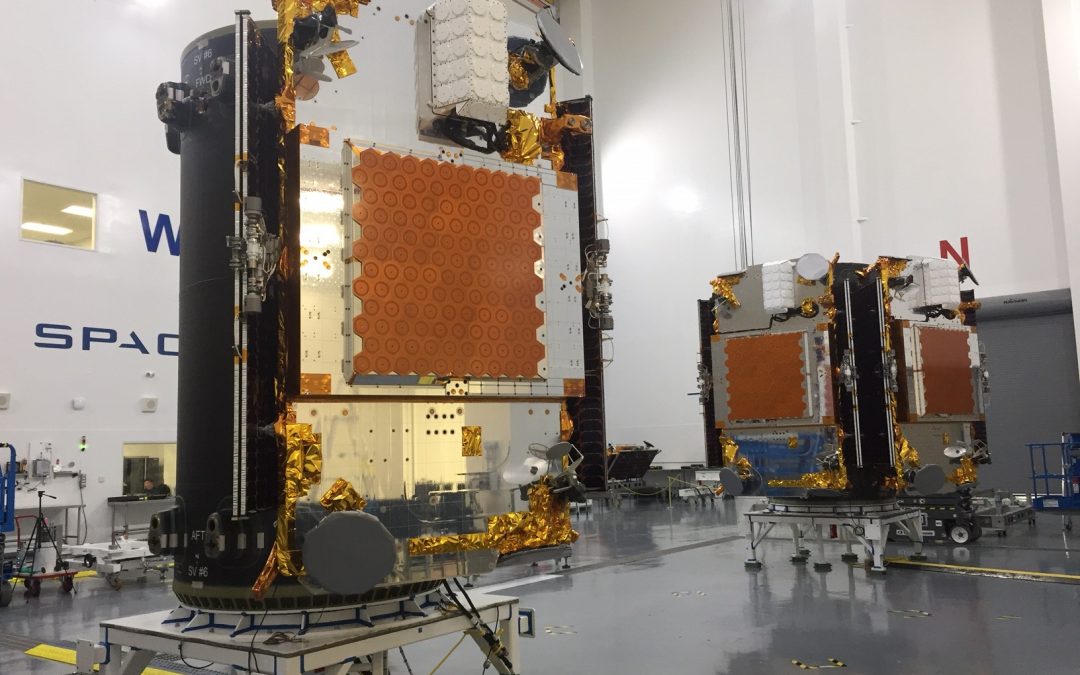 Ten new satellites for Iridium's $3 billion next-generation communications network are set for launch Monday from California's Central Coast aboard a SpaceX Falcon 9 rocket.
The mission's Falcon 9 booster passed a pre-launch hold-down test firing Thursday, clearing the way for liftoff Monday at 5:37:24 a.m. PDT (8:37:24 a.m. EDT; 1237:24 GMT). The Falcon 9 has an instantaneous predawn launch opportunity Monday to deploy the Iridium satellites into orbit.
There is a 90 percent chance of favorable weather, according to the official launch weather outlook.
The 229-foot-tall (70-meter) rocket was rolled out to its launch pad over the weekend at Vandenberg Air Force Base, California, and lifted vertical for final countdown preps.
The time of Monday's launch was calculated to place the 10 Iridium spacecraft into Plane 4 of the company's constellation, which is spread among six orbital planes, for a total of 66 operational satellites. Two previous deployments of Iridium's new-generation satellites by SpaceX Falcon 9 rockets in January and June began refreshing the company's fleet, replacing aging voice and data relay platforms launched in the late 1990s and early 2000s.
Designed by Thales Alenia Space of France and built in Arizona in partnership with Orbital ATK, the Iridium Next satellites are mounted on a two-tier dispenser inside the Falcon 9's payload shroud. The satellites, which each weigh 1,896 pounds (860 kilograms), will separate from the Falcon 9's upper stage one at a time beginning around 57 minutes after liftoff.
Monday's mission will give Iridium 30 new-generation satellites in orbit. Iridium ordered 81 Iridium Next spacecraft from Thales Alenia Space, and 75 of them have been assigned for launch on SpaceX Falcon 9 rockets.
Of the 20 Iridium Next satellites launched to date, 13 are already in service, and the other seven are drifting to their designated orbital planes, according to Jordan Hassin, an Iridium spokesperson.
All 10 satellites launching Monday will go into service in Plane 4 within a few weeks of their arrival in space, taking the slots of the spacecraft currently occupying the plane.
The Iridium fleet provides global coverage from polar orbits 485 miles (780 kilometers) high, employing inter-satellite links to relay voice and data messages between spacecraft, bouncing signals around the world via an interconnected communications web.
With 11 operational satellites spread among six orbital planes, the constellation is used by the U.S. military, oil and gas companies, aviation and maritime operators, and mining and construction contractors. Product distributors and transportation companies are also Iridium clients.
Iridium's roster of subscribers totaled more than 900,000 at the end of June.
The new satellites will ensure Iridium's network continues uninterrupted service, but new capabilities will come online as more spacecraft are launched. Iridium announced last week that one new service set to debut with the Iridium Next fleet has begun in-orbit testing.
The Iridium Certus offering will permit customers to transmit and receive higher-bandwidth messages, including high-definition video and Internet services. Designed for ships, airplanes and other users on-the-go, Iridium Certus will provide Iridium customers with up to 1.4 megabits per second of L-band connectivity, up from 128 kilobits per second available with the existing satellites.
"Iridium Certus is going to fundamentally change the status quo in satellite connectivity for aviation, maritime, land-mobile, Internet of Things and government users," said Matt Desch, Iridium CEO. "Achieving this major milestone continues our momentum for our mission to introduce world-changing broadband services and applications designed to help our partners provide critical connectivity solutions, both standalone and in support of other broadband technologies."
Connecting with ground terminals fastened to vessels, aircraft and land vehicles, Iridium Certus will offer a range of service, from relatively low-bandwidth, low-cost asset tracking, remote monitoring, and emergency communications up to higher-throughput HD video, Internet and telemedicine applications.
Piggyback payloads on the Iridium satellites launching Monday will help commercial companies track and stay in contact with airplanes and ships outside the reach of land-based radars.
All of the Iridium Next satellites host radio receivers for Aireon, an affiliate of Iridium established in partnership with air traffic control authorities in Canada, Ireland, Italy and Denmark.
Eight of the 10 satellites awaiting liftoff Monday carry ship tracking antennas for exactEarth, a Canadian company.
The Iridium Next satellites are manufactured in assembly line fashion in a specially-equipped clean room at Orbital ATK's facility in Gilbert, Arizona. The factory can churn out up to five satellites per month.
"Our teams, not only in California, but also in Arizona and in Northern Virginia, have maintained a steady and impressive pace when it comes to pre-and-post launch operations," Desch said in a statement. "We're setting a new industry standard for satellite deployment, in terms of both time and efficiency. On our end, all systems are go for our coming predawn launch."
SpaceX engineers will switch on the Falcon 9's avionics and computers in the final hours of the countdown, and a poll of the launch team set for 4:24 a.m. PDT (7:24 a.m. EDT; 1124 GMT).
Filling of the Falcon 9 with super-chilled, densified RP-1 fuel should begin around three minutes later, according to SpaceX's launch press kit. Cryogenic liquid oxygen is scheduled to be pumped aboard beginning at 5:02 a.m. PDT (8:02 a.m. EDT; 1202 GMT).
The rocket's cold propellants will be flowed through the first stage engines beginning at about T-minus 7 minutes, chilling the propulsion system's plumbing in preparation for ignition. In the final minute of the countdown, the Falcon 9's propellant tanks will be pressurized for flight, and the rocket's flight computer will begin automated preflight health checks.
The on-board computer will send the command to ignite the Falcon 9's nine Merlin 1D main engines at T-minus 3 seconds, and hold-down clamps will release the rocket when the countdown clock hits zero.
The liquid-fueled rocket will head south from Vandenberg over the Pacific Ocean, passing the speed of sound within about a minute and climbing into the stratosphere before dropping its first stage at T+plus 2 minutes, 27 seconds.
The booster will pulse cold gas nitrogen thrusters to re-orient to fly tail first, then reignite a subset of its Merlin engines for a controlled descent toward a floating platform in the Pacific Ocean downrange from Vandenberg. The Falcon 9's first stage will aim for touchdown on the barge around seven-and-a-half minutes into the mission.
Meanwhile, the Falcon 9's upper stage will fire a single Merlin engine two times to inject the Iridium Next satellites into a circular 388-mile-high (625-kilometer) orbit inclined 86 degrees to the equator.
Separation of the 10 satellites will begin at T+plus 57 minutes, 6 seconds. One spacecraft is programmed to deploy from the Falcon 9's upper stage approximately every 90 seconds.
Once clear of the rocket, the satellites will extend power-generating solar arrays and begin maneuvers to raise their orbits to reach the rest of the Iridium fleet 485 miles (780 kilometers) above Earth.
Monday's flight is the first of two planned by SpaceX this week.
Crews at NASA's Kennedy Space Center in Florida are readying another Falcon 9 rocket for liftoff Wednesday evening with a geostationary communications satellite for SES and EchoStar. That flight was slated to take off Saturday, but SpaceX delayed the launch to resolve a technical issue on the rocket.
Email the author.
Follow Stephen Clark on Twitter: @StephenClark1.