A Russian Proton rocket hauled a U.S.-built, Spanish-owned communications satellite into orbit Monday from the Baikonur Cosmodrome in Kazakhstan, kicking off a 15-year mission to relay video signals and broadband connectivity across a swath of Latin America from Mexico to Patagonia.
The 191-foot-tall (58-meter) launcher took off at 1923:41 GMT (3:23:41 p.m. EDT) Monday, or 1:23 a.m. local time Tuesday at Baikonur. After heading northeast from the barren spaceport on 2.5 million pounds of thrust, the Proton released its first stage around two minutes into the flight, and its second and third stages fired before deploying a Breeze M upper stage to begin another sequence of orbit-raising maneuvers.
The Breeze M main engine ignited around 11 minutes after liftoff to place the Amazonas 5 satellite into a preliminary low-altitude parking orbit. Four more Breeze M firings were supposed to maneuver the spacecraft into a higher orbit with an apogee, or high point, of of 21,925 miles (35,286 kilometers), a perigee, or low point, of 2,765 miles (4,450 kilometers), and an inclination of 22.9 degrees to the equator.
All five Breeze M engine burns were performed according to plan, according to International Launch Services, the Virginia-based company responsible for commercial Proton rocket missions. The Amazonas 5 satellite, owned by Madrid-based Hispasat, separated from the Breeze M upper stage at around 0435 GMT (12:35 a.m. EDT) Tuesday.
ILS declared the launch a success in a press release issued Tuesday.
"It's very rewarding to have launched Amazonas 5 for Hispasat after the first launch of Amazonas many years ago. We thank Hispasat, a true innovator in satellite communications services, for their continued confidence in ILS and the Proton launch vehicle," said Kirk Pysher, president of ILS.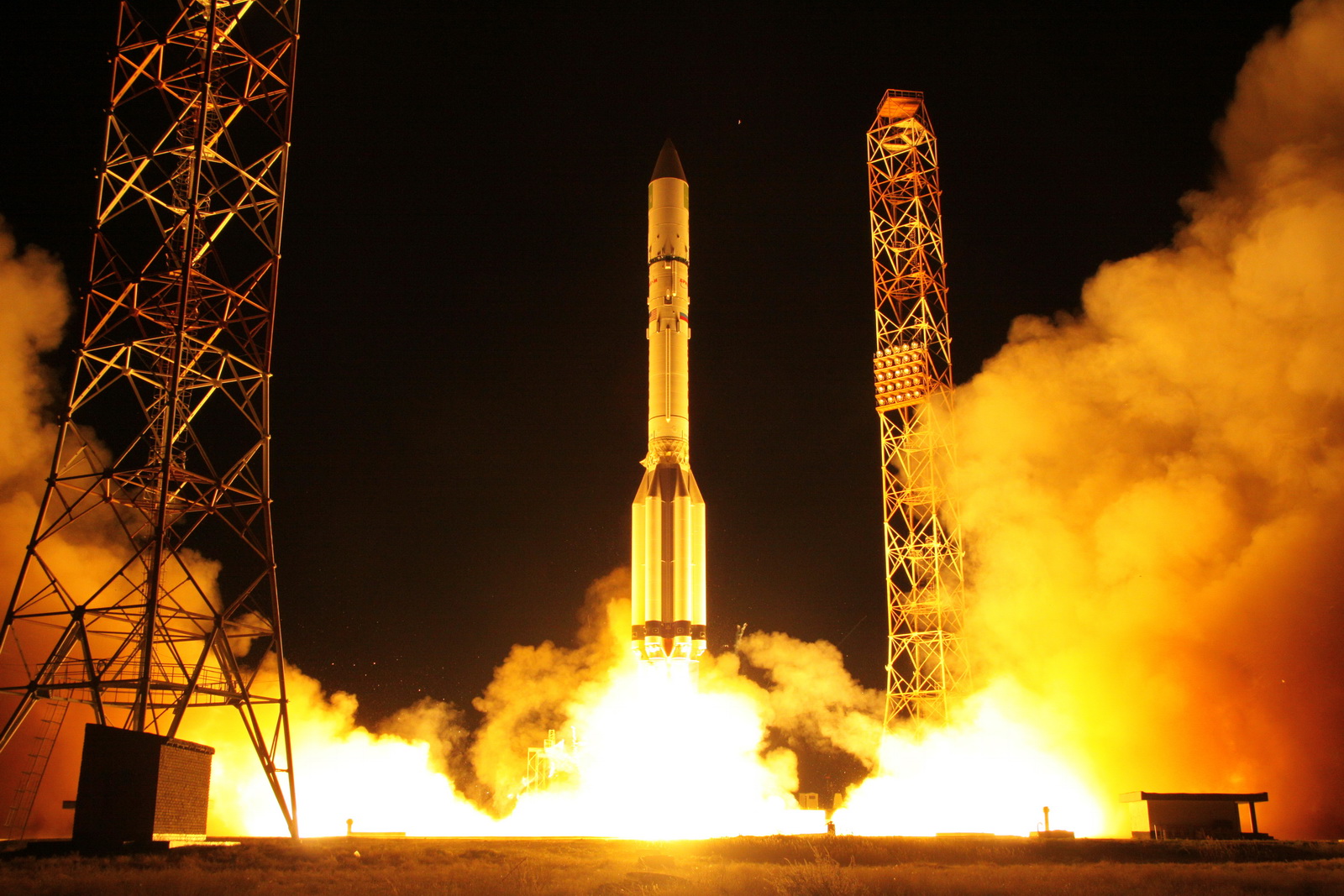 Monday's launch was the 415th flight of a Proton rocket since its debut in 1965, and the third Proton mission this year. Russia's Khrunichev, the Proton/Breeze M's prime contractor, owns ILS.
Built by Space Systems/Loral in Palo Alto, California, the 13,000 pound (5,900-kilogram) Amazonas 5 satellite will use its own engine to circularize its orbit nearly 22,300 miles over the equator in the next few weeks. At that altitude, Amazonas 5 will circle Earth at the same rate of the planet's rotation, appearing to hover over a fixed location.
Amazonas 5 will slide into a parking slot in geostationary orbit at 61 degrees west longitude for a 15-year mission.
"The ILS Proton has proven to be a reliable launch vehicle for Hispasat," said Carlos Espinós Gómez, Hispasat's CEO, in a press release. "Thank you to the ILS, Khrunichev, SSL and Hispasat teams for their hard work and dedication. The success of Amazonas 5 allows us to expand our television and Internet service in Latin America and it will ensure a clear path for growth of our business."
Amazonas 5's 34 Ka-band spot beams and 24 Ku-band transponders will broadcast communications services to Hispasat customers in Brazil and other parts of Latin America.
The Amazonas 5 satellite's Ku-band payload will offer 500 new TV channels, including 4K Ultra HD broadcasts, over Central and South America, according to a Hispasat press release.
The Ka-band spot beams will provide Internet connectivity to a half-million people, Hispasat said, and the satellite will also support wireless and cellular communications across Latin America, from Mexico to Patagonia.
"Latin America is a core focus of Hispasat's history," said Ignacio Sanchis, Hispasat's chief commercial officer. "It is a market of 625 million people in which satellites are highly significant for telecommunications, and which offers many opportunities for an operator like Hispasat.
"Thanks to our know-how, the design of the Amazonas 5 satellite dedicated exclusively to Latin America, falls perfectly in line with the demands of this market, and will contribute to making the solutions and services we offer even more attractive."
ILS and Khrunichev are preparing for another commercial Proton/Breeze M launch by the end of September.
Set for liftoff Sept. 28, the next Proton rocket will loft the AsiaSat 9 communications satellite, another SSL-built craft, into geostationary transfer orbit for AsiaSat of Hong Kong.
Email the author.
Follow Stephen Clark on Twitter: @StephenClark1.