STORY WRITTEN FOR CBS NEWS & USED WITH PERMISSION
With an eye on fast-moving Hurricane Irma, SpaceX successfully launched a Falcon 9 rocket from the Kennedy Space Center Thursday while NASA and contractor personnel rushed to prepare the sprawling spaceport for extreme winds, torrential rain and a threatening storm surge.
Using historic pad 39A, SpaceX launched an Air Force X-37B spaceplane on time at 10 a.m. EDT (GMT-4), taking advantage of a relatively clear morning sky. Had the weather or some other problem prevented launch, the rocket and its Air Force payload would have been hauled back to a hangar to ride out the approaching storm.
Kennedy Space Center Director Bob Cabana said the NASA spaceport will be closed Friday through Monday except for a few essential work crews Friday and a "rideout" team of 130 to 140 people that will remain on site at the Launch Control Center through the weekend to monitor critical equipment and infrastructure.
"I'm concerned about the health and welfare of the Kennedy workforce," Cabana said in an interview with CBS News. "Getting everybody out of here tonight, and essential personnel tomorrow, allows the KSC team to make sure their homes and families are safe. So, big storm coming our way, and we're going to be ready for it."
Similar preparations were underway at the nearby Cape Canaveral Air Force Station.
Schools across Brevard County were closed Thursday until further notice and the state ordered mandatory evacuations of barrier islands along Florida's "Space Coast," including Merritt Island where the space center is located, effective Friday afternoon at 3 p.m.
The National Hurricane Center expects Hurricane Irma to sweep up Florida's east coast this weekend, passing directly over or close to the Kennedy Space Center overnight Saturday. The spaceport faced a similar threat last October from Hurricane Matthew, but the storm veered slightly east before reaching Cape Canaveral, and the dangerous eye passed by well offshore.
Even so, Matthew caused major damage at the spaceport, showing managers areas where improvements were needed.
"It certainly got us up to date on all our hurricane procedures," Cabana said. "We learned a few lessons from it that we've applied to make sure we're even better prepared for this one. … The latest weather brief that we've gotten shows it hasn't made up its mind yet, but it's coming our way, whether it goes right over or slightly to the east or west of us."
NASA's iconic Vehicle Assembly Building, the cavernous structure where Saturn 5 moon rockets and space shuttles were once assembled, was designed in the 1960s to withstand hurricane-force winds and Cabana said he believes it will weather Irma without any major problems.
Parked nearby is a new mobile launch platform being built to haul NASA's new Space Launch System rockets from the VAB to launch complex 39B where they eventually will be fired off on deep space voyages to the moon and beyond. The mobile launch tower is 40 feet square, 335 feet tall and weighs nearly seven million pounds.
"One of my biggest concerns this year is all the construction we have going on, specifically at the mobile launcher, installing all the systems in it," Cabana said. "There's a lot of loose equipment out there we had to make sure was secured. Folks got a good start on that yesterday, so we'll have everything secured (in time).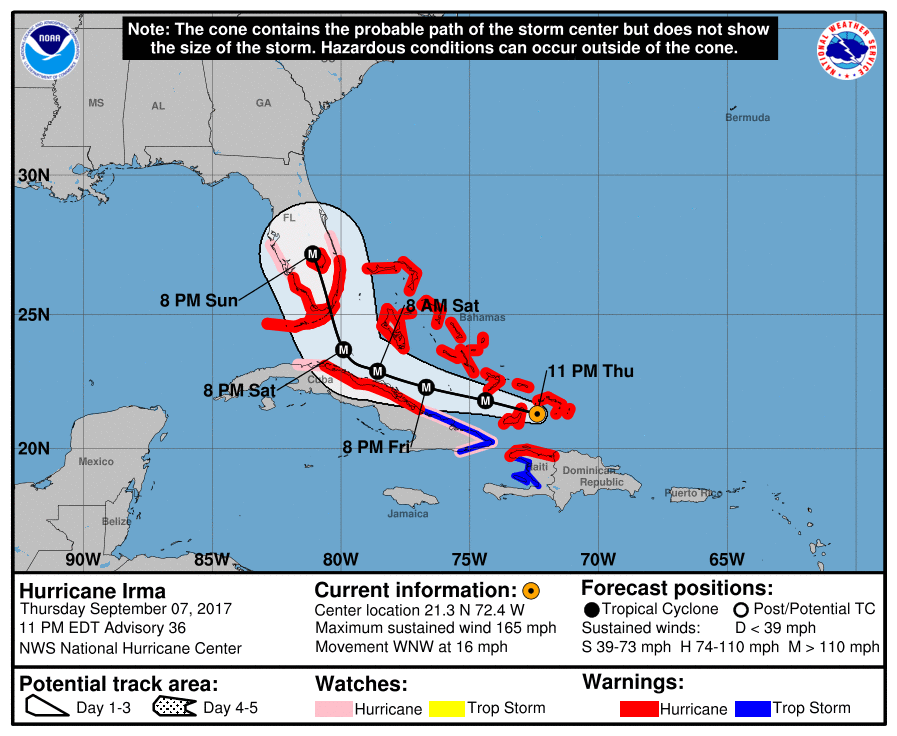 Out at pad 39B, workers rushed to finish on-going work installing a massive deflector in the "flame trench" where the SLS rocket's exhaust will be diverted to each side during the initial moments of flight.
"We've got that all secured," Cabana said. "The other major area that needed to be thoroughly secured was the Launch Environment Test Facility where we have some critical swing arms and umbilicals that are in test to be installed on the mobile launcher. That all was being worked on yesterday."
Pad 39B and 39A, now operated by SpaceX, are both just a few hundred yards from the Atlantic Ocean. Forecasters expect a five- to seven-foot storm surge that could cause problems for pad systems.
Critical systems at the space center have generator backup power and the rideout team will monitor them throughout the weekend. Monday afternoon, after tropical storm force winds subside, damage assessment teams will swing into action.
Cabana said one KSC office building that suffered roof leaks and water damage in the wake of Hurricane Matthew had only recently been repaired.
"Hopefully, we won't have any more roof leaks," he said. "Everybody just got back into their offices here about a month and a half ago. I'd sure hate to see that happen again. Hopefully, the repairs to the roof will withstand Irma."