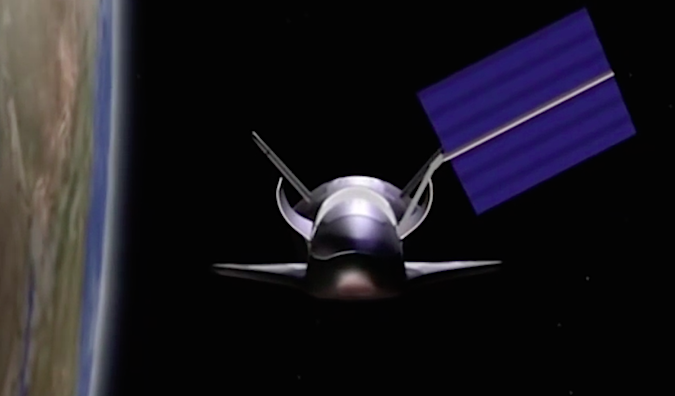 With an eye on dangerous Hurricane Irma's forecast path toward Florida, SpaceX and the U.S. Air Force are proceeding with preparations to launch an unpiloted reusable military spaceship Thursday on a mission to conduct experiments in orbit, deploy multiple small satellites and glide back to Earth for a runway landing.
The commercial launcher rolled out to launch pad 39A at NASA's Kennedy Space Center on Wednesday, and SpaceX ground crews planned to lift the rocket vertical with a hydraulic erector overnight.
Thursday's launch window opens at 9:50 a.m. EDT (1350 GMT) and runs until 2:55 p.m. EDT (1855 GMT), according to SpaceX. The target launch time within that window has not been released.
Most of the Boeing-built X-37B spaceplane's objectives following launch Thursday are top secret, and the Air Force has not revealed how long it will stay in orbit. Previous X-37B missions have stayed aloft for up to 718 days, or nearly two years.
Forecasters from the Air Force's 45th Weather Squadron call for iffy conditions during Thursday's launch window, predicting a 50 percent chance that weather will violate one of the Falcon 9 rocket's launch criteria.
A frontal boundary, and not Hurricane Irma nearly 1,000 miles to the southeast of Cape Canaveral, will be the main weather worry during Thursday's countdown.
"The boundary will bring additional moisture and instability that will promote higher afternoon storm chances along the Space Coast," the weather team wrote in an outlook issued Wednesday. "Morning conditions will likely be the more favorable portion of the launch window."
Officials will watch for thick clouds and cumulus clouds during the launch window, but high-altitude winds are expected to be favorable.
Mostly cloudy skies are in the forecast, with northerly winds of 10 to 15 mph and a temperature of 82 to 86 degrees Fahrenheit.
Weather conditions are forecast to worsen for a backup launch opportunity Friday, but officials have not decided if they could make another launch attempt before preparing for approaching Hurricane Irma.
An advisory from the National Hurricane Center Wednesday evening called for the storm to be over or near South Florida by Sunday afternoon, and perhaps close to Florida's Space Coast some time Sunday night, still as a major hurricane.
The Air Force's 45th Space Wing, the unit which oversees launch operations at Cape Canaveral, is already gearing up for the hurricane. Military officials said they have begun "precautionary preparations to secure property and any launch infrastructure that may be exposed to storm conditions."
Brig. Gen. Wayne Monteith, commander of the 45th Space Wing, wrote in a post to the wing's Facebook page that officials have not determined if SpaceX can attempt another countdown Friday if necessary.
"Even while we're preparing for the coming storm, we still have a Falcon 9 to launch tomorrow carrying the X-37B," Monteith wrote. "If for any reason we cannot launch tomorrow we will reevaluate whether or not we can still support another attempt on Friday."
If SpaceX is not able to get the Falcon 9 off the ground before Hurricane Irma threatens Central Florida, ground teams will lower the rocket and return it the company's horizontal assembly hangar near pad 39A.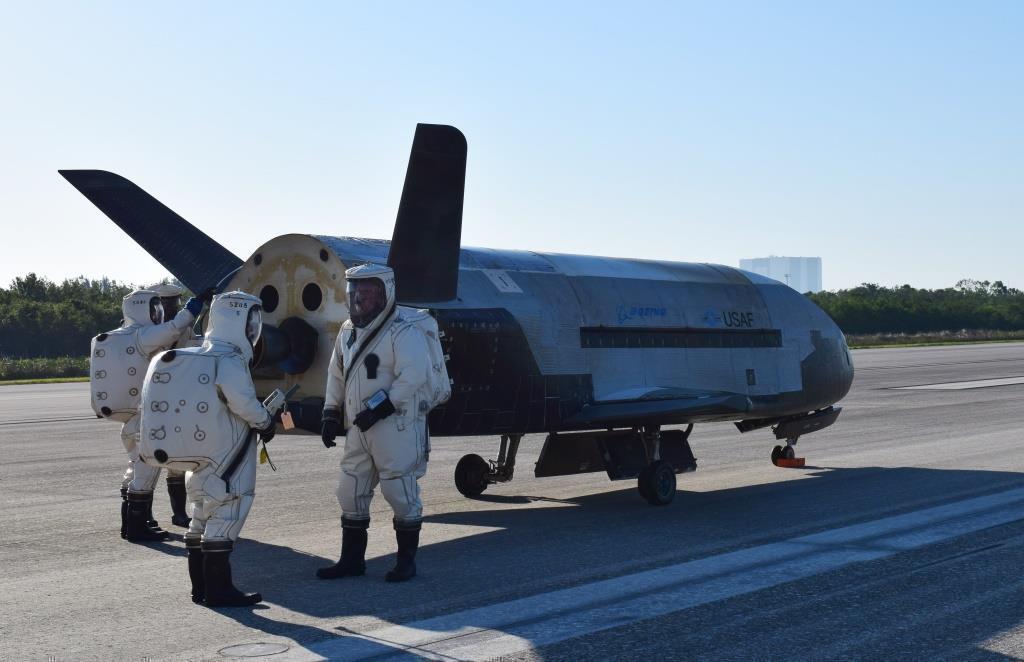 Once the rocket blasts off, the Falcon 9's first stage will come back to Earth for a landing on a concrete pad a few miles south of pad 39A. A series of braking burns will slow down the booster for touchdown at Landing Zone 1, a seaside landing target around 9 miles (15 kilometers) south of the rocket's launch pad.
Thursday's launch will kick off the fifth flight of the Air Force's X-37B program. The robotic mini-shuttle, also called the Orbital Test Vehicle, launched four previous times on United Launch Alliance Atlas 5 rockets.
Here is a listing of the X-37B's flight history compiled by Spaceflight Now's Justin Ray.
Orbital Test Vehicle Mission 1
(first flight of Vehicle No. 1)
Launch: April 22, 2010
Landing: Dec. 3 2010
Duration: 224 days
Orbital Test Vehicle Mission 2
(first flight of Vehicle No. 2)
Launch: March 5, 2011
Landing: June 16, 2012
Duration: 469 days
Orbital Test Vehicle Mission 3
(second flight of Vehicle No. 1)
Launch: Dec. 11, 2012
Landing: Oct. 17, 2014
Duration: 675 days
Orbital Test Vehicle Mission 4
(unconfirmed which vehicle)
Launch: May 20, 2015
Landing: May 7, 2017
Duration: 718 days
The Air Force has also not confirmed which of the two X-37B vehicles is launching Thursday.
Managed by the Air Force's Rapid Capabilities Office, the X-37Bs are about one-quarter the size of a space shuttle orbiter. Built by Boeing's Phantom Works division, each spaceship has a wingspan of nearly 15 feet (4.5 meters) and a length of more than 29 feet (8.9 meters).
The X-37B weighs about 11,000 pounds (5 metric tons) and has typically orbited Earth at altitudes between 200 and 250 miles (320 to 400 kilometers).
The X-37Bs, also known as the Orbital Test Vehicle, take off nestled inside the payload fairing of a conventional rocket, then open payload bay doors and deploy a power-generating solar panel in orbit. The windowless spaceplanes glide back to Earth for a runway landing.
The fourth X-37B mission was the first to return to landing on the space shuttle's former runway at the Kennedy Space Center. Boeing and the Air Force have based the X-37B's refurbishment center at the Florida spaceport in two hangers that previously housed space shuttle orbiters.
Several firsts are planned for the next flight, dubbed OTV-5.
"The fifth OTV mission continues to advance the X-37B's performance and flexibility as a space technology demonstrator and host platform for experimental payloads," the Air Force said in a press release. "This mission carries small satellite ride shares and will demonstrate greater opportunities for rapid space access and on-orbit testing of emerging space technologies.
Military officials have lauded the X-37B's ability to return experimental hardware back to Earth for inspection and reuse. The Air Force did not disclose whether the secondary payloads riding with the X-37B will deploy from the Falcon 9 rocket itself or from the spaceplane's cargo bay.
"Building upon the fourth mission and previous collaboration with experiment partners, this mission will host the Air Force Research Laboratory Advanced Structurally Embedded Thermal Spreader payload to test experimental electronics and oscillating heat pipe technologies in the long duration space environment," the statement said.
The thermal spreader experiment will test three oscillating heat pipes. The new heat pipe technology is lighter and less expensive than components used on most satellites to keep internal avionics temperatures within safe margins.
"The three primary science objectives are to measure the initial on-orbit thermal performance, to measure long duration thermal performance, and to assess any lifetime degradation," the Air Force Research Laboratory said in a fact sheet.
The rest of the flight plan remains secret.
The Air Force said that the OTV-5 mission will launch into a higher-inclination orbit than earlier X-37B flights. The four X-37B missions to date flew in orbits tilted between 38 and 43.5 degrees to the equator, but the next one will reach higher latitudes on each lap around Earth.
A hazard map published for pilots and mariners suggests the Falcon 9 rocket will head northeast away from Cape Canaveral. A notice to pilots also indicates debris from the Falcon 9's upper stage will fall somewhere in or near the Southern Ocean between Antarctica and Australia a few hours after liftoff following a de-orbit burn.
"The many firsts on this mission make the upcoming OTV launch a milestone for the program," Walden said. "It is our goal to continue advancing the X-37B OTV so it can more fully support the growing space community."
Email the author.
Follow Stephen Clark on Twitter: @StephenClark1.