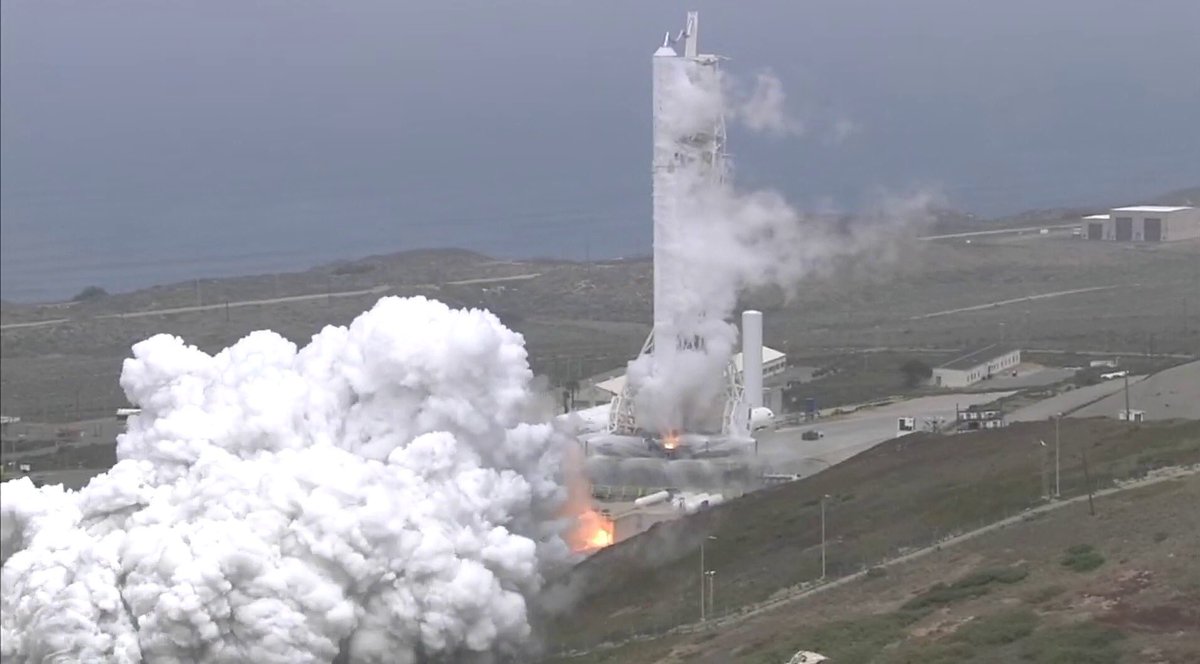 A commercial Falcon 9 rocket in the final stages of launch preparations fired its nine Merlin main engines Saturday at Vandenberg Air Force Base in California, verifying its readiness for liftoff with a Taiwanese Earth-imaging payload Thursday.
SpaceX engineers rolled out the two-stage rocket Friday to Space Launch Complex 4-East at Vandenberg, and the Falcon 9 launch team oversaw a computer-controlled countdown and fueling sequence ahead of Saturday's static fire test.
Restraints kept the rocket firmly grounded on its hillside launch pad overlooking the Pacific Ocean as the Merlin 1D engines throttled up to 1.7 million pounds of thrust for several seconds.
The hold-down firing is a customary part of all SpaceX launch campaigns, used by engineers to confirm the readiness of the launcher and ground systems, and as an exercise of the ground team.
The next step in SpaceX's launch campaign at Vandenberg will be the removal of the rocket from the pad for attachment of the Formosat 5 spacecraft, a Taiwanese satellite designed to test out the country's domestic aerospace manufacturing capability and collect a range of black-and-white and color imagery of Earth.
Developed and funded by Taiwan's National Space Organization, or NSPO, Formosat 5 weighs around 1,047 pounds (475 kilograms) with a full load of fuel, according to information posted on NSPO's website.
After flying south from Vandenberg, the Falcon 9 rocket will send the Formosat 5 satellite into a 447-mile-high (720-kilometer) sun-synchronous orbit that passes near Earth's poles.
Liftoff is scheduled for Thursday, Aug. 24, at 11:50 a.m. PDT (2:50 p.m. EDT; 1850 GMT) at the opening of a 44-minute launch window.
The launch will be the fifth time a SpaceX Falcon 9 rocket will blast off from Vandenberg, an Air Force-run base on California's Central Coast northwest of Los Angeles. It will be the 40th Falcon 9 launch overall, including flights departing from SpaceX launch pads in Florida.
"We are proud to provide a safe and secure launch location for our mission partners," said Col. Gregory E. Wood, vice commander of the Air Force's 30th Space Wing at Vandenberg. "This mission is the practical demonstration of the professional spirit and teamwork found in the everyday operations of Team Vandenberg and SpaceX."
SpaceX plans to return the Falcon 9's first stage to a drone ship positioned downrange in the Pacific Ocean for refurbishment and reuse. The booster launching Formosat 5 is fresh from the factory and making its first flight.
Formosat 5 will only take up a fraction of the Falcon 9's lift capability, and officials from NSPO and SpaceX originally planned to launch the satellite on a Falcon 1e rocket. But SpaceX discontinued the small launcher, which was powered by a single Merlin booster engine, in favor of developing the Falcon 9 and larger rockets.
The Taiwanese government, through the National Space Organization, originally paid SpaceX around $23 million in 2010 for the launch, less than half of the advertised price of a Falcon 9 launch today.
Formosat 5 carries two instruments.
One is an optical imaging payload capable of resolving features as small as 2 meters — about 6.6 feet — in black-and-white. The camera has half that resolution in color mode.
An advanced ionospheric probe from the National Central University in Taiwan is also aboard Formosat 5.
The ionospheric instrument is an "all-in-one plasma sensor to measure ionospheric plasma concentrations, velocities, and temperatures over a wide range of spatial scales," according to a fact sheet released by NSPO. "The transient and long-term variations of ionospheric plasma can be monitored as seismic precursors associated with earthquakes."
Formosat 5 was to be accompanied by a package of approximately 90 small satellites fastened to a multi-payload Sherpa adapter developed by Spaceflight, a Seattle-based company that builds lightweight spacecraft and brokers launch services for CubeSats on rideshare rocket flights.
But Spaceflight canceled that plan after the Formosat 5 launch faced years of delays in the aftermath of two Falcon 9 rocket failures that combined to ground SpaceX's fleet for nearly a year. Formosat 5's launch was shuffled later in SpaceX's manifest for unexplained reasons.
Spaceflight has reserved a dedicated Falcon 9 launch from Vandenberg next year with a Sherpa space tug expected to loft around 90 small satellites on the same rocket.
Meanwhile, the Seattle launch broker arranged for most of the 90 satellites slated to launch with Formosat 5 to fly on other rockets, including an Indian PSLV mission and a Russian Soyuz flight earlier this year.
Several others were rebooked on the next Sherpa adapter flying on a Falcon 9 next year.
Next week's launch from California will mark the 12th Falcon 9 flight of the year, coming in the heels of an Aug. 14 mission from NASA's Kennedy Space Center in Florida that deployed a space station-build supply ship in orbit
Email the author.
Follow Stephen Clark on Twitter: @StephenClark1.