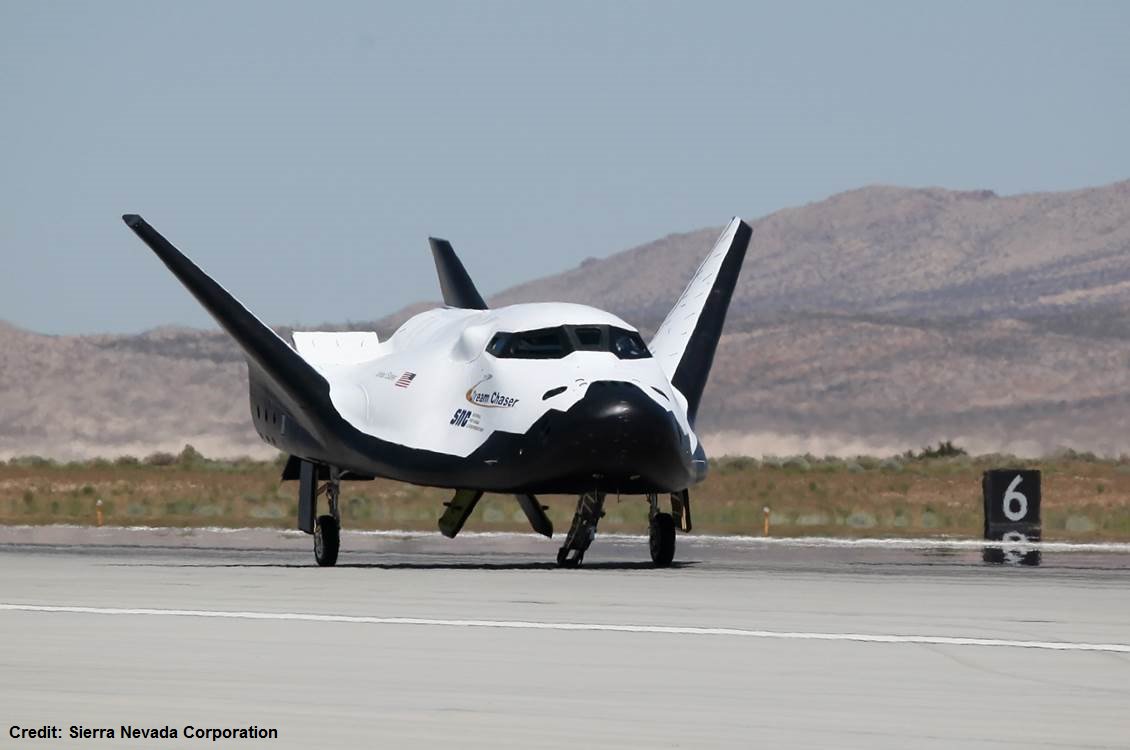 An atmospheric test model of Sierra Nevada's Dream Chaser spacecraft, a cargo carrier for the International Space Station that will take off on top of an Atlas 5 rocket and land on a runway, is undergoing braking and steering checks in California ahead of a flight test later this year, the company said Monday.
The full-scale Dream Chaser is pulled behind a tow vehicle for the ground tests now underway, reaching speeds fast enough to gauge the craft's braking performance and guidance, navigation and control systems.
Rolling on two main landing gear wheels and a nose skid, the Dream Chaser traveled down a runway Monday in Sierra Nevada's latest tow test at Edwards Air Force Base, which is co-located with NASA's Armstrong Flight Research Center.
Once cut free from its tow vehicle, the Dream Chaser slowed to a stop, allowing engineers to gather data on the craft's brakes, steering system, and guidance, navigation and control sensors that will line the spaceplane up for landing, according to Eric Cain, a Sierra Nevada engineer who described Monday's test on the company's Twitter account.
More tests are planned in the coming months, including additional tow tests and a "captive carry" flight with the Dream Chaser suspended under a helicopter.
"When that's done, we'll move into a series of flight tests, where it will be dropped for approach and landing like the shuttle Enterprise," said Mark Sirangelo, corporate vice president of Sierra Nevada's space systems division, in an interview earlier this year.
Sirangelo was referring to the vehicle NASA used for landing demonstrations in the 1970s before the first full-up space shuttle mission.
The unpiloted Dream Chaser will be dropped from heavy-duty carrier helicopter from an altitude of 10,200 feet (about 3,100 meters) above the ground for an autonomous landing at Runway 22L at Edwards Air Force Base.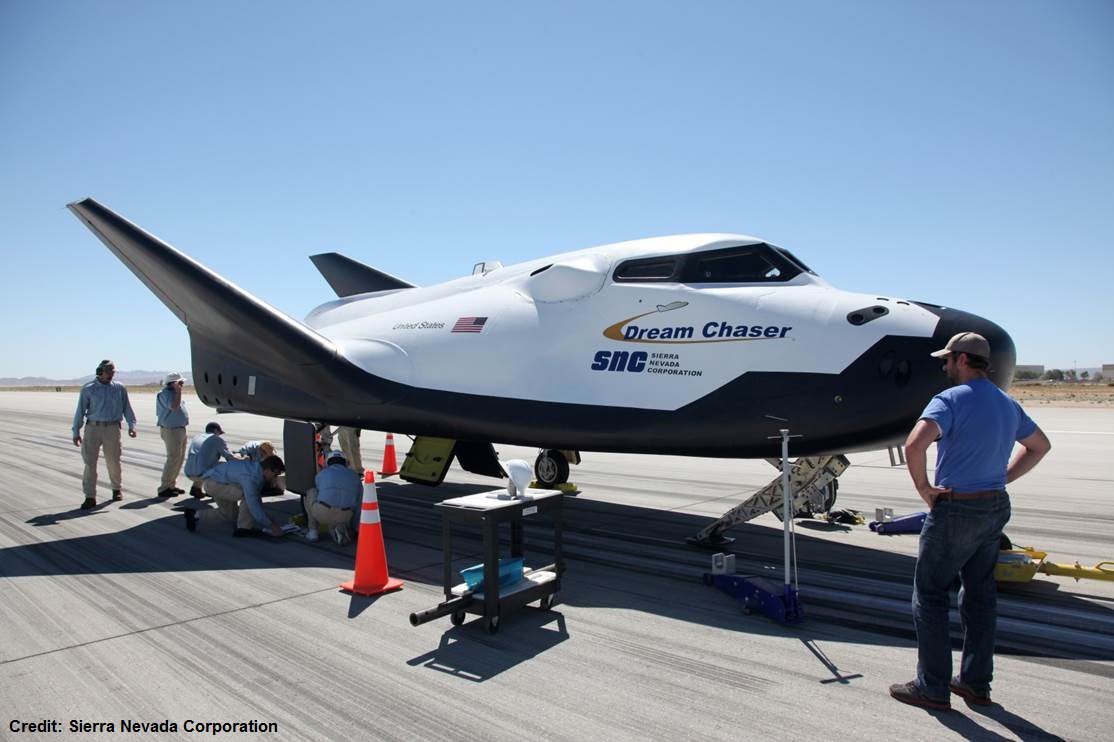 The approach and landing test later this year will be the second time Sierra Nevada has dropped the Dream Chaser from a helicopter. A similar test using the same test vehicle in October 2013 made a smooth approach to the runway, but the Dream Chaser's left landing gear failed to deploy.
Sierra Nevada says the 2013 flight was successful until that point, and Dream Chaser's autopilot landing system steered the craft toward the runway for a touchdown on the centerline.
Engineers blamed the mishap on a landing gear borrowed from a U.S. Air Force F-5E jet. Future Dream Chaser cargo missions to the space station will fly with a different landing gear, and the refurbished spaceship now in California features a gear more advanced then the one at fault in 2013.
"It's much more close to the (configuration) of the orbital vehicle now, with flight software," Sirangelo told Spaceflight Now earlier this year. "It's fully autonomous, so it will use flight software that we'll go to orbit with. All the control surfaces, and all the data gathering is all electronic.
"The computer systems are now the orbital version of the computer systems that we will manage with, so it's structurally similar, but virtually the whole inside of the vehicle has been updated and changed."
Meanwhile, technicians are building the space-rated version of the Dream Chaser that will fly into orbit on a cargo run to the space station as soon as 2019.
The Dream Chaser is about one-quarter the length of NASA's space shuttle orbiters, and it will blast off from Cape Canaveral inside the payload fairing of United Launch Alliance Atlas 5 rockets.
It is capable of delivering more than 12,000 pounds (5,500 kilograms) of equipment to the space station inside its pressurized compartment and on an external aft-mounted payload carrier. At the end of each flight, the two parts will detach, with the Dream Chaser space plane returning to Earth with research specimens and other gear, and the disposable cargo module burning up in the atmosphere to incinerate trash.
Based on a lifting body aerodynamic design, the Dream Chaser will weigh about 20 tons fully loaded, likely requiring the lift capability of ULA's most powerful Atlas 5 configuration, the "552" with five strap-on solid rocket boosters and a twin-engine Centaur upper stage, according to Sirangelo.
The ships returning from the space station will glide to landings at the three-mile-long Shuttle Landing Facility at NASA's Kennedy Space Center in Florida, bringing back research specimens and other hardware. Sierra Nevada plans to reuse the Dream Chaser on multiple flights.
NASA selected Sierra Nevada's Dream Chaser in 2016 to join SpaceX's Dragon and Orbital ATK's Cygnus supply ships in the U.S. fleet of commercial space station cargo freighters.
SpaceX and Orbital ATK currently fly resupply missions to the space station under a contract due to expire at the end of 2018. Sierra Nevada will join the incumbent contractors under a follow-on agreement that runs from 2019 through 2024, during which each company is guaranteed at least six cargo flights.
Sierra Nevada initially developed the Dream Chaser to contend for a lucrative contract to ferry astronauts to and from the space station, but Boeing and SpaceX won that deal. Engineers redesigned the Dream Chaser for automated logistics flights after losing the commercial crew competition in 2014.
The target date for Dream Chaser's first space voyage — Sierra Nevada and NASA agreed not to conduct a standalone orbital test flight — depends on when NASA authorizes the contractor to commence mission planning.
A NASA official said last month that the agency has, so far, only ordered one space station cargo mission under the new Commercial Resupply Services-2 contract. That order went to Orbital ATK for a resupply flight in 2019, but SpaceX and Sierra Nevada are expected to receive their first CRS-2 mission authorizations in the coming months.
Sierra Nevada has passed three "integration milestones" since the 2016 cargo contract award, in which NASA and the Federal Aviation Administration reviewed design documents and safety data packages.
Sierra Nevada finalized an agreement earlier this year for the Dream Chaser to dock or berth to the space station using an attachment mechanism developed by a consortium of European companies led by QinetiQ Space of Belgium.
Email the author.
Follow Stephen Clark on Twitter: @StephenClark1.