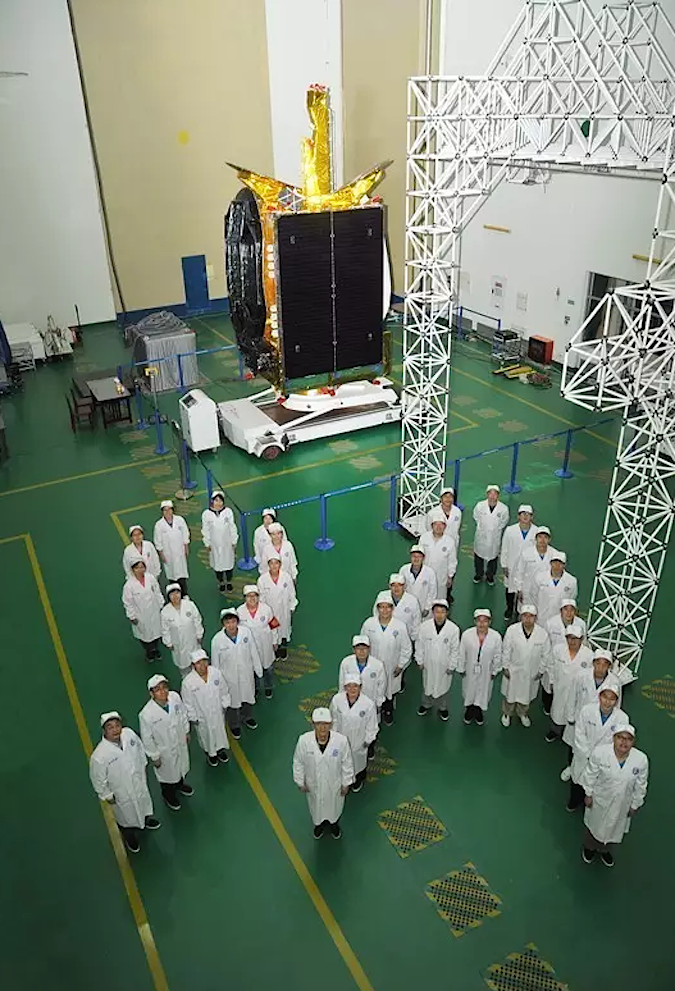 The Chinasat 9A communications satellite has arrived at its operational perch more than 22,000 miles over the equator after a Long March rocket deployed the craft in a lower-than-planned orbit last month due to a roll control error in the launcher's third stage, according to China's top state-owned aerospace contractor.
The television broadcasting satellite fired its main engine 10 times to recover from an off-target launch aboard a Long March 3B rocket June 18, which placed Chinasat 9A into an orbit stretching less than halfway to the satellite's intended altitude, the China Aerospace Science and Technology Corp. said in a statement.
Chinasat 9A's on-board thruster raised the craft's orbit to a circular perch nearly 22,300 miles (35,800 kilometers) over the equator, recovering from a launch shortfall that delivered the satellite into an unintended oval orbit ranging between 120 miles (193 kilometers) and 10,165 miles (16,360 kilometers) in altitude.
The Long March 3B rocket aimed to place Chinasat 9A into an elliptical transfer orbit that peaked at the satellite's planned operating altitude more than 22,000 miles up, but an error on the launcher's third stage led to the inaccurate orbit.
In a statement last week, the China Aerospace Science and Technology Corp. said investigators traced the problem to an anomaly in the third stage's roll control thruster, part of the rocket's pointing system, during a coast phase between two burns of the upper stage's main engine.
The third stage's dual-nozzle YF-75 engine, consuming a mix of liquid hydrogen and liquid oxygen propellants, ended its first burn around 10 minutes after liftoff June 18. A second third stage engine firing was supposed to propel the Chinasat 9A satellite into a geostationary transfer orbit before the spacecraft separated from the rocket about a half-hour into the mission.
Chinasat 9A maneuvered into a circular geostationary orbit over the equator with its own fuel supply, arriving at a parking slot at 101.4 degrees east longitude July 5. The satellite is working normally, Chinese officials said, and Chinasat 9A's 24 Ku-band transponders have been switched on for testing.
Based on the DFH-4 satellite design built by the China Academy of Space Technology, Chinasat 9A is China's first domestically-made communications satellite for direct-to-home television broadcasting, according to China Satcom, the craft's owner and operator.
Chinasat 9A is designed to provide television broadcasts and other media services to China Satcom customers in China, Hong Kong, Macau and Taiwan, the company said.
Chinese officials have not said how much extra fuel the satellite needed for its unplanned orbit-raising burns, but Chinasat 9A had to tap into some of its propellant reserve, likely shortening its expected 15-year mission.
Engineers continue investigating the failure of China's larger heavy-lift Long March 5 rocket during a July 2 launch, which destroyed an experimental Chinese communications satellite before it could reach orbit.
Email the author.
Follow Stephen Clark on Twitter: @StephenClark1.