A Soyuz rocket arrived at a launch pad Tuesday in Kazakhstan for liftoff later this week with a satellite to monitor natural disasters and track forest fires from orbit and 72 secondary payloads from Russia, the United States, Germany, Norway and Japan.
The Russian launcher's blastoff is timed for 0636:49 GMT (2:36:49 a.m. EDT; 12:36:49 p.m. Kazakh time) Friday from the Baikonur Cosmodrome in Kazakhstan.
The Fregat upper stage fastened on top of the three-stage Soyuz-2.1a booster will ignite its main engine seven times to deliver the launcher's 73 satellite passengers to three distinct orbits several hundred miles up, then steer the Fregat toward a destructive re-entry over the Indian Ocean more than eight hours after liftoff.
Friday's launch will deploy modified CubeSats from five California-based companies, two student-built German satellites, two Norwegian maritime tracking and communications satellites, a commercial Japanese microsatellite to map Arctic sea ice, two Earth-imaging CubeSats for the Russian state space corporation — Roscosmos — and three nanosatellites developed by Russian students.
The main payload launching Friday is named Kanopus-V-IK, a Russian government satellite equipped with Earth-viewing cameras to map the planet in color to aid emergency responders, crop managers and environmental scientists. The Kanopus-V-IK satellite, which weighs more than a half-ton (approximately 500 kilograms) and is owned by Roscosmos, also carries an infrared sensor to detect and localize the source of wildfires.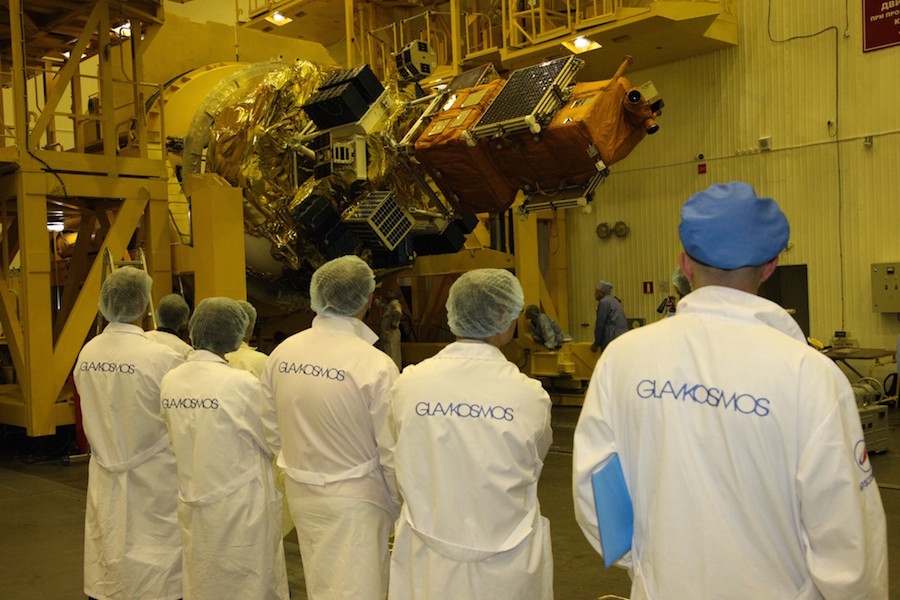 The other 72 satellites stowed aboard the Soyuz rocket range from shoebox- and briefcase-sized CubeSats up to 265 pounds (120 kilograms).
San Francisco-based Planet, owner of more than 100 Dove CubeSats currently looking down on Earth, will add 48 more spacecraft to its fleet with Friday's launch to help the company collect imagery to produce daily global maps.
Eight Lemur CubeSats from Spire Global, another San Francisco company, will blast off in support of weather forecasters, deriving humidity and temperature profiles by measuring GPS navigation signals that pass through Earth's atmosphere.
With Friday's launch, Spire will have sent 49 CubeSats into orbit, but not all of them remain operational.
A competitor of Spire, GeoOptics of Pasadena, California, is launching three more of its CICERO CubeSats for commercial weather forecasting, using the same GPS radio occultation technique as the Lemur satellites. GeoOptics launched its first spacecraft last month on an Indian Polar Satellite Launch Vehicle.
Two Landmapper-BC CubeSats manufactured and owned by Astro Digital, formerly Aquila Space, on Friday's Soyuz flight are the first members of another commercial Earth-imaging constellation. The Landmapper-BC spacecraft, also known as Corvus-BC1 and Corvus-BC2, each weigh around 22 pounds (10 kilograms) and have color and infrared cameras for wide-area imaging.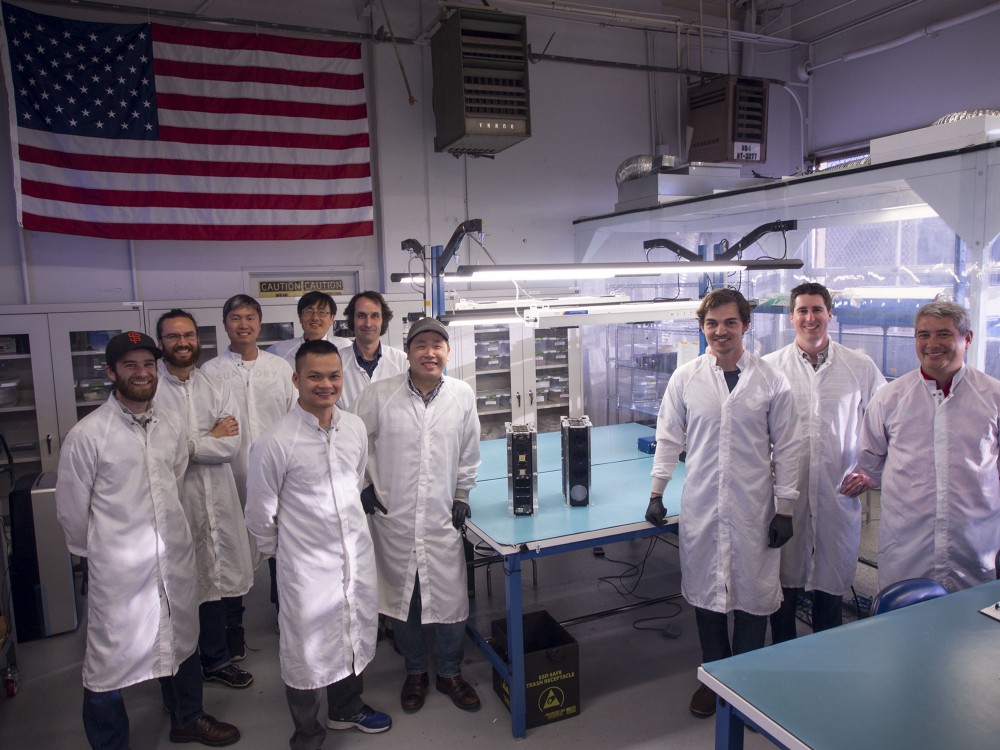 The other U.S. company with a payload awaiting liftoff from Baikonur is Tyvak, a launch services broker and small satellite-builder in Southern California. Tyvak's experimental 11-pound (5-kilogram) NanoACE CubeSat will test an attitude control system, command and data handling system, guidance, navigation and control software and actuators, and visible and infrared cameras.
German university students built two satellites launching Friday, including the 265-pound (120-kilogram) Flying Laptop spacecraft from the University of Stuttgart's Institute of Space Systems.
The Flying Laptop satellite will give students experience in mission operations, take pictures of Earth and look for near-Earth asteroids, validate the performance of a reconfigurable on-board computer, and demonstrate a high-speed optical infrared communications link with a German ground station during its planned two-year mission.
"In addition to the innovative OBC (on-board computer) concept, which is used as the payload on-board computer, several other new technologies are part of the system and will be verified for the first time under space conditions, and in addition, the mission carries out scientific Earth observation objectives using a multispectral camera and receives ship signals with an AIS receiver," said Sabine Klinkner, project director for the Flying Laptop mission at the University of Stuttgart.
She said the Flying Laptop project was funded by the university's small satellite program, the German state of Baden-Württemberg, and with support from the regional space industry. The German Aerospace Center, DLR, paid for the satellite's launch with federal government funds, Klinkner wrote in an email to Spaceflight Now.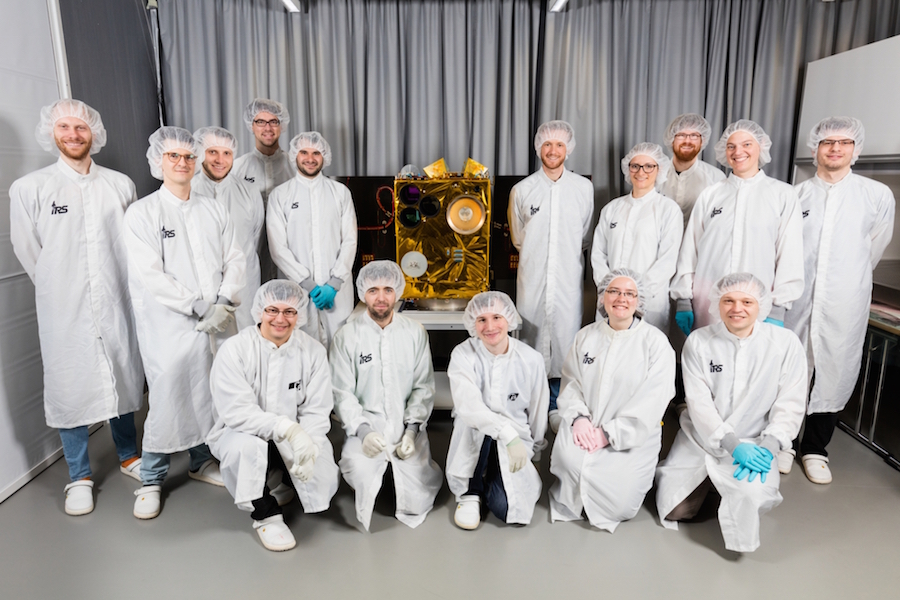 TechnoSat from the Technical University of Berlin will test new nanosatellite components, including a camera, a new reaction wheel system, a star tracker, a transmitter, a fluid dynamic actuator, and commercial laser retro-reflectors. Shaped like an octagonal drum, the TechnoSat satellite weighs around 40 pounds (nearly 20 kilograms) at launch and is funded by the German Federal Ministry for Economic Affairs and Energy.
An experiment sponsored by DLR aboard TechnoSat will detect strikes of tiny space debris particles on the satellite's solar panels to help scientists better understand the density of space junk in low Earth orbit too small to be tracked by existing radars.
Two Norwegian-owned, Canadian-built microsatellites are heading into orbit to track maritime ship traffic.
The briefcase-sized Norsat 1 spacecraft, billed as Norway's first scientific satellite, also carries an instrument developed by the Physical Meteorological Observatory in Switzerland to measure fluctuations in solar radiation arriving at Earth, a key input into Earth's climate that will help scientists better sort human contributions to climate change. A Langmuir probe on Norsat 1 will study the plasma environment in low Earth orbit during the satellite's planned three-year mission.
The Norwegian Space Center — owner of the Norsat satellites — rescheduled the launch of Norsat 1 after a faulty attachment bracket kept the craft off a Soyuz rocket flight in April 2016. Norsat 1 was already at the Soyuz launch base in French Guiana when engineers decided it would be unsafe to add the spacecraft to the mission, which took off without Norsat 1 with a large European environmental satellite.
In addition to its vessel detection receiver, Norsat 2 has a VHF data exchange radio to help extend the range of ship-to-shore communications.
Both Norsats were built by the University of Toronto Institute for Aerospace Studies Space Flight Laboratory.
The 95-pound (43-kilogram) WNISAT 1R satellite developed by two Japanese companies — Weathernews and Axelspace — is ready to kick off a campaign to observe sea ice in the Arctic, typhoons and volcanic ash plumes.
Five Russian CubeSats are also counting down to liftoff Friday.
Two of the Russian secondary passengers will take off on Earth-observing missions for Roscosmos, and three others come from Russian universities, including a joint project with Ecuador's Universidad Tecnológica Equinoccial.
Friday's rideshare mission was arranged by Glavkosmos, a subsidiary of Roscosmos.
The Dutch company Innovative Solutions in Space accommodated most of the CubeSat payloads inside QuadPack deployers.
Glavkosmos aims to sell more commercial Soyuz medium-lift missions from Russian-operated launch sites.
Arianespace works with Glavkosmos on commercial Soyuz launches from the Guiana Space Center in South America. Glavkosmos says it acts as a prime contract integrator for all Russian companies involved in Soyuz missions launched from the tropical spaceport in French Guiana.
Email the author.
Follow Stephen Clark on Twitter: @StephenClark1.