A computer-triggered abort halted the countdown of a Falcon 9 rocket Sunday at NASA's Kennedy Space Center in Florida, pushing back the next mission in SpaceX's launch surge until at least Monday.
The 229-foot-tall Falcon 9 rocket was counting down to liftoff with an Intelsat communications satellite at 7:36 p.m. EDT (2336 GMT) Monday, and an iffy afternoon weather forecast gave way to clear skies as clocks ticked toward launch.
An automatic sequencer sent commands to load the two-stage rocket with super-chilled RP-1 kerosene and liquid oxygen propellants, and the Falcon 9's engines were prepared for ignition and its fuel tanks pressurized for launch during the final minutes of Sunday's countdown.
But clocks stopped at T-minus 9 seconds after a computer overseeing preset criteria in the rocket's guidance, navigation and control system ordered an automatic abort. SpaceX's launch director scrubbed Sunday's launch attempt a few minutes later as engineers investigated the problem.
"We had a vehicle abort criteria violated at T-minus 10 seconds, a GNC (guidance, navigation and control) criteria," the launch director said. "We're still looking into what that is at this time.
"We're not going to be able to get a recycle in today without going past the end of the window, so we're officially scrubbed," he said. "Go ahead and put a 24-hour recycle into work."
SpaceX began draining the Falcon 9's propellant tanks at launch pad 39A soon after the scrub.
If SpaceX's launch team can understand the problem, and correct it if necessary, the Falcon 9 rocket could be fueled again Monday for a 58-minute launch window that opens at 7:37 p.m. EDT (2337 GMT).
The launch of the Intelsat 35e communications satellite is the third in a series of Falcon 9 flights over the last two weeks. If the rocket blasted off Sunday, it would have been the third Falcon 9 launch in a little over nine days, and the second from the same launch pad in Florida.
The feverish pace of activity at SpaceX's Cape Canaveral facilities seeks to break the record for the fastest turnaround between launches at pad 39A. SpaceX and Intelsat are eager to get the rocket off the ground before the U.S. Air Force's Eastern Range becomes unavailable to support the launch after the July 4 holiday.
The Falcon 9 rocket assigned to Intelsat 35e's mission conducted a static fire test Thursday evening at pad 39A, less than 72 hours before the opening of Sunday's launch window. Ground crews rolled back the Falcon 9 to its hangar Friday afternoon and attached the Intelsat 35e satellite to the rocket in time to return to the pad in the predawn hours Sunday.
"We had to add additional resources to try to turn around the campaigns in such a short time," said Ken Lee, Intelsat's senior vice president of space systems, in an interview Sunday at Cape Canaveral. "More manpower — a lot of pressure — but as usual our team is mission-oriented, so when they see a target they're going to do the best they can do meet that date.
"They've been working almost around-the-clock, and we brought in additional engineers to make sure that we did the work that we needed to do without any shortcuts."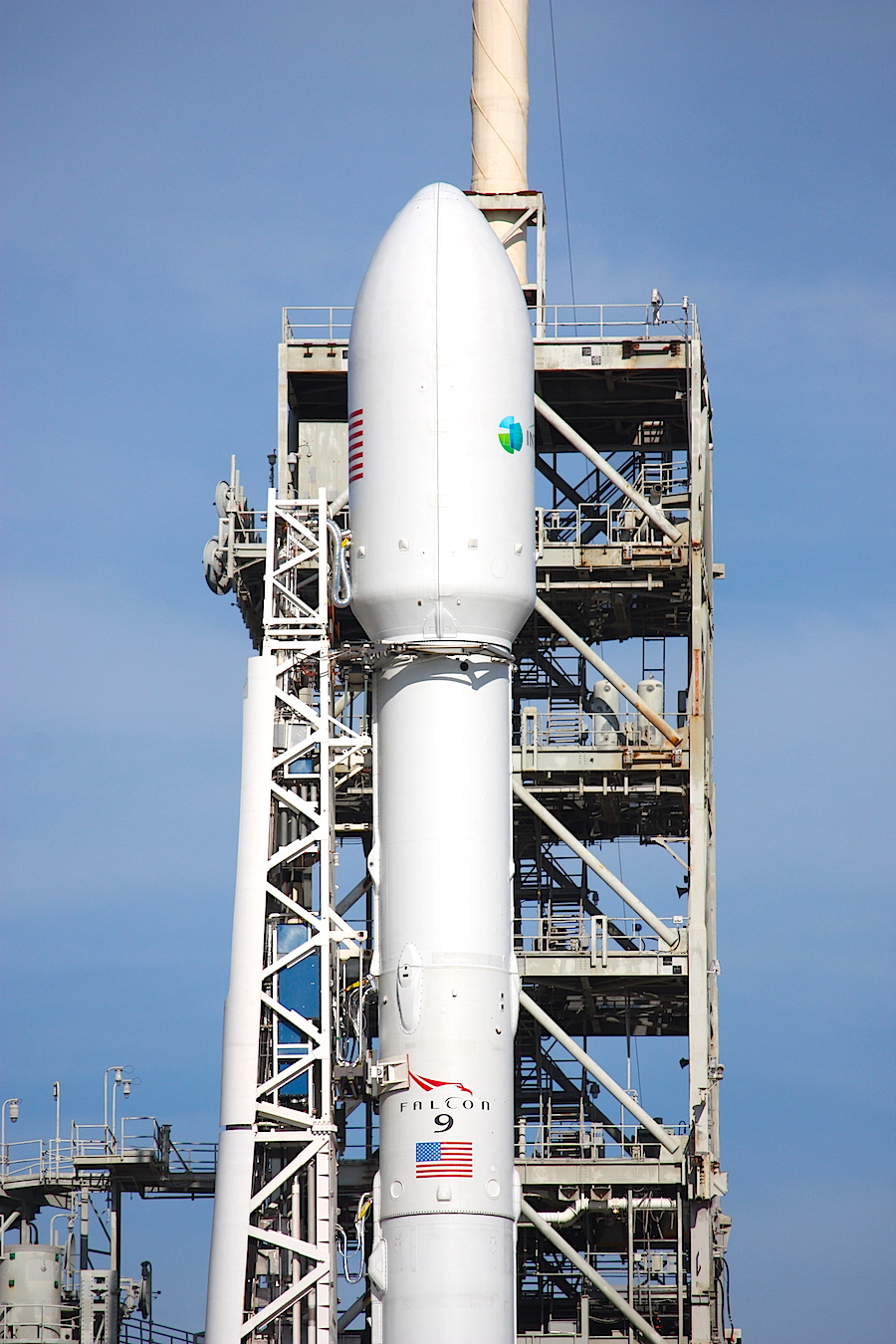 The 14,905-pound (6,761-kilogram) Intelsat 35e communications satellite, built by Boeing, is the heaviest spacecraft ever launched by SpaceX toward a perch in geostationary orbit, a circular loop more than 22,000 miles (nearly 36,000 kilometers) above Earth's equator commonly used by broadcast and data relay stations.
At that altitude, orbital mechanics require a satellite to fly around Earth at the same speed it rotates, allowing a spacecraft to hover over a fixed geographic location, an ideal situation for communications applications.
The heavy weight of Intelsat 35e effectively "maxes out" the Falcon 9's capability to lift a payload going to that type of orbit, Lee said.
SpaceX has budgeted all of the Falcon 9's kerosene and liquid oxygen propellant to send Intelsat 35e into as high of an orbit as possible. That means the first stage will not return to land on a barge at sea, and the upper stage's single Merlin engine is programmed to fire as long as it can, instead of aiming for a specific predetermined altitude.
The mission is designed to leave as little leftover propellant as possible in the second stage, called a "minimum residual shutdown."
"There is a minimum orbital target that we are shooting for, and if there is excess fuel on the rocket, then we're going to continue to burn until we deplete all the fuel," Lee said.
Lee said there is a range of possible orbits the Falcon 9 could deploy Intelsat 35e into, but the minimum expected peak altitude, or apogee, when the satellite separates from the upper stage is 19,405 miles (31,230 kilometers), according to Lee.
The low point, or perigee, of the transfer orbit is expected to be around 155 miles (250 kilometers), and Intelsat 35e's path around Earth will be tilted 26 degrees to the equator.
If the launcher releases the Intelsat 35e satellite in that orbit, the spacecraft will still have enough on-board propellant for its planned 15-year operational life. Intelsat and Boeing agreed to load more fuel into the spacecraft to make up for the possible altitude shortfall.
"Everything else will be gravy in terms of the service life," Lee said, referring to the benefit of going into a higher initial orbit.
When it blasts off, the Falcon 9 could deliver extra performance for Intelsat 35e, and the possible range of the satellite's initial apogee altitude runs above 22,000 miles, a regime called "supersynchronous" transfer orbit, Lee said.
The higher the orbit, the better for the satellite in terms of mission lifetime because Intelsat 35e will have to burn less of its own fuel to maneuver into its final position.
"The range we are hoping for tonight, we have a minimum number, and we have a maximum number, which would be a slightly supersynchronous (transfer) orbit," Lee said.
"We are maxing out (the Falcon 9) and beyond because we are doing the MRS (Minimum Residual Shutdown) mission, and we are not recovering this rocket."
Intelsat 35e's own engine will fire multiple times in weeks after launch to circularize the satellite's orbit a geostationary altitude. Lee said the spacecraft should ever service in the second half of August, beaming signals across the Americas, the Caribbean, Latin America, Europe and Africa for wireless network providers and television broadcasters.
Email the author.
Follow Stephen Clark on Twitter: @StephenClark1.