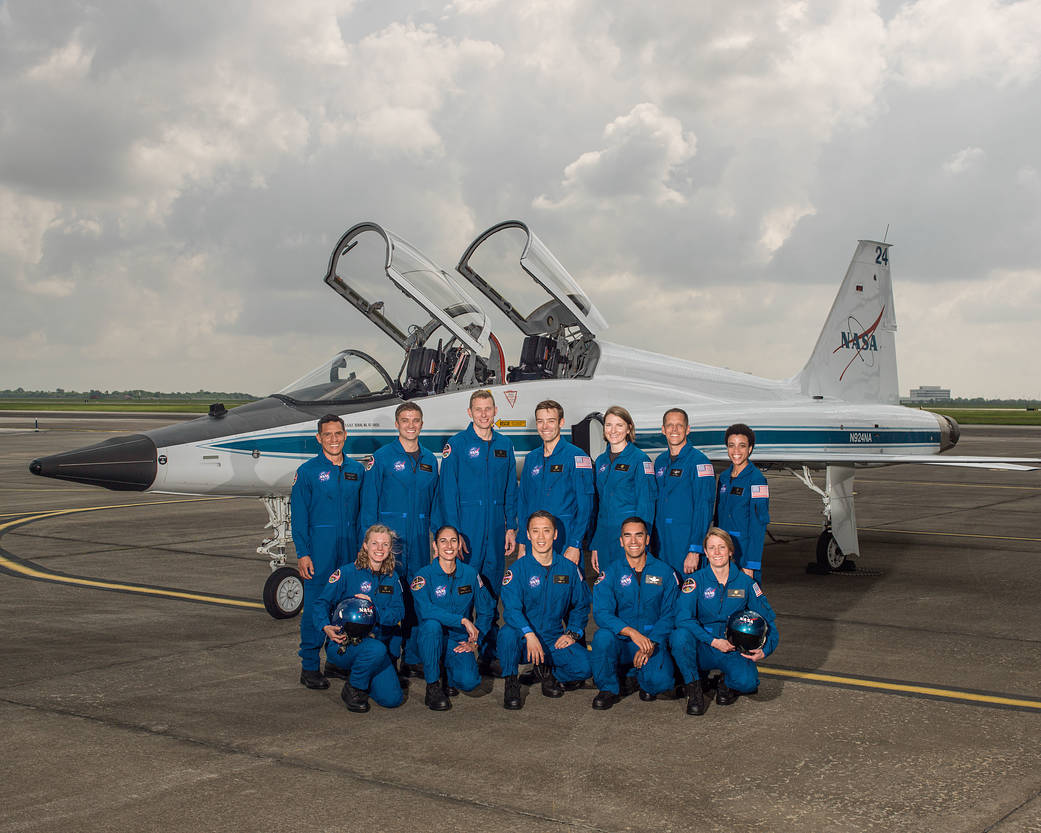 NASA has picked 12 engineers, scientists and pilots to begin basic training for future spaceflight assignments from more than 18,300 applicants, adding U.S. military combat veterans, two medical doctors, a submarine officer, an MIT professor, an expert on submersibles, a SpaceX launch engineer, a field biologist and a planetary geologist to the agency's astronaut ranks.
Vice President Mike Pence, lawmakers and political dignitaries welcomed the 12 astronaut candidates Wednesday at NASA's Johnson Space Center in Houston.
The new cadre of astronaut candidates are part of NASA's largest astronaut class since 2000, and they will begin two years of training in August before becoming full-feldged members of the astronaut corps and eligible for flight assignments.
"These are 12 men and women whose personal excellence and whose personal courage will carry our nation to even greater heights of discovery and who I know will inspire our children and our grandchildren every bit as much as your forebears have done so in this storied American program," Pence said.
Pence reiterated the White House's plans to reestablish the National Space Council, a multi-agency panel that was last active during President George H.W. Bush's administration. Pence will chair the council, which will include representatives from civilian and military agencies, the private sector and academia.
"America needs a National Space Council once again," Pence said. "Twice before in our nation's history, our nation has had a federal body charged with advising the president on national policy and strategy for space."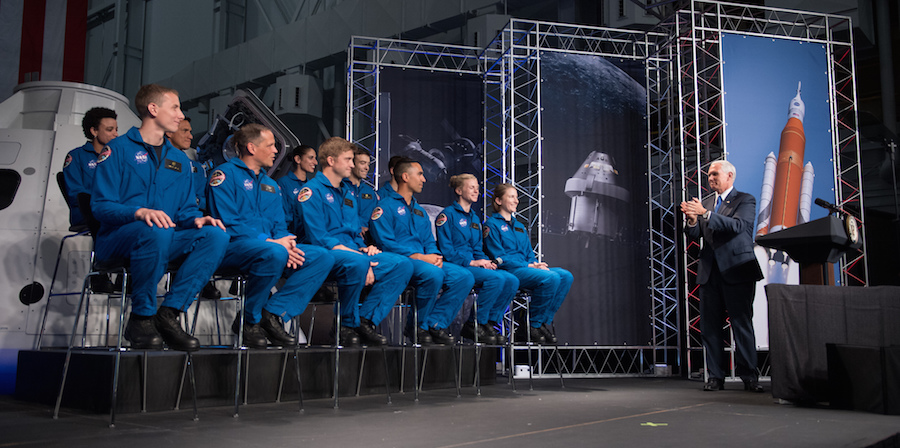 Pence did not offer specifics of the White House's vision for NASA, but President Trump's fiscal year 2018 budget request proposes a $19.1 billion budget for the space agency next year, a $561 million reduction from NASA's current-year spending.
The budget request calls for a $170 million cut in Earth science spending, the elimination of five Earth science missions, the shuttering of NASA's education office, and the cancellation of a planned mission to retrieve a boulder-sized piece of an asteroid and return it to the vicinity of the moon for astronaut visits.
NASA's Space Launch System and Orion capsule, designed for deep space human exploration, would receive a multibillion-dollar budget, and the robotic Mars 2020 rover and Europa Clipper probe are kept on track in the White House proposal. A Europa lander would be terminated.
"We will continue to unlock the mysteries of space, but to do so, we most reorient our civilian space program toward deep space exploration and provide the capabilites for America to maintain a constant presence in low Earth orbit and beyond," Pence said.
NASA released biographies of the 12 new astronaut candidates, who applied for the space program after NASA posted astronaut job openings in December 2015.
Here are brief overviews of the 12 new astronaut candidates provided by NASA:
"As American astronauts, you may yet return our nation to the moon, you may be the first to travel to Mars, (and) you may have experiences that we can only imagine," Pence said.
NASA culled the 12 finalists from more than 18,000 applicants, a record level of interest in the astronaut job opportunities that bested the number of applications for the space agency's 1978 astronaut class, the first to include women and minorities.
"Getting down from 18,000 to some manageable number was a feat in and of itself," said astronaut Chris Cassidy, deputy chair of the astronaut selection board. "We physically interviewed 120 people here in Houston — obviously these 12 were a part of that — and that's when it really gets hard."
The would-be space explorers are a diverse group, hailing from different personal backgrounds and boasting a range of professional experiences.
Five of the astronaut candidates hold doctorate degrees, and seven are current or former military officers.
Jonny Kim, a former Navy SEAL and currently an emergency physician, said NASA told the incoming astronauts they would likely initially train to fly on commercial SpaceX Crew Dragon and Boeing CST-100 Starliner capsules to the International Space Station.
Asked if he would ride on a CST-100 Starliner crew craft owned and operated by Boeing, a SpaceX rival, SpaceX engineer Robb Kulin said yes.
"I'll ride on whatever spacecraft I can go on," said Kulin, who helped design parts of SpaceX's Falcon 9 rocket and most recently led SpaceX's launch chief engineering office. "I'm pretty confident in the processes, as a whole, to get us there safely."
Two of the astronaut candidates have experience in NASA's robotic exploration programs. Watkins, a former college rugby player, worked on NASA's Curiosity Mars rover and other missions at the Jet Propulsion Laboratory, and Chari was an intern at two NASA centers as a student at the Air Force Academy, assigned to teams developing the Spitzer Space Telescope and a Mars sample return mission.
"I think one (area) that was a bigger focus in this selection was skills that are appropriate for longer-tern spaceflight, so stays on the ISS that are six months or longer, or possible deeper space exploration missions," said O'Hara, a subsea systems engineer. "We have a little more of a remote and extreme environment skillset than maybe previous classes did."
Bob Hines, the oldest of the group, said he attended Space Camp as a child, which "fanned the flame" and grew his interest in spaceflight. But his lifelong passion has been aviation, and he only became interested in the astronaut corps recently as a pilot based at Johnson Space Center.
Matthew Dominick was deployed on the USS Ronald Reagan aircraft carrier in the Western Pacific Ocean when he learned of his selection to become an astronaut.
Email the author.
Follow Stephen Clark on Twitter: @StephenClark1.