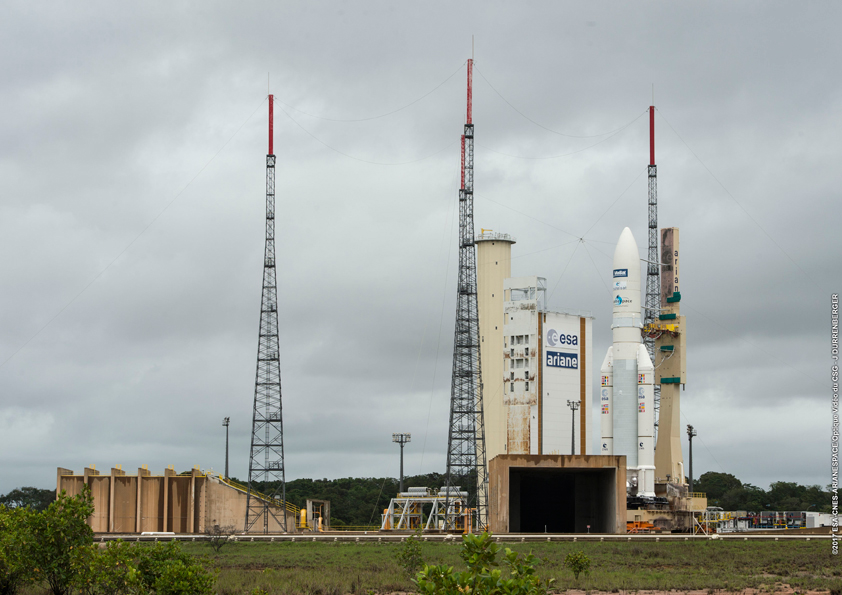 A pair of innovative satellites for ViaSat and Eutelsat, valued at approximately $800 million, are scheduled to lift off Thursday on an Ariane 5 rocket from French Guiana, hauling the heaviest and costliest commercial payload ever launched.
Built by aerospace rivals Boeing and Airbus, the satellites are nestled inside the Ariane 5 rocket's payload fairing for launch at 2345 GMT (7:45 p.m. EDT) Thursday, the opening of a one-hour launch window.
The Ariane 5 rolled out of its assembly building for the 1.7-mile (2.7-kilometer) trip to the ELA-3 launch pad Wednesday, and the countdown commenced just after sunrise Thursday with a check of electrical systems and preparations to fill the rocket with cryogenic liquid hydrogen and liquid oxygen propellants.
The ViaSat 2 and Eutelsat 172B satellites riding on Thursday's mission — the 93rd Ariane 5 flight overall, and the third use of the launcher this year — are on their way to operating posts in geostationary orbit more than 22,000 miles (nearly 36,000 kilometers) over the equator.
The satellites' combined weight — 21,977 pounds (9,969 kilograms) — will set a record for the heaviest spacecraft stack ever launched into geostationary transfer orbit, the drop-off point for most large communications satellites heading for perches high over the equator, according to Arianespace, the Ariane 5's launch operator.
The mark will best the current record set by an Ariane 5 launch last year.
ViaSat 2 was originally booked to launch on a SpaceX Falcon Heavy rocket, but ViaSat switched to an Ariane 5 flight last year, blaming delays in the development of SpaceX's heavy-lifter.
The 14,149-pound (6,418-kilogram) ViaSat 2 spacecraft will expand ViaSat's broadband network outside the United States over the Americas and the Atlantic Ocean, offering Internet services via satellite to homes and businesses, and keeping travelers connected in the air.
"ViaSat 2 is going to be the highest-capacity satellite ever launched, with about 300 gigabits (per second) of total capacity, which is more than double what we had on ViaSat 1, which was launched less than six years ago, and more than 40 times the capacity of WildBlue 1, which was launched by Arianespace about 10 years ago," said David Abrahamian, director of space systems at ViaSat. "So that shows you just how fast the technology is moving."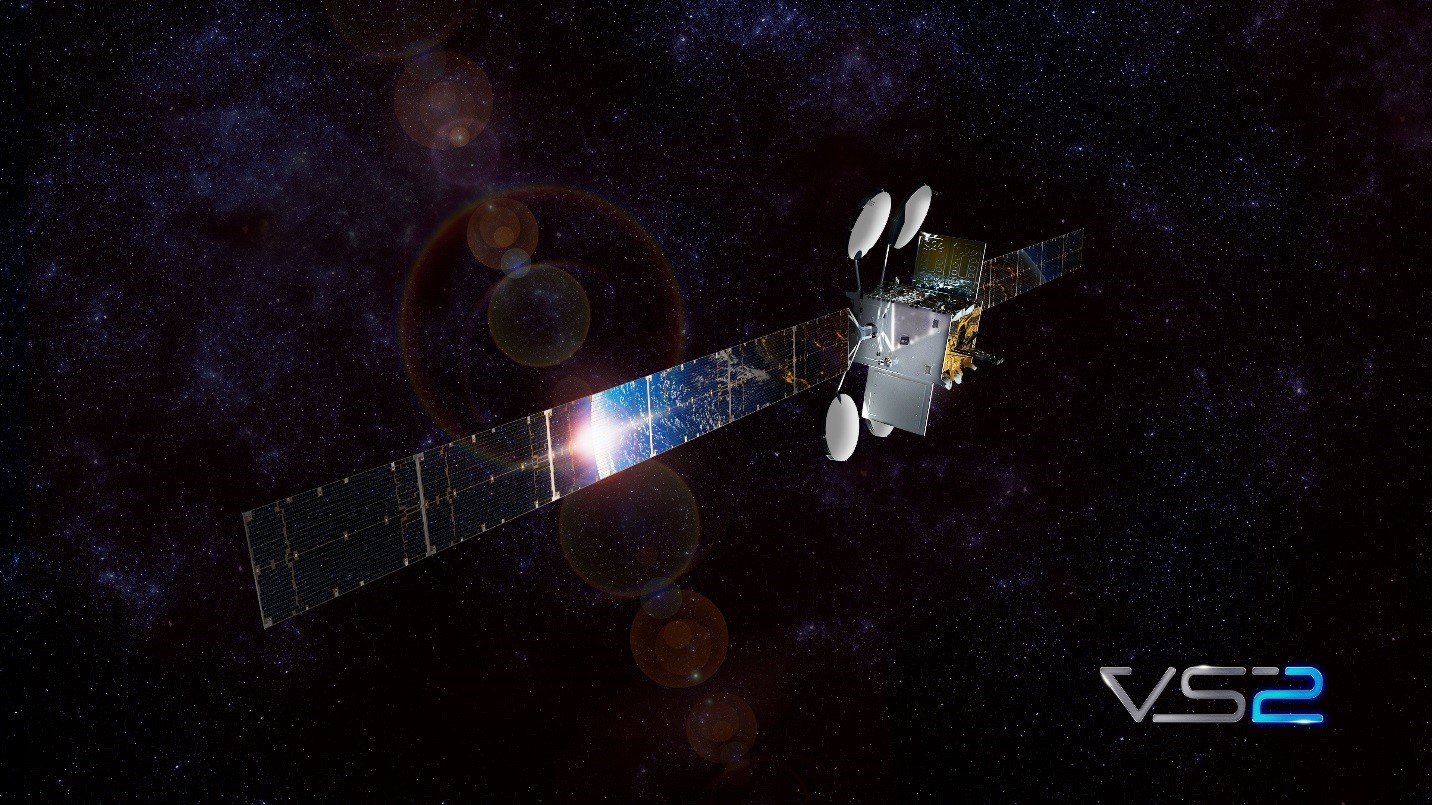 ViaSat built the Ka-band communications payload on the ViaSat 2 spacecraft, and Boeing manufactured the satellite platform. ViaSat 2 is expected to operate for more than 14 years.
"ViaSat 2 also brings about seven times the coverage area of ViaSat 1," Abrahamian said. "It will cover North America, Central America, the Caribbean, the northern part of South America, and the trans-Atlantic bridge, so we'll have the flexibility to move capacity where it's needed. There's going to be no trapped or unusable capacity as there have been on prior satellites.
"That will enable better broadband services to the residential market, with virtually unlimited services and faster speesds of 50 megabits per second or more, and better in-flight services," Abrahamian said. "In fact, with ViaSat 2, you'll now be able to fly all the way from the U.S. West Coast, across the Atlantic, through Europe, and into the Middle East with ViaSat's network."
ViaSat says it spent more than $600 million on the ViaSat 2 mission, which is the latest growth for the Carlsbad, California-based operator. A global fleet of at least three ViaSat 3 satellites will begin launching in 2019 and provide ever faster service at lower cost.
ViaSat touts the affordability and bandwidth of its services, which include the introduction of streaming movies to Virgin America and JetBlue passengers via Netflix and Amazon Prime, respectively.
The Ariane 5 rocket will deploy the ViaSat 2 and Eutelsat 172B satellites — riding in the launcher's upper and lower positions, respectively — into a transfer orbit about 40 minutes after liftoff, aiming for an orbit with a low point of 155 miles (250 kilometers), a high point of 22,186 miles (35,706 kilometers), and an inclination of 6 degrees.
The two satellites have a combined insured value of around $800 million, according to an official familiar with ViaSat and Eutelsat's insurance arrangements. That is the highest insured value in history for a satellite launch.
Add in the cost of the Ariane 5 rocket, and the insurance premiums themselves, and the cost of Thursday's launch approaches $1 billion, another record in the commercial space business.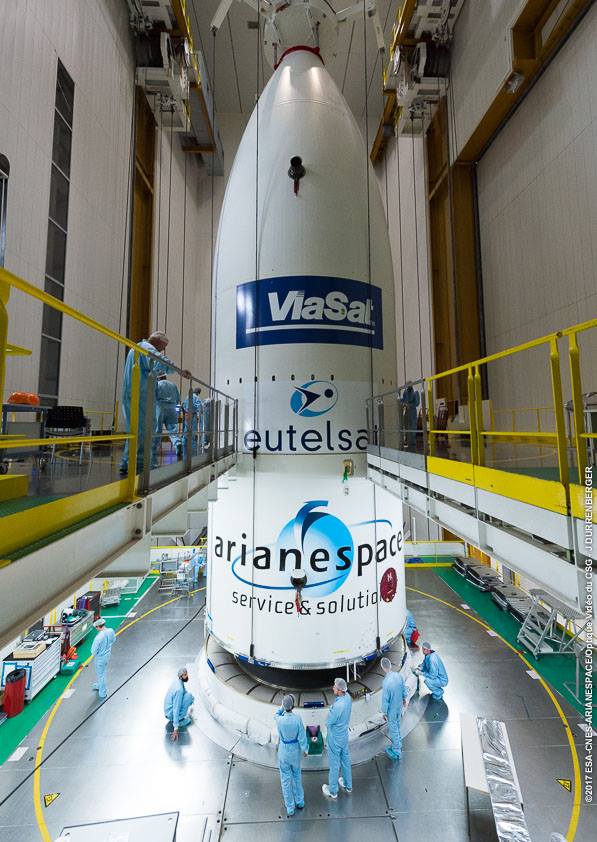 ViaSat 2's hydrazine-fueled main engine will fire several times over the next few weeks to circularize its orbit and position it over the equator at 69.9 degrees west longitude, where its orbit will synchronize with Earth's rotation, allowing it to remain over a fixed location.
The craft will also extend its communications antennas and solar arrays to a span of 158 feet (48 meters), wider than the wingspan of a Boeing 737 jet.
ViaSat officials expect the new satellite to begin commercial service by the end of this year.
The co-passenger on Thursday's launch is Eutelsat 172B, the first spacecraft produced by Airbus Defense and Space with all-electric propulsion, an innovation aimed at producing lighter, less expensive satellites.
Owned by Paris-based Eutelsat, Eutelsat 172B is heading for an operating position at 172 degrees east longitude, offering its transponders and antennas line-of-sight over Asia, Australia and the Pacific Ocean to Alaska.
It will take four months for the 7,828-pound (3,551-kilogram) satellite to reshape its orbit with thrusters fueled by xenon gas and powered by electricity generated by Eutelsat 172B's solar panels. The electric engines are low-thrust, but highly-efficient, requiring less propellant but more time to do the job of a conventional liquid-fueled engine.
"Using electric propulsion for initial orbit-raising and all on-station manoeuvres has led to a substantial weight reduction, enabling the satellite to be launched in the Ariane 5 lower position and offering more competitive launch costs," said Arnaud de Rosnay, head of telecommunications satellites at Airbus.
Deployable robotic arms will point the electric thrusters in the right orientation during orbit-raising.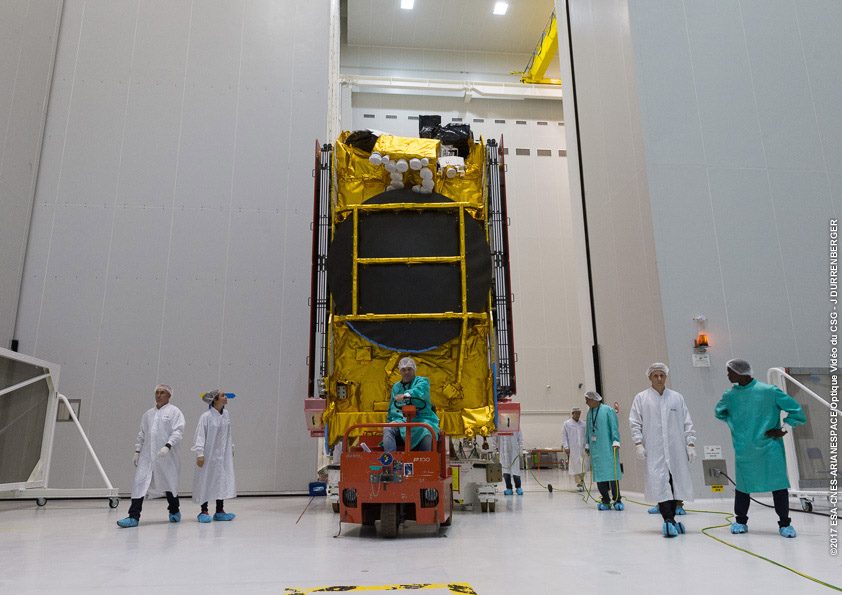 Eutelsat's newest satellite will replace the 10-year-old Eutelsat 172A spacecraft, which will be relocated to another position in geostationary orbit.
Eutelsat 172B is a "triple-mission" satellite, offering high-throughout Ku-band services for in-flight wifi and connectivity for airline passengers in the Asia-Pacific, along with regular Ku-band and C-band transponders for video broadcasting, corporate networks and cellular backhaul.
Panasonic Avionics Corp. will use Eutelsat 172B's in-flight connectivity capacity on commercial airline flights.
"Eleven elliptical spot beams will enable Panasonic to bridge the West coast of North America to Asia, and down to Australia, supporting rapid air traffic growth in the region and surges in bandwidth use across densely-used flight paths," Eutelsat said in a press release.
Email the author.
Follow Stephen Clark on Twitter: @StephenClark1.