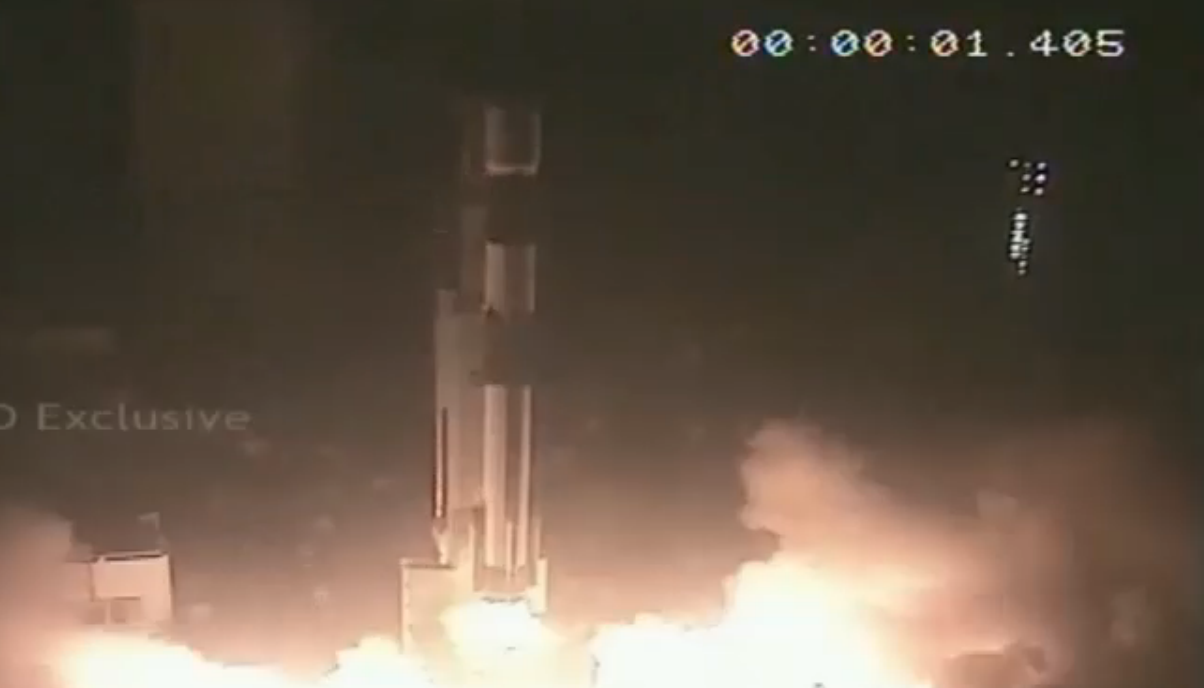 Six spacecraft for Singapore lifted off Wednesday aboard an Indian Polar Satellite Launch Vehicle.
Clustered atop the the PSLV on a launch pad at the Satish Dhawan Space Center on India's east coast, the satellites were manufactured in Singapore, with launch services arranged with Antrix Corp., the commercial arm of the Indian Space Research Organization.
Liftoff occurred at for 1230 GMT (7:30 a.m. EST) Wednesday the Indian spaceport, where the PSLV blasted off at 6 p.m. local time, just after sunset.
Standing more than 44 meters, or 145 feet, tall, the launcher fired its solid-fueled first stage motor, quickly ramp up to full power and race east from the launch pad on Sriharikota Island.
Wednesday's launch used the "core alone" version of the PSLV without six strap-on boosters needed to help send heavier satellites into orbit. The flight marked the 32nd flight of a Polar Satellite Launch Vehicle, and its 11th mission in the core alone configuration.
Generating more than a million pounds of thrust a maximum power, the first stage burned for a minute and 53 seconds, then fell away as the PSLV's second stage liquid-fueled Vikas engine ignited for a nearly two-and-a-half minute firing, during which the rocket's nose cone jettisoned to fall into the Bay of Bengal offshore the launch base.
A third stage motor ignited at about T+plus 4 minutes, 21 seconds and fired for nearly two minutes, followed by a coast phase before the third and fourth stages separated at T+plus 9 minutes, 44 seconds.
The fourth stage took over and burned its engines starting at T+plus 15 minutes, 7 seconds for more than two minutes.
Cutoff of the fourth stage engines came at T+plus 17 minutes, 25 seconds, then the rocket prepared for deployment of its six satellite payloads.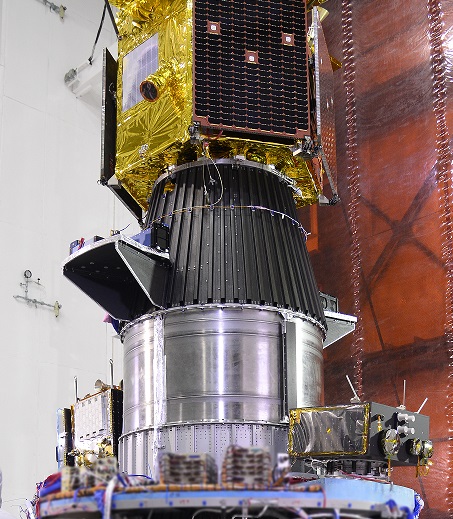 The biggest member of the payload package, the TeLEOS 1 Earth observation satellite, flew free from the PSLV's fourth stage at T+plus 18 minutes, 12 seconds. The other five satellites loaded aboard the rocket separated at intervals through the mission's 21-minute point, with ground controllers calling out confirmation of their deployment.
Officials declared the mission a success after separation of the final payload.
"PSLV is striding forward in its unbroken march of success and has completed its 31st consecutive successful mission today," said P. Kunhi Krishnan, director of the Satish Dhawan Space Center on Sriharikota Island.
The PSLV launch Wednesday was the 50th flight of a large booster since 1979 from India's launch base, which sits about 80 kilometers (50 miles) north of Chennai.
"We have established a remarkable milestone, a landmark in the space history of India, by completing 50 magnanimous launches from Sriharikota, starting with the SLV launch in 1979," Kunhi Krishnan said.
"I can claim that this is a very prestigious mission for us due to the fact that commercial satellites from Singapore were offered to us for a ride on PSLV, and we accomplished the job perfectly," said B. Jayakumar, mission director for Wednesday's launch, which was codenamed PSLV-C29.
The PSLV targeted an orbit about 550 kilometers, or 341 miles, above Earth at an inclination of 15 degrees to the equator.
"The orbit achieved is very precise," Jayakumar said. "It's only five kilometers (three miles) from the specification of the 550-kilometer (341-mile) circular orbit, and the inclination is very close. In fact, it's exactly on the dot."
An experimental four-second restart of the PSLV's fourth stage was planned after the satellites are let go, demonstrating the rocket's ability to place multiple satellites into different orbits on future flights.
The prime satellite on Wednesday's launch was TeLEOS 1, a 400-kilogram (880-pound) commercial Earth imaging observatory made by ST Electronics in Singapore.
TeLEOS 1 has a five-year design life, and its unique orbit taking the satellite 15 degrees north and south of the equator will yield regular revisits of observation targets every 12 to 16 hours.
With a sharp-eyed camera capable of resolving objects on the ground as small as a meter, or 3 feet, TeLEOS 1 complements Earth observation satellites in more traditional sun-synchronous orbits, according to ST Electronics.
TeLEOS 1 will not have the global coverage of a polar-orbiting Earth observing platform, but it will offer more regular imagery of equatorial locations, including Singapore.
Managers plan to sell TeLEOS 1 imagery commercially for applications like homeland security and border control, maritime surveillance and disaster response.
The five other spacecraft aboard Wednesday's launch included microsatellites and CubeSats. Their descriptions from an ISRO press kit are posted below:
VELOX-CI, a 123-kilogram (271-pound) microsatellite for research in tropical environmental monitoring using radio occultation techniques. The satellite will be operated from the ground station located in Nanyang Technological University, its lead developer in Singapore.
Kent Ridge 1, a 78-kilogram (172-pound) microsatellite from the National University of Singapore with two primary payloads: a medium resolution hyperspectral camera and shortwave infrared hyperspectral camera. Its secondary payload is a real-time high resolution video camera.
VELOX-II, a 13-kilogram (28-pound) six-unit CubeSat technology demonstrator with three payloads: Communications Payload, GPS Experimental Payload and Fault Tolerant Payload. This satellite was developed by Nanyang Technological University in Singapore.
Athenoxat 1, a three-unit CubeSat, has been designed, developed and built by Microspace Rapid Pvt Ltd. in its Singapore laboratory. It is a technology demonstrator nanosatellite for Earth remote sensing.
Galassia is a two-unit, 3.4-kilogram (7.5-pound) CubeSat from the National University of Singapore. It carries two payloads. One measures the total electron count in the ionosphere above Singapore, and the other is a small photo-entangling quantum system to acquire quantum correlation data in space
Email the author.
Follow Stephen Clark on Twitter: @StephenClark1.