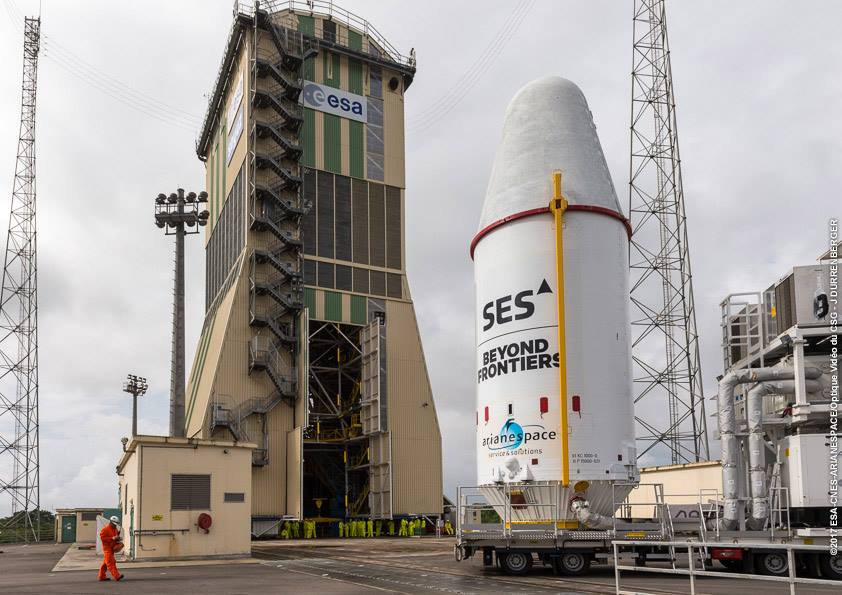 A commercial communications satellite will blast off Thursday from French Guiana on top of a Soyuz rocket, on the way to a station over the Americas to supply bandwidth to airline travelers and broadcasters in the United States, Canada and Mexico.
The SES 15 communications craft, built by Boeing, is fastened top the top of a Russian-made Soyuz ST-A rocket inside a gantry on a launch pad at the Guiana Space Center, a French-operated spaceport on the northeastern coastline of South America.
Fitted with xenon-ion thrusters, the 5,075-pound (2,302-kilogram) satellite is heading for a circular geostationary orbit thousands of miles over the equator, where it will slot into position at 129 degrees west longitude, keeping station there for a planned 15-year mission beaming Internet and television services over North America.
Liftoff is timed for exactly 1154:43 GMT (7:54:53 a.m. EDT; 8:54:53 a.m. French Guiana time) Thursday. If a technical problem or weather prevents launch at that time, another liftoff opportunity is available 33 minutes later.
All systems are go for blastoff Thursday, according to Martin Halliwell, chief technology officer at SES, the Luxembourg-based company which owns the SES 15 spacecraft.
"Everything is going fine," Halliwell said in a telephone interview from French Guiana. "No issues with the spacecraft, no issues with the launch vehicle at the moment. We're on target for a launch Thursday morning, local (time)."
Halliwell said the mission holds several firsts for SES, operator of one of the largest fleets of geostationary telecom satellites.
"It's a small Boeing 702SP, around 2.3 tonnes," Halliwell said. "It's fully electrical propulsion, so that's a first for us. The other first is it's the first Soyuz GTO (geostationary transfer orbit) launch that we've done in the group."
Russian technicians rolled out the Soyuz rocket to its jungle launch pad Monday, and crews mounted the SES 15 satellite on top of the launcher Monday evening. The telecom platform was enclosed inside the rocket's nose fairing May 12 in a nearby clean room.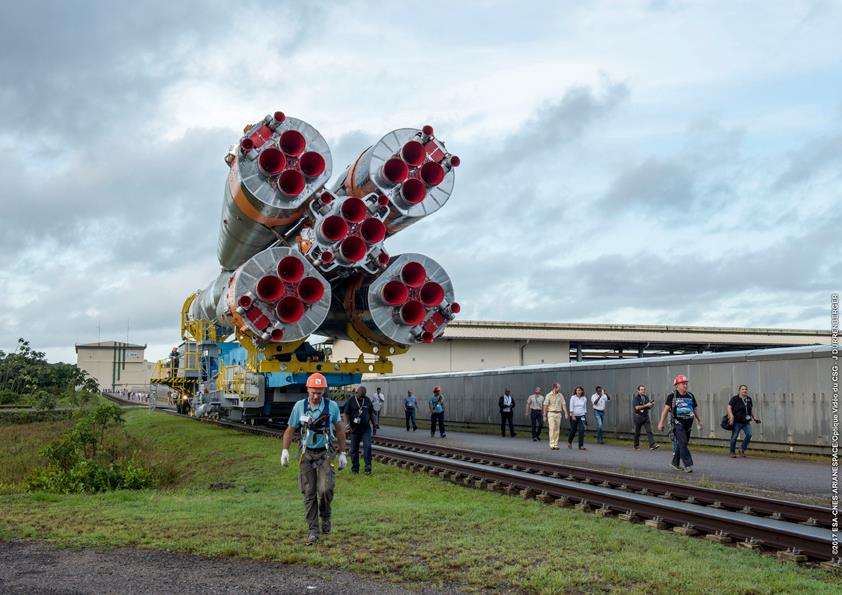 After final electrical checks and a mission dress rehearsal this week, the countdown will begin before dawn Thursday.
Managers from the Russian space agency and Arianespace, which is in charge of Soyuz operations in French Guiana, will authorize fueling of the launcher with kerosene and liquid oxygen shortly before 0700 GMT (3 a.m. EDT; 4 a.m. French Guiana time).
Filling of the Soyuz rocket's three main stages with propellants should begin at T-minus 4 hours, 30 minutes.
A mobile tower protecting the Soyuz rocket from the humid, rainy jungle climate at the spaceport will withdraw to launch position around 1044 GMT (6:44 a.m. EDT; 7:44 a.m. French Guiana time).
An automatic countdown sequencer will take control of the final launch preparations, overseeing pressurization of the Soyuz fuel tanks, the retraction of umbilicals, a power transfer to the rocket's internal batteries, and ignition of the launcher's four strap-on boosters and core stage.
Petal-like hold-down clamps will release the 151-foot-tall (46-meter) Soyuz launcher from a purpose-built launch pad at the space center, and the rocket's digital flight computer will steer it east over the Atlantic Ocean.
The four strap-on engines will shut down and fall away at T+plus 1 minute, 58 seconds, followed by the release of the two-part clamshell-like payload fairing at T+plus 3 minutes, 39 seconds, once the Soyuz is out of the densest layers of the atmosphere.
The Soyuz third stage's RD-0110 engine will ignite at T+plus 4 minutes, 47 seconds for a four-minute firing, before giving way to a hydrazine-fueled Fregat upper stage for a pair of burns to guide the SES 15 satellite into an "optimized" elliptical geostationary transfer orbit.
The first Fregat engine firing, scheduled to last nearly 14 minutes, will propel SES 15 into a preliminary egg-shaped orbit. The Russian-built upper stage will coast for more than four-and-a-half hours before reigniting at 1652 GMT (12:52 p.m. EDT; 1:52 p.m. French Guiana time).
The second maneuver will last approximately 52 seconds, long enough to reshape SES 15's path around Earth and raise the low point, or perigee, of its orbit.
Deployment of SES 15 from the Fregat upper stage is scheduled for 1713 GMT (1:13 p.m. EDT; 2:13 p.m. French Guiana time) in an orbit tilted 6 degrees to the equator — roughly the latitude of the Guiana Space Center — with a high point of 19,449 miles (31,300 kilometers) and a low point of 1,367 miles (2,200 kilometers).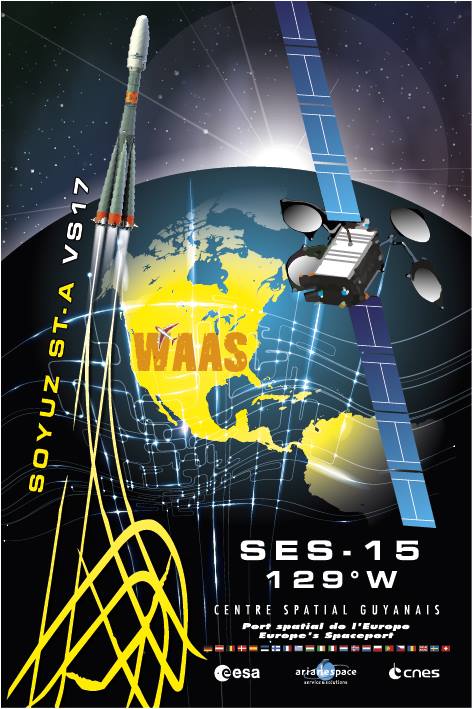 SES 15's xenon-ion thrusters will then kick off around six months of orbit-raising maneuvers to steer the satellite into its final circular geostationary orbit over the equator.
Halliwell said the orbit targeted by Thursday's launch, with a higher perigee than a typical geostationary transfer orbit, "gives us a little bit of a head start" on the orbit-raising.
"We're closer to the equator here than in Florida, so that's good and is helping us out a little," Halliwell told Spaceflight Now. "We've only got 6 degrees to take out."
The low-thrust electrical jets, powered by xenon gas and electricity, will take longer to adjust SES 15's orbit than conventional chemical rocket engines. Until the last few years, communications satellites carried large liquid propellant tanks for the firings needed to move payloads from their initial drop-off orbits to their final locations.
Boeing pioneered the all-electric communications satellite design, building and launching four of the new-generation spacecraft aboard SpaceX Falcon 9 rockets from Cape Canaveral in 2015 and 2016.
"The big saving is in mass and complexity on the spacecraft," Halliwell said of the all-electric design. "In the propulsion system, we're only carrying a xenon tank, and that will give us all our station-keeping maneuvers for the entire lifetime."
The cut in mass available with the all-electric design allows payload owners to book rides on smaller, less expensive rockets without giving up capacity on the satellite.
"SES 15 is really a marvel of innovation," said Mark Spiwak, president of Boeing Satellite Systems International, the spacecraft's manufacturer. "We are still the only satellite contractor in the world that has launched and has on-orbit an all-electric propulsion satellite. There are some other folks who are using portions of the mission with all-electric (propulsion), but even now … We're still the only ones that launch a satellite with only xenon gas on-board."
Airbus Defense and Space is preparing a Eutelsat communications satellite with all-electric thrusters for launch on an Ariane 5 rocket next month, marking that contractor's first in-space demonstration of the technology.
SES 15 was originally supposed to fly on a dual-payload mission on Arianespace's heavy-lift Ariane 5 rocket, but the launch firm and SES agreed last year to switch to a medium-class Soyuz booster to keep the satellite on schedule due a jam-packed Ariane 5 manifest.
"The downside (of all-electric propulsion) is the orbit-raising," Halliwell said. "We're looking for very good performance on the Soyuz and the Fregat, but even so, we're probably looking at 190-odd days of orbit-raising. But we're going to push this as hard as we can, and we're looking to try to get into orbit and to get into operation before the end of the year."
SES and Boeing announced the agreement to build the SES 15 satellite in February 2015.
The spacecraft hosts hardware for multiple Ku-band communications missions, including a high-throughput payload designed to provide in-flight connectivity to airline passengers traveling across North America, Central America and the Caribbean.
The aeronautical mobility payload "covers the whole of the United States, going right the way up to Alaska, and with a corridor going out to Hawaii, all in Ku," Halliwell said.
A Ku-band beam for video broadcasts overlays the high-throughput footprint over the United States, according to Halliwell.
SES 15 also carries a hosted payload built by Raytheon to improve GPS navigation data over the United States. The navigation aid is part of the Federal Aviation Administration's Wide-Area Augmentation System, used by pilots and air traffic controllers to improve aircraft spacing and positioning near busy airports and in inclement weather.
In an interview with Spaceflight Now, Spiwak said more than 50 structural components on SES 15 were 3D-printed.
"We're now using a lot of these technologies, whether it be all-electric (propulsion) or printed parts, across all of our product line," Spiwak said.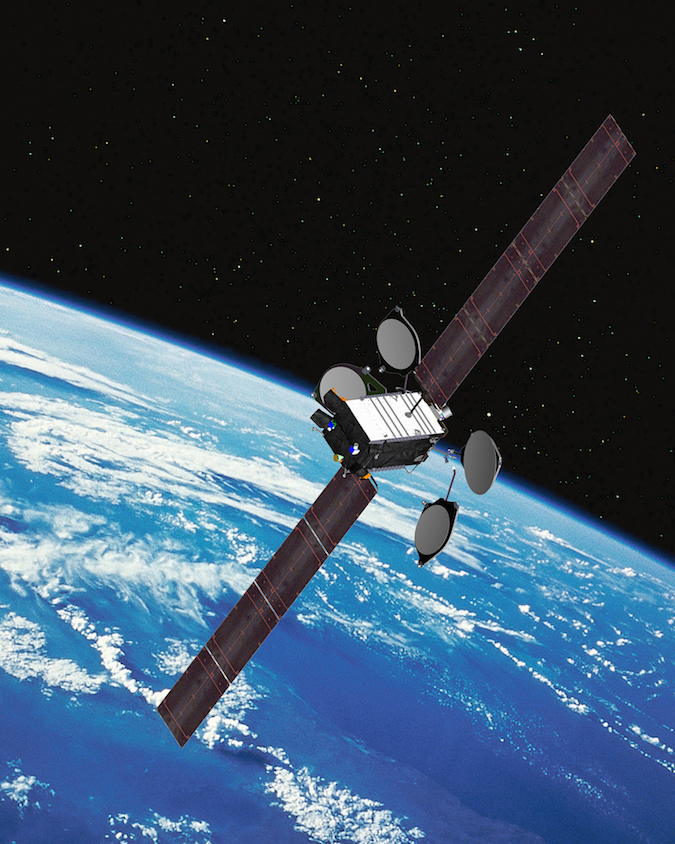 SES 15 will be the second Boeing-built telecom satellite launched this week.
A SpaceX Falcon 9 rocket took off Monday and delivered a heavyweight satellite for Inmarsat's mobile broadband service to orbit.
Boeing ground controllers at the company's satellite factory in El Segundo, California, are overseeing Inmarsat 5 F4's early testing and orbit-raising, while a separate engineering team is preparing for SES 15's liftoff, according to Spiwak.
Boeing has four mission control rooms that could be activated simultaneously, Spiwak said.
"We've looked at could we even launch on the same day, or within a day or so, so we've got all of that mapped out, and the mission control rooms and personnel all in place to support the different missions," Spiwak said.
"From that standpoint, we're going to have one team executing on Inmarsat and continuing to do that, and of course, SES 15's countdown and launch will be Thursday, so there's a separate team leading that up."
Spiwak said Inmarsat 5 F4 is in good shape following Monday's launch as the satellite prepares for a series of firings by its liquid-fueled engine over the next couple of weeks to reach geostationary orbit.
Boeing's mission controllers are re-planning some of the orbit-raising maneuvers after the Falcon 9 rocket deployed Inmarsat 5 F4 into a higher-than-expected orbit, giving the craft an extra boost toward its final position.
Email the author.
Follow Stephen Clark on Twitter: @StephenClark1.