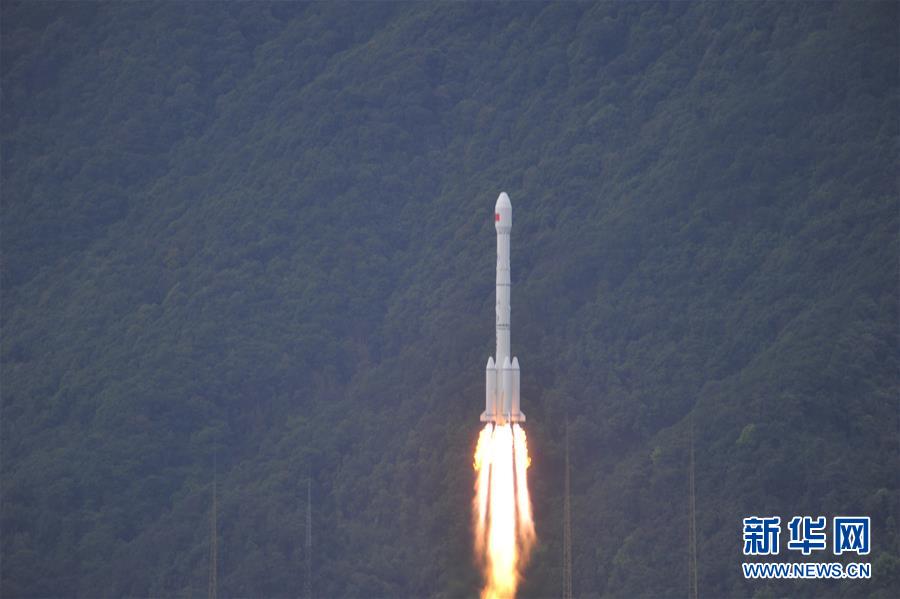 A Chinese Long March 3B rocket fired into space Wednesday with Shijian 13, also known as Chinasat 16, to deliver Internet connectivity to remote parts of China, airline travelers and high-speed trains.
The Shijian 13 satellite also has an experimental mission to test laser communications technology and electric thrusters to maintain its position in geostationary orbit.
The spacecraft — with a launch weight of approximately 10,100 pounds (4,600 kilograms) — took off at 1104 GMT (7:04 a.m. EDT; 7:04 p.m. Beijing time) Wednesday from the Xichang space center in southwestern China.
The 184-foot-tall (56-meter) Long March 3B rocket, boosted by four liquid-fueled strap-on engines, ascended into a cloudy sky over the Xichang space base nestled in a mountain valley in China's Sichuan province, then turned east to send the Shijian 13 satellite into orbit.
After shedding its four boosters and hydrazine-burning first and second stages, the Long March 3B ignited its dual-nozzle YF-75 third stage engine, fueled by liquid hydrogen, to place the Shijian 13 satellite into a preliminary geostationary transfer orbit.
The mission aimed to release Shijian 13 into an elliptical, egg-shaped orbit with a high point nearly 22,300 miles (around 35,800 kilometers) above Earth, and a low point a few hundred miles up.
Amateur videos shared on social media showed Wednesday's Long March 3B rocket launch from vantage points very close to the launch pad at Xichang.
2017.04.12 CZ-3B危险的距离 pic.twitter.com/PuToaL51ba

— ChinaSpaceflight (@cnspaceflight) April 12, 2017
The spacecraft carries a hybrid propulsion system, with a conventional liquid-fueled thruster to reshape its orbit over the equator and circularize its altitude at 22,300 miles, where Shijian 13 will fly around Earth at the same rate of the planet's rotation.
More efficient electric thrusters will take over station-keeping duties once the satellite reaches its planned operating slot at 110.5 degrees east longitude, a position with constant views of China and the Asia-Pacific.
Manufactured by the China Academy of Space Technology, Shijian 13 is the first Chinese satellite to rely on electric thrusters, which were tested in orbit on an earlier Chinese demonstration craft. Communications satellites built in Russia, the United States and Europe have employed electric propulsion for station-keeping for years.
The electric propulsion system is more efficient and lighter than conventional rocket thrusters.
China's state-run Xinhua news agency described Shijian 13 as the country's first high-throughput satellite, a class of telecom relay spacecraft capable of delivering more bandwidth and capacity to end users by reusing frequency allocation and targeting high-demand regions with spot beams.
Xinhua reported that Shijian 13, designed for a 15-year lifetime, has a higher message capacity than the combined capacity of all of China's previous communications satellites.
"The launch is a milestone for China's communications satellite technology," said Tian Yulong, chief engineer of the State Administration of Science, Technology and Industry for National Defence, in Xinhua's report on Wednesday's mission.
Shijian 13's Ka-band communications payload can accommodate more than 20 gigabits per second of data throughout, according to China Great Wall Industry Corp., China's commercial launch provider, which issued a statement after Wednesday's launch.
Engineers will put Shijian 13 through tests to check the function of its broadband communications payload, an on-board laser link terminal, and its electric thrusters.
China Satcom will take over operations of the satellite, which it calls Chinasat 16, once the in-orbit testing is complete.
"The satellite is able to provide 26 user beams covering China and offshore areas, and will service for distance learning, medicine, internet access, airborne and maritime communications and emergency communications," China Satcom said on its website.
Email the author.
Follow Stephen Clark on Twitter: @StephenClark1.