STORY WRITTEN FOR CBS NEWS & USED WITH PERMISSION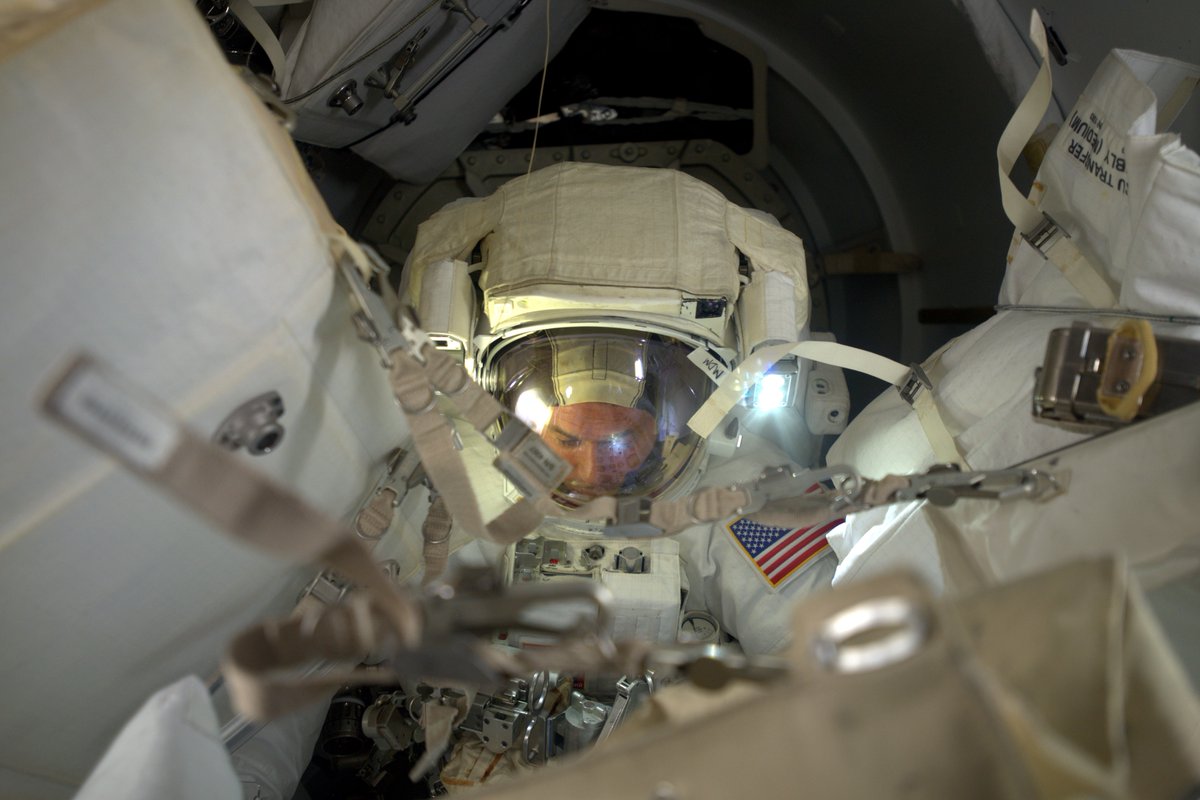 Shane Kimbrough and Peggy Whitson, setting a new record as the world's most experienced female spacewalker, floated outside the International Space Station Thursday and continued work to set up a second docking port for U.S. crew ferry ships. They also installed an upgraded computer relay box and protective shielding before calling it a day.
One of the shield segments being installed on a vacant port managed to escape its tether, floating away before the astronauts noticed.
"Peggy, I don't have a shield," Kimbrough radioed, surprised.
"What?"
"Yeah, I don't have a shield," he repeated.
"Where is it?" Whitson asked. "Ah, it is right by the radiator. It is moving station zenith, maybe half a foot a second and it's going, looks like straight zenith from the radiator angle."
The micrometeoroid shield was one of four being installed on the Tranquility module's outboard port. Flight controllers quickly determined it posed no threat of recontacting the station and after conferring on the ground, engineers suggested the astronauts make up for the lost panel by installing a thermal shield they had just removed from a docking port extension.
They did that, and completed the rest of their objectives before returning to the station's Quest airlock, repressurizing the compartment and ending the seven-hour four-minute spacewalk at 2:33 p.m. EDT (GMT-5)
"Thank you guys, you did an amazing job, you had to deal with, obviously, the issue early on and came up with a great plan," Kimbrough radioed flight controllers. "We really enjoyed working with you guys, it was an honor to be part of the team. Thanks to everybody."
"Shane, thank you for the words," astronaut Anne McClain replied from mission control at the Johnson Space Center. "We certainly appreciate the work you both have done over the last couple of hours and your problem solving skills to get the mission accomplished."
Floating in the Quest airlock, Kimbrough and Whitson switched their spacesuits to battery power at 7:29 a.m. to officially kick off U.S. EVA-41, the second NASA spacewalk in one week.
This was the 199th EVA in station history, the fourth so far this year, the sixth for Kimbrough and the eighth for Whitson.
Four hours and 22 minutes into the excursion, Whitson, a veteran of two earlier long-duration station visits, set a new record for cumulative spacewalk time by a female astronaut, surpassing Sunita Williams' mark of 50 hours and 40 minutes. When the spacewalk concluded, Whitson's total EVA time stood at 53 hours and 22 minutes, moving her up to fifth on the list of most experienced spacewalkers.
NASA is in the process of setting up a second docking port on the station to accommodate visits by commercial crew ferry ships being built by Boeing and SpaceX. One port already is in place on the front of the station's forward Harmony module.
Last week, during during a spacewalk by Kimbrough and European Space Agency astronaut Thomas Pesquet, cables connecting a docking port extension on the outboard port of the Tranquility module were disconnected.
Over the weekend, flight controllers at the Johnson Space Center used the station's robot arm to move the extension, known as pressurized mating adapter No. 3, or PMA-3, from Tranquility to the upper port of Harmony. A docking mechanism will be attached to the outboard end of the tunnel late this year or early next.
During today's spacewalk, Whitson hooked up heater cables and remove a thermal cover from PMA-3 while Kimbrough installed an upgraded computer relay box in the station's power truss.
Both spacewalkers then worked to install four protective shields over Tranquility's outboard port where PMA-3 had been attached. It was during that work that Kimbrough noticed one of the folded panels had escaped.
The spacewalkers then retrieved the thermal shield Whitson had removed from PMA-3 earlier and used cables and clamps to hold it in place over the Tranquility port, filling in the gap left by the lost panel.
Once that work was done, the astronauts returned to PMA-3 and installed a different set of shields around the base of the extension where it connects with Harmony's upper port.
Whitson and Pesquet are officially scheduled to carry out another spacewalk April 6, but needed equipment is awaiting launch aboard an Orbital ATK Cygnus cargo ship that has been grounded by work to repair hydraulic lines in the freighter's Atlas 5 rocket.
In the meantime, Kimbrough, Soyuz MS-02 commander Sergey Ryzhikov and flight engineer Andrey Borisenko are scheduled to return to Earth on April 10, landing on the steppe of Kazakhstan to close out a 173-day mission. The next spacewalk is not expected until after two fresh crew members — Soyuz MS-04 commander Fyodor Yurchikhin and flight engineer Jack Fischer — arrive on April 20.
But whenever the next spacewalk takes place, Whitson is expected to move up to No. 3 on the list of world's most experienced spacewalkers with a total time of about 59 hours over nine EVAs. Only cosmonaut Anatoly Solovyev and former astronaut Mike Lopez-Alegria have more time outside, with 68 and 67 hours of EVA time respectively.