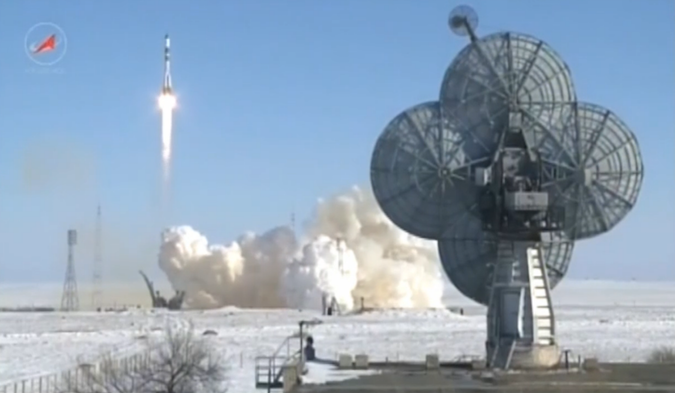 A Russian Soyuz booster blasted off from a snow-covered launch pad in Kazakhstan on Wednesday with nearly 6,000 pounds of fuel, water and supplies for the International Space Station.
The launch occurred just a few hours before a SpaceX supply ship was due to arrive at the orbiting research complex, but the commercial cargo carrier's rendezvous was aborted and delayed at least a day because of a failure in the craft's relative GPS navigation system.
The back-to-back cargo missions come after Russia's Progress and SpaceX's Dragon supply ships were grounded several months following rocket mishaps last year.
The unpiloted Progress MS-05 cargo freighter took off from the Baikonur Cosmodrome in Kazakhstan at 0558:33 GMT (12:58:33 a.m. EST; 11:58:33 a.m. Baikonur time).
Flying off a launch pad covered in several inches of snow — and with a launch time temperature near 15 degrees Fahrenheit (minus 9 degrees Celsius) — the Soyuz rocket soared into a clear midday sky, heading northeast in pursuit of the space station.
"That's no issue for the hardy Soyuz booster," said Rob Navias, a NASA spokesperson who provided commentary on the launch on NASA TV.
The Soyuz-U rocket shed its four liquid-fueled boosters around two minutes into the flight, then released its core stage as a third stage RD-0110 engine ignited to push the roughly 16,000-pound (7.3-metric ton) Progress spacecraft into orbit.
The engine worked as advertised on its first launch since a Soyuz third stage failed Dec. 1, destroying the previous Progress spaceship minutes after liftoff. Russian engineers replaced similar engines on future Soyuz rockets after finding manufacturing defects — including the use of alloys unqualified for spaceflight — in other rocket powerplants produced at the same factory.
In less than nine minutes, the Progress supply ship was deployed in orbit. Reports from Russian mission control, relayed by Navias, indicated the spacecraft's power-generating solar panels and navigation antennas unfurled as planned.
Wednesday's launch was the last mission of the Soyuz-U version of Russia's most-flown rocket. The Soyuz-U was a workhorse for the Russian space program, launching nearly 800 times with military spy satellites, cosmonaut crews and space station resupply missions to a series of Russian orbital outposts since 1973.
Newer versions of the expendable Soyuz booster are now flying with upgraded engines.
The Progress MS-05 spacecraft will complete a series of orbit-adjustment burns over the coming two days, setting up for a radar-guided automated docking to the space station's Pirs module Friday at 0834 GMT (3:34 a.m. EST).
The Progress supply carrier will remain docked at the outpost until mid-June, when it will depart and burn up in Earth's atmosphere to make way for the next Russian logistics mission.
The Progress MS-05 cargo freighter's manifest totals around 5,820 pounds, or 2,640 kilograms, according to NASA. About 2,903 pounds (1,317 kilograms) of the material is dry cargo — spare parts, food, clothing and experiments — and another 1,940 pounds (880 kilograms) is propellant for refueling of the space station's fuel tanks.
The mission will also deliver 926 pounds (420 kilograms) of fresh water and about 51 pounds (23 kilograms) of oxygen.
At the time of the Progress MS-05 spaceship's launch from Kazakhstan, SpaceX's Dragon cargo carrier was on track to complete its robotic approach to the space station Wednesday with 5,489 pounds (2,490 kilograms) of equipment following its departure from the Kennedy Space Center in Florida atop a Falcon 9 rocket Sunday.
After closing in on the space station from below, the Dragon spacecraft was to hold at a point approximately 30 feet (10 meters) from the research outpost, close enough for the station's Canadian-built robotic arm to reach out and grapple it.
But the GPS navigation glitch on-board the Dragon spacecraft forced at least a one-day delay to those plans.
Email the author.
Follow Stephen Clark on Twitter: @StephenClark1.