STORY WRITTEN FOR CBS NEWS & USED WITH PERMISSION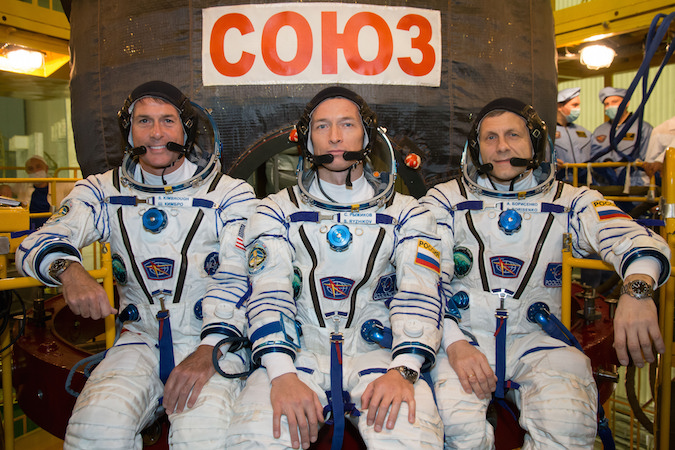 Running nearly a month late because of work to repair a damaged cable, a Russian Soyuz spacecraft was primed for launch early Wednesday to carry two cosmonauts and a NASA astronaut to the International Space Station, boosting the lab's crew back to six.
With commander Sergey Ryzhikov strapped into the command module's center seat, flanked on the left by flight engineer Andrey Borisenko and on the right by NASA astronaut Shane Kimbrough, the Soyuz MS-02/48S spacecraft is scheduled for launch from the Baikonur Cosmodrome in Kazakhstan at 4:05:14 a.m. EDT (GMT-4; 2:05 p.m. local time).
As with all space station flights, the launching is timed to coincide with roughly the moment Earth's rotation carries the pad into the plane of the station's orbit, the only way a visiting vehicle can match orbits with the lab complex as it circles, 250 miles up, at 5 miles per second.
The MS-02 ferry craft is the second in a new series of upgraded Russian crew transport ships that feature improved avionics, navigation and propulsion systems. The first vehicle in the news series was launched in July, carrying the station's current three crew members: Anatoly Ivanishin, Takuya Onishi and NASA astronaut Kate Rubins.
In recent years, Soyuz crews have enjoyed relatively speedy six-hour trips to the space station. But for at least the first two MS-series spacecraft, the Russians have gone back to their original two-day rendezvous profile to give engineers, flight controllers and the crew time to thoroughly test the spacecraft's upgraded systems.
"We're not doing the same tests that MS-1 (did)," Kimbrough said during a pre-flight briefing. "There are different test objectives that the engineers and scientists on the ground in Russia want so see, so we'll have a different profile. We're going to do to make sure that vehicle gets really tested like it should before we (resume) the four-orbit rendezvous."
A former Army helicopter pilot and a veteran of Operation Desert Storm, Kimbrough downplayed the risks of riding on a rocket and said the Soyuz is one of the most reliable spacecraft ever built.
"It's going to be an interesting experience, very different from the shuttle, a little more cramped of course, the vehicle's much smaller, the places where we sit are very tight and we'll kind of have our knees up in our chests for four or five hours," he said. "So that'll be interesting."
But overall, he said, "the ride's going to be great, it's going to be nice and smooth. Probably a little smoother, from what my colleagues say, than the shuttle. So that'll be fun to experience."
And while spending two days in the cramped confines of a Soyuz is no picnic, Kimbrough called it a "bonus."
"It'll be really interesting," he said. "After several hours, you get things all set up on the vehicle, you run through your checklists and then you get to get out of your spacesuit, which will be nice after being in that for several hours. We'll get out of that, we'll get comfortable, like shorts and a T-shirt, and we'll kind of hang out in those clothes for the couple of days we're doing these other tests on the vehicle."
If all goes well, Ryzhikov will oversee an automated approach to the space station early Friday, gliding to a docking at the upper Poisk module around 6 a.m.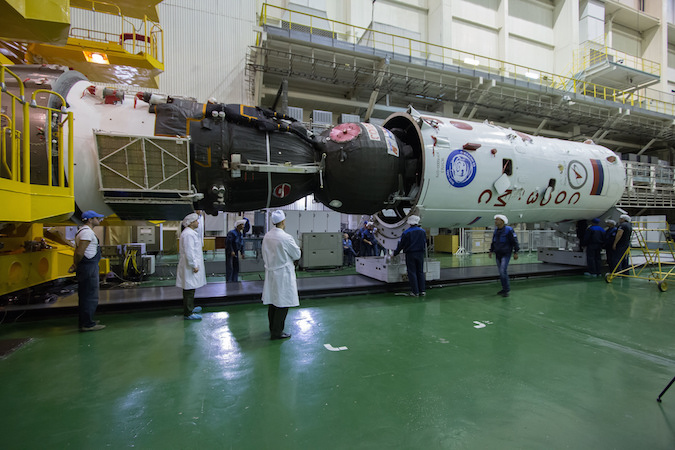 Launch originally was planned for Sept. 23, but the flight was delayed when engineers detected a short circuit during routine pre-flight tests. After extensive troubleshooting, the problem was traced to a bent cable behind the crew seats in the central command module.
Repairing the cable was difficult because the spacecraft had already been loaded with orbital maneuvering propellant and equipped with a variety of pyrotechnic devices used at different points in the mission. It initially appeared launch might be delayed into November if not later, and there was even speculation the spacecraft might have to be replaced with a downstream Soyuz.
But in the end, Russian engineers came up with a workable repair plan and were able to fix the problem in time for an October launch.
"This was really a challenge for the Russian team to sort through this problem, to discover where it was," said Bill Gerstenmaier, NASA's director of space operations. "To find this problem and then to take the time to repair it was really, really outstanding."
Ryzhikov, the MS-02 commander, is a former MiG-29 fighter pilot making his first spaceflight. Borisenko, a former rocket engineer and Russian flight controller, spent 164 days in space in 2011, initially as a space station flight engineer and later as commander. Kimbrough flew aboard the shuttle Endeavour in 2008, logging nearly 16 days in orbit.
Ryzhikov "has been waiting for this space flight for a few years, so he's ready to go," Kimbrough said. "We're excited to see his reaction to microgravity the first time he gets to experience it."
As for Borisenko, "he is an engineer by trade," Kimbrough said. "He actually worked in the mission control center in Moscow for many years, he worked on the motion control system for the Mir space station and then he ended up being a flight director for Mir and the International Space Station. So really, a unique background, a super, super, super smart person. I'm looking forward to learning from him throughout out mission."
For his part, Borisenko said his experiences in the Russian mission control center made him a more capable cosmonaut.
"I'm an engineer specializing in rocket building," he said. "On top of that, the experience I gained at the mission control center allows me to better understand what is happening with the space vehicle or our space station, which helps, in turn, to make the right decisions in an urgent situation."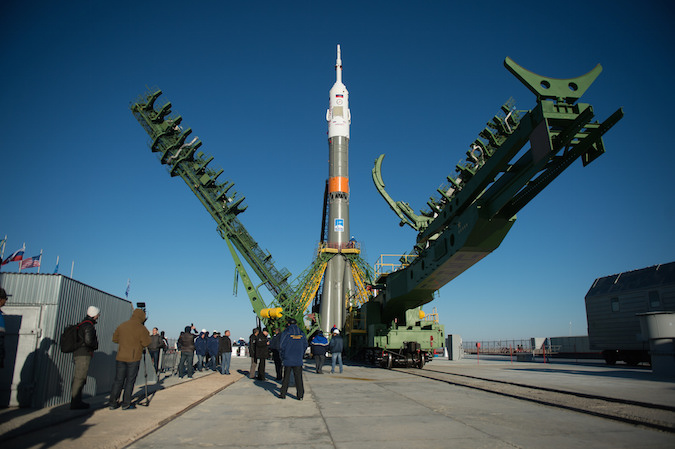 During his 2008 shuttle mission, Kimbrough carried out two spacewalks, experience that will come in handy during his stay aboard the space station. A Japanese HTV cargo ship is tentatively scheduled for launch in early December to deliver six replacement batteries for one set of the space station's solar arrays.
Kimbrough and Peggy Whitson, a veteran of two station flights who is scheduled for launch on her third mission Nov. 15, hope to install the batteries in January during two spacewalks.
"It's a shell game," Kimbrough said of the replacement operation. "We have a lot of big boxes we're having to move around and then replace them with newer, smaller boxes. The technology, just like here on Earth, has gotten things a lot smaller."
Six batteries are going up aboard the HTV.
"So we're going to have some empty space, so to speak, and in those spaces were going to put things called adapter plates and then these new batteries on top," Kimbrough said. "So it just comes down to a shell game, it's very choreographed, we've been practicing this in the NBL (Neutral Buoyancy Laboratory), in the pool, for the past year now, not just our crew but other crews as well. We're making sure the procedures are well thought out."
The Soyuz MS-02 launching comes just two days after Orbital ATK launched an upgraded, more powerful Antares rocket carrying a Cygnus cargo ship loaded with some 5,100 pounds of equipment, crew supplies and research gear. The launching from Wallops Island, Va., was the first for an Antares since an engine failure destroyed another Cygnus seconds after liftoff in October 2014.
Monday's launch was critical to NASA because the space agency's only other U.S. resupply contractor, SpaceX, is grounded in the wake of a Sept. 1 launch pad explosion that destroyed a Falcon 9 rocket and its communications satellite payload.
SpaceX hopes to resume flights later this year, but its next space station resupply mission is off until mid January at the earliest.
In any case, the Antares chalked up a picture-perfect launch Monday and if all goes well, the Cygnus cargo ship will pull up to within about 30 feet of the station early Sunday and then stand by while the lab's robot arm locks onto a grapple fixture.
From there, flight controllers at the Johnson Space Center in Houston will pull the spacecraft in for berthing at the central Unity module's Earth-facing port.
A little more than a week later, on Oct. 29 U.S. time, Ivanishin, Onishi and Rubins will bid Kimbrough and his crewmates farewell and return to Earth aboard the Soyuz MS-01 spacecraft, landing on the steppe of Kazakhstan to close out a 115-day mission.
The MS-02 crew will have the station to themselves until Whitson, Soyuz MS-03 commander Oleg Novitskiy and European Space Agency astronaut Thomas Pesquet arrive Nov. 15. A Russian Progress freighter is expected to launch in December, followed by Japan's HTV-6 cargo ship.
Assuming SpaceX can resolve its current difficulties, a Dragon cargo ship could reach the station in January followed by another Progress in early February. And amid all of the visiting vehicle traffic and spacewalks, the crew will be faced with a full slate of research activity.
All in all, a busy time in orbit. But in his spare moments, mostly on weekends and after hours, Kimbrough said he plans to spend as much time as possible enjoying the view of Earth from 250 miles up.
"We'd didn't get a whole lot of time to do that on a apace shuttle flight, it was really busy, just cram packed everyday," he said. "So we'll have a little more time, a little free time on the weekends generally to just hang out, take a lot of pictures.
Among his targets: "Places I've lived and maybe universities or schools I've been involved with. I'm going to do something unique and try to take a bunch of pictures of golf courses around the world, because I don't think that's something anybody's done before. So hopefully those will come out OK."
And then there's the prospect of living in microgravity for more than four months.
"It's just the coolest thing in the world, you would love it," Kimbrough told a student during a pre-flight briefing. "Everybody loves it. … It'll be neat watching Sergey for the first time learning how to fly."