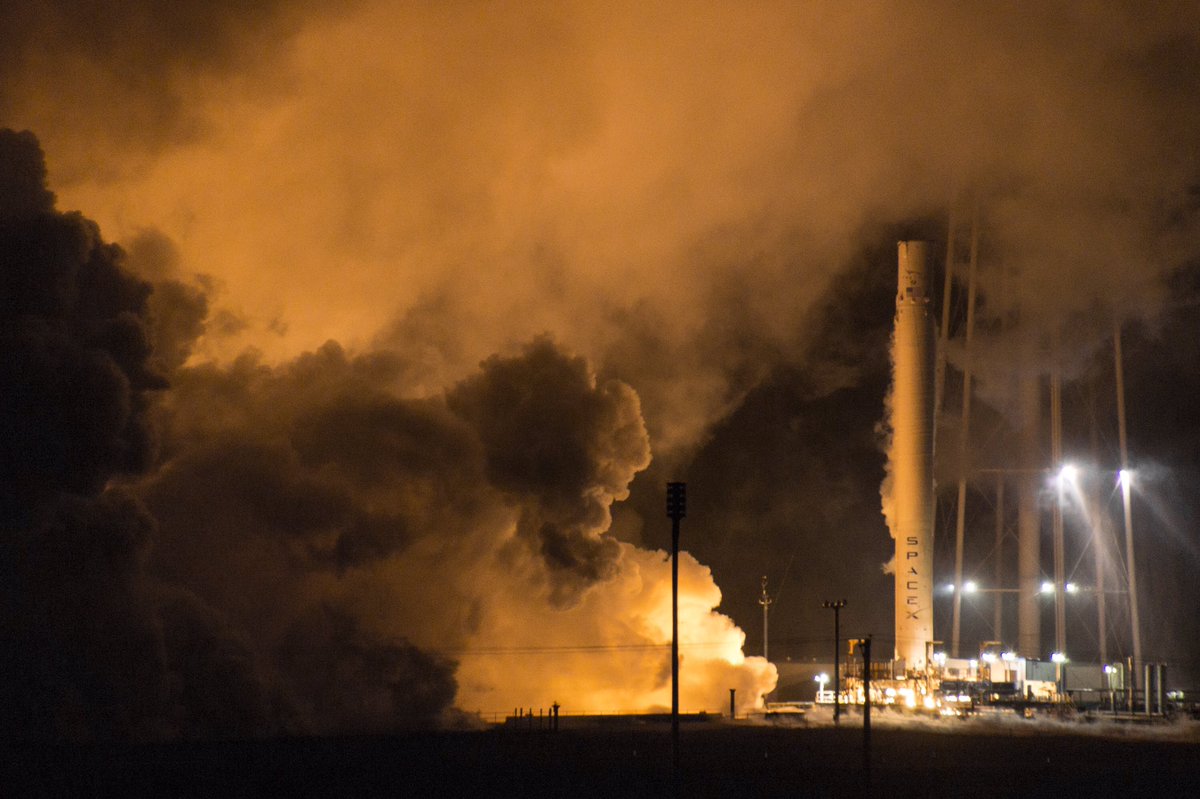 The Falcon 9 first stage booster assigned to launch as soon as March on SpaceX's first mission with a previously-flown rocket has been test-fired at the company's development facility in Central Texas.
The 15-story rocket stage completed the test-firing of its nine Merlin 1D engines in late January, according to SpaceX.
The company conducts acceptance testing of all Falcon 9 boosters its test site in McGregor, Texas, before shipping rockets to launch bases in Florida or California. The recent test-firing was to be followed by the first stage's transport to Cape Canaveral for preparations ahead of its launch with the SES 10 communications satellite, a mission tentatively set for March.
The rocket first flew in April 2016 on a resupply launch to the International Space Station. After boosting the Falcon 9's second stage and Dragon cargo craft into the upper atmosphere, the first stage returned to a vertical landing on a platform in the Atlantic Ocean while the upper part of the launcher continued into orbit.
The landing last April marked the first time SpaceX succeeded in recovering a rocket at sea, and the second time successful Falcon 9 rocket landing overall. The first rocket stage recovered intact is on public display outside SpaceX's headquarters in Hawthorne, California.
The SES 10 launch is currently third in line on SpaceX's manifest, with Falcon 9 flights scheduled for no earlier than Feb. 14 and Feb. 28 with a Dragon supply ship for the space station and the EchoStar 23 communications craft to provide broadcast services over Brazil.
SES 10 was shipped to Cape Canaveral from its Airbus Defense and Space factory in France last month. The satellite, owned by SES of Luxembourg, will broadcast television over Latin America.
The above video shows a test-firing last year of a Falcon 9 booster recovered after a launch in May. It will not be reused.
SpaceX is eager to demonstrate that the Falcon 9 rocket's first stage structure and Merlin engines can be reused. The company says the capability will reduce launch prices, and SES received a discount of approximately 10 percent in exchange for agreeing to put its payload on the first flight of a previously-flown Falcon 9.
The Falcon 9's nose cone, a clamshell-like fairing that shields satellites during the first few minutes of flight, might be the next component SpaceX tries to reuse. The second stage cannot currently be recovered.
SpaceX is only putting the rocket booster assigned to fly with SES 10 through standard preflight testing.
But engineers have conducted extensive stress testing on other recovered Falcon 9 rockets that will not fly again, including a series of at least seven test-firings of a first stage that landed last May after the launch of a Japanese telecom satellite.
Email the author.
Follow Stephen Clark on Twitter: @StephenClark1.