Boeing has unveiled a new lightweight spacesuit, fitted with zippers, breathable stitching and plenty of Velcro, to protect NASA astronauts on trips to the International Space Station aboard the company's CST-100 Starliner capsule.
The "Boeing Blue" garment will shield astronauts as they ride inside the CST-100 spacecraft during launch and landing. The environment inside the capsule will be pressurized and climate-controlled, so crews will take off the spacesuits during quieter parts of the ride to and from the space station.
But following the practice during space shuttle missions, pilots and passengers will wear the suits during more hazardous parts of the trip, according to Chris Ferguson, director of Starliner crew and mission systems at Boeing.
Ferguson, a former astronaut, dubbed it the "get us home suit" because it is not designed for spacewalks.
"We needed a suit that's air tight, could withstand the pressure differential, could get the crew down from an extreme situation, whether it was a fire or a cabin leak," Ferguson said.
Boeing revealed the spacesuit, designed by David Clark Company of Massachusetts, during a Facebook Live event last week in partnership with the Washington Post.
The 12-pound (5-kilogram) Starliner pressure suit is lighter than the space shuttle's 30-pound (14-kilogram) launch and entry suit. Ferguson said the new suit is also cooler for astronauts wearing it.
"This is a lighter-weight fabric, it's breathable," Ferguson said. "You can actually stand very comfortably, even in a hot room, and not get overheated quickly."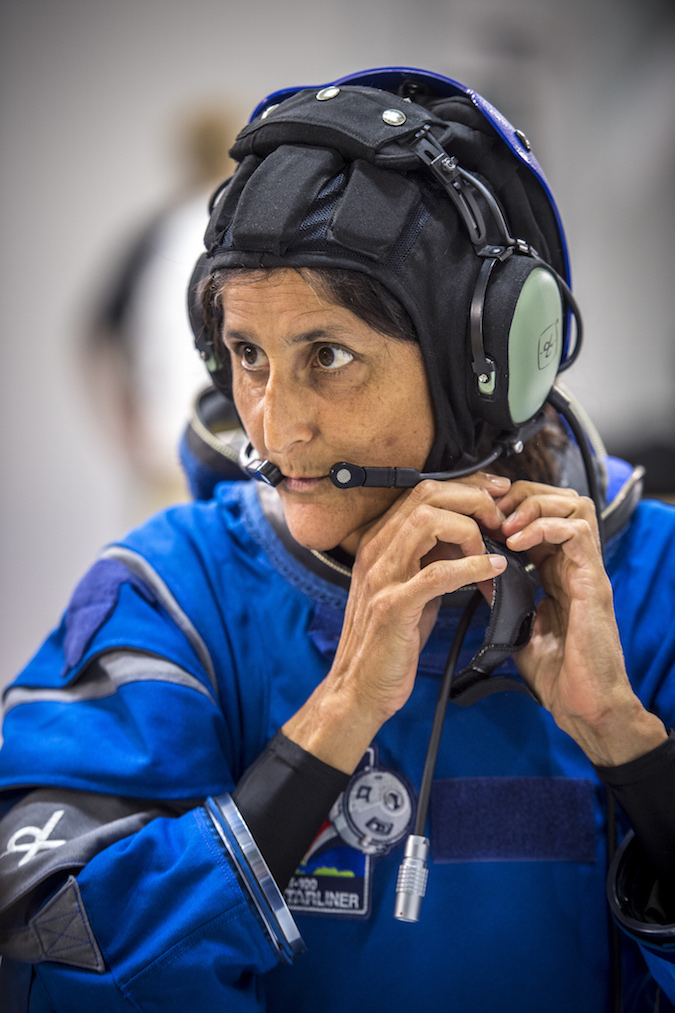 Astronauts that flew on the space shuttle wore bright orange "pumpkin" suits, also supplied by David Clark Company, while Boeing is going with blue suits. NASA introduced pressure suits for shuttle crews in the aftermath of the Challenger accident, and astronauts originally trained with blue models, before eventually flying with orange suits when the shuttle launched again in 1988.
"It feels good to be walking around in Boeing Blue," Ferguson said. "Spacesuits have come in different sizes, shapes and designs, and I think this fits the Boeing model, fits the Boeing vehicle."
Changes from the space shuttle's launch and entry suit include the replacement of a metallic neck ring and rigid helmet with a zipper and a hood-like helmet. The gloves will allow astronauts to use touchscreen tablets in flight and easily flip switches inside the CST-100 cockpit.
Engineers designed the suit's communications cap with a built-in cranial helmet with padding to protect against impacts, Ferguson said.
The suit's polycarbonate visor maintains its shape regardless of pressure, improving crews' peripheral vision, and seams underneath the suit's shoulder covers ensures ease of mobility, according to Boeing.
Built-in boots on the Starliner suits are also less bulky than the flight boots used by shuttle astronauts.
"Believe it or not, I'm actually very comfortable," said Monica Hopkins, a Boeing propulsion engineer who tried on the Starliner spacesuit during last week's Facebook Live event. "My visual of everything is very good, and I have good mobility with anything that I would need to do."
NASA awarded contracts to Boeing and SpaceX in 2014 to complete development of commercial spaceships to ferry astronauts to and from the space station. Boeing's CST-100 Starliner will lift off on United Launch Alliance Atlas 5 rockets and return to parachute-assisted, airbag-cushioned landings on the Western United States.
Boeing plans a pad abort test of a CST-100 capsule at White Sands, New Mexico, next January. An unpiloted test flight in Earth orbit should follow in June 2018, then a Boeing test pilot and a NASA astronaut will strap into a CST-100 Starliner spaceship for an orbital demonstration flight in August 2018.
Regular crew rotation services should begin in December 2018.
The Washington Post asked Ferguson, whose last mission was as commander of the final shuttle mission in 2011, if he will fly on the CST-100 Starliner, a subject of speculation among industry insiders and space enthusiasts.
"There are no plans for that now, but if Boeing asked, it would be hard to say no," Ferguson said, adding that he still has a desire to fly in space again.
Email the author.
Follow Stephen Clark on Twitter: @StephenClark1.