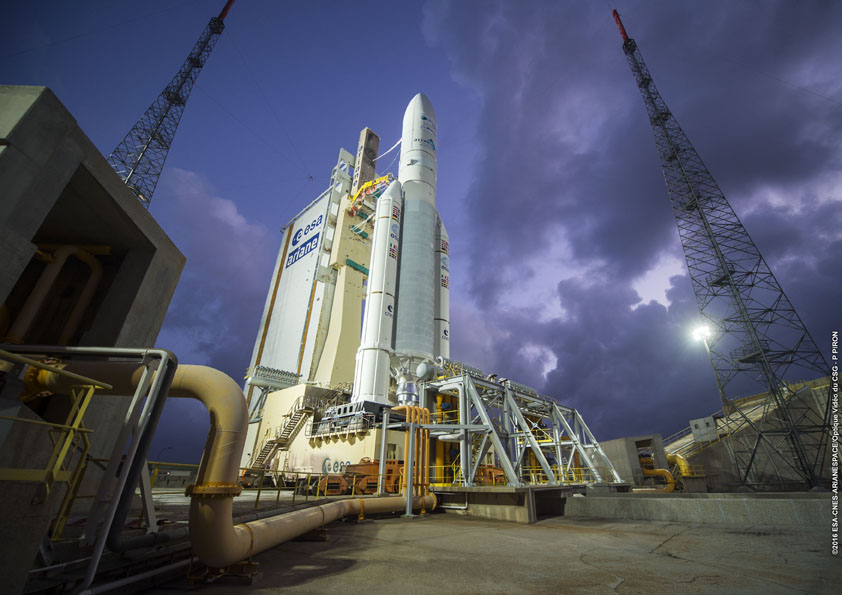 Arianespace has opened the year with two contracts to deliver commercial television and broadband satellites to orbit aboard Ariane 5 rockets launched from French Guiana in 2018 and 2019.
The French-based launch services firm announced it will launch the JCSAT 17 and Intelsat 39 communications satellites to provide coverage over Japan, the Asia-Pacific, the Middle East, Europe and Africa.
The JCSAT 17 satellite will be built by Lockheed Martin in Denver, hosting C-band, Ku-band and S-band communications payloads to broadcast television and video services and provide mobile communications services for disaster relief efforts.
Based on a modernized A2100 satellite platform from Lockheed Martin, JCSAT 17 is designed for a 15-year operational life covering East Asia, including Japan. The satellite is owned by Tokyo-based SKY Perfect JSAT Corp., and its S-band payload features a 59-foot (18-meter) unfurlable antenna built by Harris Corp. of Melbourne, Florida.
"We are proud and honored to announce this new contract two weeks after the successful launch of our 19th satellite for SKY Perfect JSAT," said Stephane Israel, Arianespace's chairman and CEO, in a Jan. 4 statement. "This choice once again reflects the exceptional partnership of more than 25 years between Arianespace and the largest commercial satellite operator in Asia. Thanks to SKY Perfect JSAT for its trust, which is a clear recognition of the quality and the competitiveness of our launch services."
JCSAT 17 will likely fly in the upper position inside the Ariane 5 rocket's payload fairing.
Commercial Ariane 5 flights typically carry two communications satellites at a time to geostationary transfer orbit, the waypoint for telecom craft heading for posts in geostationary orbit nearly 22,300 miles (35,800 kilometers) over the equator.
The larger of the payload pair rides in the upper berth, with the lighter satellite taking the lower position inside the Ariane 5 nose cone.
The Intelsat 39 satellite will launch on an Ariane 5 mission in the second half of 2018, Arianespace said.
Built by Space Systems/Loral in Palo Alto, California, Intelsat 39 will provide video distribution and networking services in Africa, Europe, the Middle East and Asia.
Equipped with C-band and Ku-band transponders, Intelsat 39 will also support mobile connectivity in the Indian Ocean region from its final operating position in geostationary orbit at 62 degrees east longitude.
The government of Myanmar will use Intelsat 39's capacity to expand 2G and 3G cellular phone access to remote regions of the country.
Intelsat 39 will replace the Intelsat 902 satellite launched by an Ariane 4 rocket in August 2001.
"With 58 satellites launched for Intelsat over more than three decades, we enjoy an exceptional partnership with this leading operator," Israel said in a press release. "Arianespace began 2016 with a launch for Intelsat, and it is only appropriate that we start 2017 with a new launch contract with Intelsat. Thanks to Intelsat for its continuous trust: Arianespace will deliver!"
"Arianespace has been launching Intelsat satellites since 1983, a very fruitful relationship of nearly 35 years," said Ken Lee, senior vice president of space systems at Intelsat. "After two successful missions in 2016 that delivered the first two Intelsat Epic spacecraft, Intelsat 29e and Intelsat 33e, as well as Intelsat 36, into orbit, we look forward to continuing this partnership in 2017. We have the utmost confidence that Arianespace will also successfully execute the Intelsat 39 program."
Intelsat 39 will carry a hybrid chemical and electric propulsion system for orbit-raising, and it is sized to fly in the lower position inside the Ariane 5 rocket's fairing.
Email the author.
Follow Stephen Clark on Twitter: @StephenClark1.