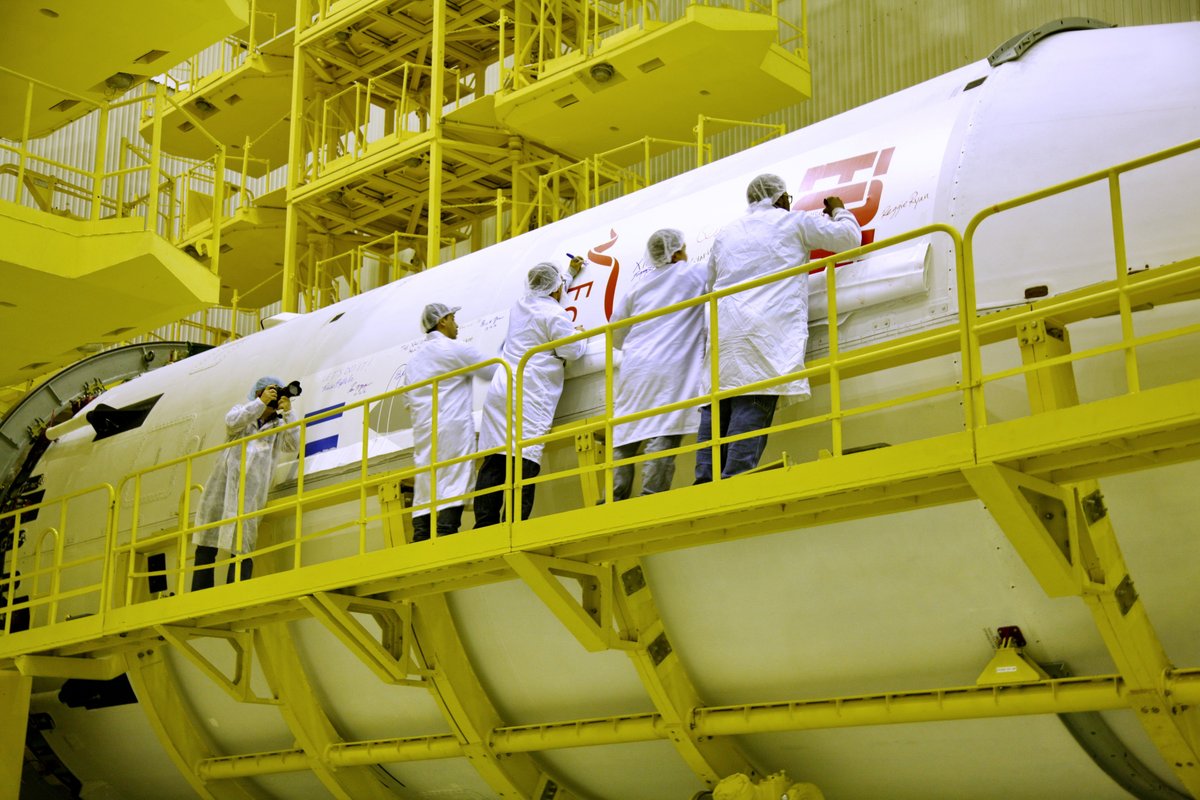 The first launch of a Russian Proton rocket since June has been delayed until at least January to conduct additional checks on the three-stage booster and its Breeze M upper stage, Russian space officials said.
The rocket was supposed to take off Dec. 28 with the EchoStar 21 communications satellite for EchoStar Mobile Ltd., headquartered in Ireland, to provide mobile S-band connectivity for Internet phone and data users across Europe.
Managed by International Launch Services, the U.S.-based marketing and sales firm responsible for commercial Proton missions, the launch has been pushed back several times this year. The EchoStar 21 spacecraft was put into storage at its Space Systems/Loral factory in California after Proton rocket issues delayed its original launch date in early 2016.
The telecom satellite was shipped to the Baikonur Cosmodrome in Kazakhstan in November for a December launch. Technicians at Baikonur have fueled the more than 15,000-pound (6,871-kilogram) craft for flight, and then attached the satellite to its Breeze M upper stage and enclosed it within the Proton rocket's payload fairing.
The launch was scheduled for Dec. 22, then slipped to Dec. 28 before officials with the Russian space agency — Roscosmos — and Proton-builder Khrunichev announced an indefinite delay until at least January.
The Roscosmos statement said the latest delay was needed to conduct additional checks on the launcher and the upper stage systems.
Unconfirmed reports from Russian sources shared on RussianSpaceWeb.com, a website reporting on the Russian space program, indicated the Proton rocket would have to be disassembled and have one of its stages shipped back to Khrunichev's factory in Moscow. But Khrunichev said in a statement Monday that recent reports about the mission are false, apparently referring to speculation that the launch might face a lengthy delay.
The Proton rocket and its Breeze M upper stage are set to deliver the heavyweight EchoStar 21 satellite into a geostationary transfer orbit with a low point of 1,429 miles (2,300 kilometers), a high point of 22,236 miles (35,786 kilometers), and an inclination of 30.5 degrees.
EchoStar 21's own propulsion system will circularize its orbit nearly 36,000 kilometers (22,300 miles) directly over the equator, where it will park at 10.25 degrees east longitude for a 15-year mission.
EchoStar Mobile Ltd., formerly known as Solaris Mobile, is a subsidiary of Colorado-based EchoStar Corp.
The launch of EchoStar 21 will be the first Proton/Breeze M mission since June 9, when the rocket successfully placed the Intelsat 31/DLA-2 satellite in orbit for Intelsat and DirecTV Latin America. But the Proton's second stage engines prematurely cut off on that flight, forcing the Breeze M upper stage to burn longer than planned to overcome the velocity shortfall.
The launcher released the Intelsat 31 communications satellite into an on-target orbit despite the second stage problem, but Proton missions have been grounded since June as engineers investigate the issue.
Email the author.
Follow Stephen Clark on Twitter: @StephenClark1.