(Video courtesy United Launch Alliance)
CAPE CANAVERAL — The world's highest capacity broadband satellite, a craft that will connect rural America to high-speed Internet service, successfully rocketed into space today aboard a United Launch Alliance Atlas 5 booster.
With a 2-to-1 thrust-to-weight ratio, the million-pound rocket unleashed two-million pounds of ground-shaking thrust to power away from its seaside launch complex at 2:13 p.m. EST (1913 GMT).
The 194-foot-tall rocket, with its main engine and three side-mounted boosters all burning, left Cape Canaveral behind quickly to break through the sound barrier and pass the region of maximum air pressure in less than a minute.
The solids then burned out and peeled away, allowing the first stage to push the vehicle to the threshold of space before separating. The Centaur upper stage then took over, releasing the protective nose cone shrouding the payload and accelerating to orbital velocity.
After a brief coast over the middle Atlantic, the Centaur relit its RL10 engine to boost EchoStar 19 into the prescribed super-synchronous transfer orbit stretching to 40,000 miles.
The 14,914-pound satellite, also nicknamed Jupiter 2, separated from the launch vehicle 32 minutes after liftoff, successfully completing the Atlas 5 rocket's 16th flight with a commercial payload.
"The mighty Atlas has marked yet another successful launch as it placed EchoStar 19 into orbit," said Steve Skladanek, president of Lockheed Martin Commercial Launch Services. "This reliable rocket continues to bring unparalleled precision and schedule assurance to every mission it carries."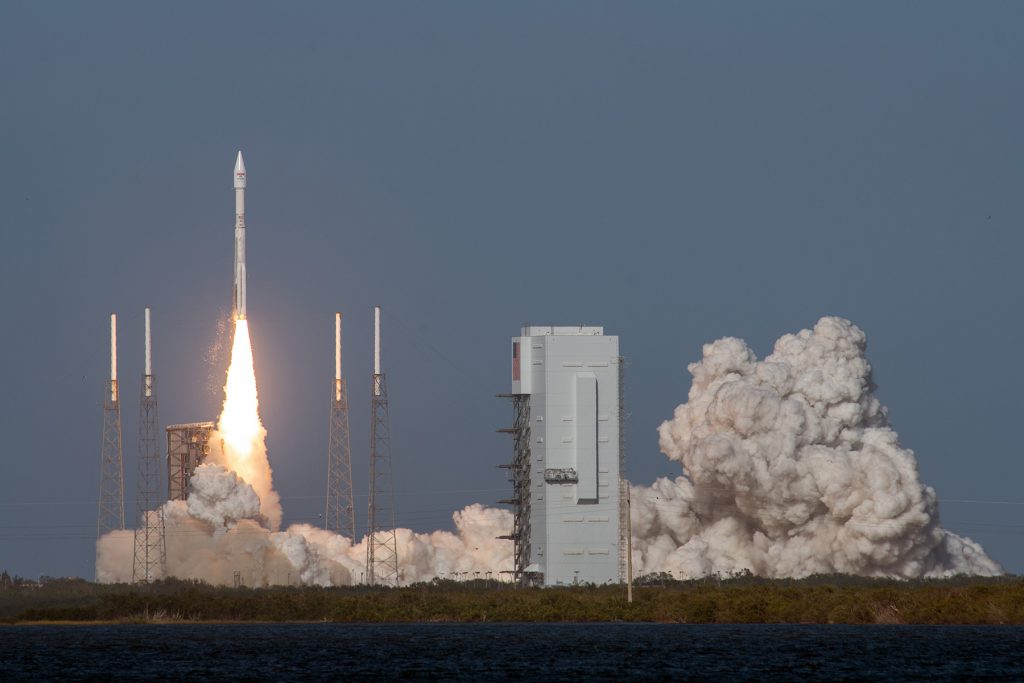 It marked the 139th successful launch in a row for the Atlas program spanning 23 years, the fifth carrying an EchoStar satellite, the 68th for the Atlas 5 over the span of 14 years, the eight and final flight of the year and extended United Launch Alliance's mission record to 115 in 120 months, the fourth in just the past 37 days.
EchoStar 19 will be used by HughesNet, the country's top-selling satellite Internet services company, to shine spotbeams of coverage across the U.S., Canada, Mexico and regions of Central America from geosynchronous orbit 22,300 miles up.
The satellite will operate above the equator at 97.1 degrees West longitude, matching Earth's rotation and remaining in lockstep over the specific spot of the globe.
EchoStar chose the Atlas 5 rocket because it could send the hefty next-generation satellite into space sooner than any other launch provider, a factor crucial to HughesNet's bottom line.
"This vehicle provides the capabilities and schedule needed to get EchoStar 19 into service at the earliest possible date," said Mike Dugan, EchoStar's CEO.
"We can't grow, because we don't have enough capacity to grow, but we're trying to be stay as close to the status quo until we get Echo 19 into business," Pradman Kaul, the president of Hughes, told investors during a teleconference with analysts.
"Echo 17 continues to be at capacity in many beams, thus constraining growth in the North American subscriber base."
HughesNet currently has just over a million subscribers, using rooftop dishes to route signals to and from orbiting satellites to browse the Internet, send emails and watch streaming video.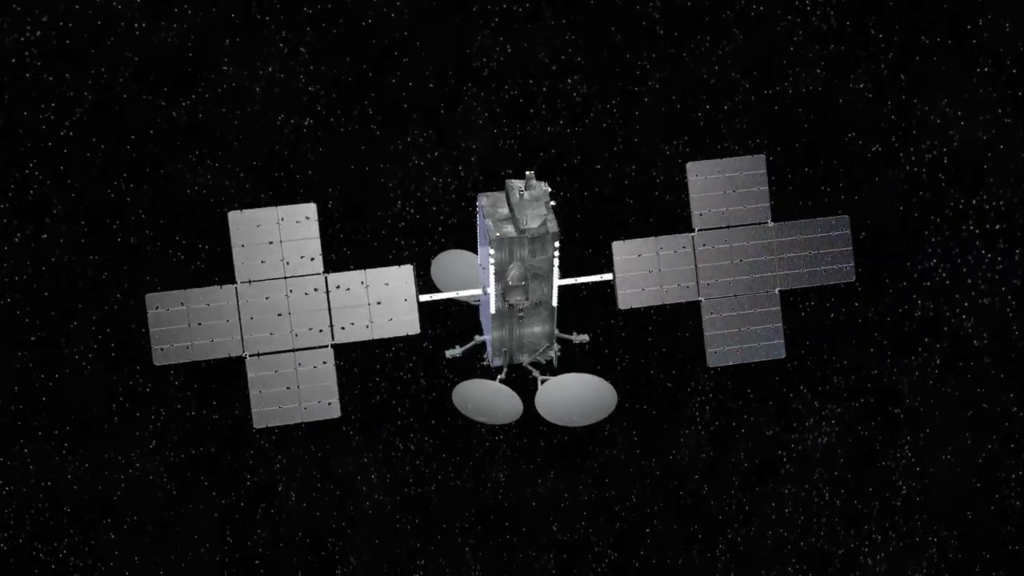 The EchoStar 19 satellite, built by SSL with a 15-year design life, will generate 160 beams from its four antennas, according to Bob Buschman, senior vice president of network services and spacecraft programs at Hughes.
It promises to deliver faster speeds, additional data and more advanced features to HughesNet consumers.
Satellite-based Internet connectivity is geared to consumers in areas were cable and fiber services remain unavailable.
This is how the system works: a customer types a URL in a web browser, that request is sent up to the satellite and then down to an Earth-based hub, the data is gathered and the text and images are transmitted back to the satellite and then relayed to your modem.
It all happens in a fraction of a second.
Echostar 19 should be ready to begin residential operations by late March, joining the network's existing satellites EchoStar 17 at 107.1 degrees West and Spaceway 3 at 95 degrees West.
Together, they will enable HughesNet to begin expanding its number of customers again after being stymied by maxing out current satellite capacity.
Year in review

Today's launch was the 12th and final this year for United Launch Alliance, the maker of the Atlas and Delta rocket families. It was a fully successful 2016, highlighted by the 100th Evolved Expendable Launch Vehicle flight, ULA's 10th birthday and placing every payload in the diverse manifest into the proper orbit for the U.S. military, National Reconnaissance Office, NASA and commercial clients.
The launches included:
-Dispatching a robotic probe to capture a pristine sample from the surface of an asteroid for return to Earth
-The most advanced U.S. weather observatory in history
-A companion to the highest-resolution commercial Earth imager
-The U.S. military's highest-capacity communications satellite
-Three classified spy satellites
-The last GPS and Navy mobile network craft in their respective generations
-A pair of "space informants" to patrol geosynchronous orbit
-Even a resupply mission to the International Space Station
The Atlas 5 flew eight times and the Delta 4 did four missions. The rockets lifted more than 100,000 pounds of cargo into space this year.
Next up will be deployment of an Air Force missile-warning satellite from Cape Canaveral aboard an Atlas 5 on Jan. 19 at 7:46 p.m. EST (0046 GMT), kicking off another year with about a dozen national security and science-enabling launches.
It will be followed just a week later by the launch of the classified NROL-79 payload for the National Reconnaisse Office from Vandenberg Air Force Base in California aboard another Atlas 5 on Jan. 26 some time between 5 and 7 p.m. local (8-10 p.m. EST; 0100-0300 GMT).
See earlier EchoStar 19 coverage.
Our Atlas archive.