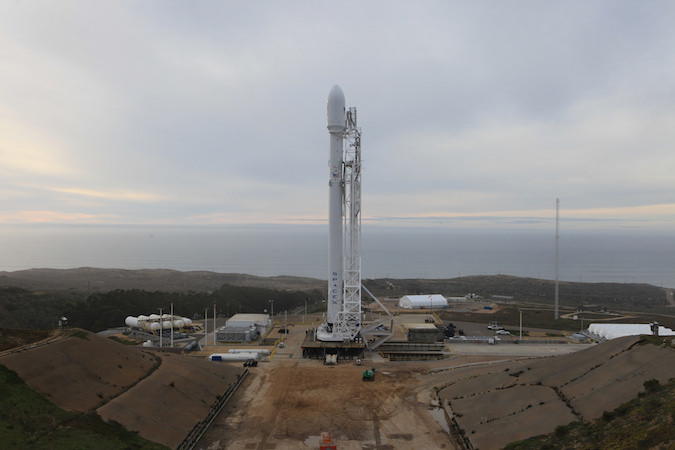 SpaceX's first mission since a rocket explosion on a Florida launch pad is now scheduled for early January, when a Falcon 9 booster is set to begin a 70-satellite deployment for Iridium's next-generation voice and data relay network, the company announced Wednesday.
Iridium said last week the launch could go off as soon as Dec. 16, but officials said Wednesday that SpaceX engineers are still wrapping up the investigation into the Sept. 1 explosion that has grounded Falcon 9 rocket flights more than three months.
Company representatives said no target launch date has been set for the liftoff from Vandenberg Air Force Base in California.
"We are finalizing the investigation into our September 1 anomaly and are working to complete the final steps necessary to safely and reliably return to flight, now in early January with the launch of Iridium-1," SpaceX said in a statement Wednesday. "This allows for additional time to close-out vehicle preparations and complete extended testing to help ensure the highest possible level of mission assurance prior to launch."
All 10 Iridium communications satellites and both core sections of the two-stage Falcon 9 rocket are at Vandenberg preparing for the liftoff from Space Launch Complex 4-East, a former Titan 4 launch facility now leased from the Air Force by SpaceX.
SpaceX is under contract for seven Falcon 9 launches for the Iridium Next satellite fleet, which will replace all of the company's existing spacecraft in orbit, connecting customers such as oil and gas companies, U.S. military units, and private citizens with worldwide voice and data coverage.
Each launch will put 10 satellites into polar orbit around 388 miles (625 kilometers) above Earth, where they will use on-board thrusters to maneuver to a slightly higher altitude to enter the constellation.
The launch in early January will mark the third Falcon 9 mission from the West Coast complex, and the 29th Falcon 9 launch overall since SpaceX's workhorse booster debuted in June 2010. One of the Falcon 9 flights is counted as a failure.
That record does not count the rocket that exploded in September, destroying the Israeli-owned Amos 6 communications satellite during fueling for a preflight countdown rehearsal that was to culminate in a brief on-pad ignition of the Falcon 9's nine Merlin 1D main engines.
SpaceX founder and chief executive Elon Musk told CNBC last month that investigators believe they have narrowed the likely cause of the Sept. 1 mishap to a problem during filling of the rocket's second stage with super-cold liquid oxygen.
The explosion occurred about eight minutes before the Falcon 9's engines were to ignite during a hold-down test.
The oxygen likely froze solid and caused a high-pressure helium tank to burst, blowing the upper stage apart almost instantly, and leading the rest of the rocket to collapse in a fireball. The helium is used to pressurize the second stage's propellant tanks for flight.
Musk said engineers believe they can fix the problem with a change in fueling procedures, avoiding major hardware changes that would have kept SpaceX missions grounded longer.
Iridium said it was OK with SpaceX's decision to push back the launch to early January, nearly four months later than the mission's expected launch date before the launch pad mishap put the flight on hold.
"Iridium supports SpaceX's announcement today to extend the first Iridium Next launch date into early January, in order to help ensure a successful mission," the company said. "We remain as confident as ever in their ability to safely deliver our satellites into low Earth orbit."
Thales Alenia Space and Orbital ATK are building 81 Iridium Next satellites at a factory in Gilbert, Arizona. Iridium is still arranging launch services for the remaining 11 spacecraft not already assigned to Falcon 9 flights.
The launch delay caused by the grounding of the Falcon 9 rocket will mean the Iridium Next constellation will not be fully deployed until at least early 2018, a few months later than Iridium's long-standing goal of having the satellites all in orbit by the end of 2017.
Production of the Iridium Next satellites is going well in Arizona, with more than 30 of the spacecraft — enough for three launches — expected to be finished by the end of the year, officials said. Iridium and SpaceX aim to launch second batch of 10 satellites around three months after the first set, then launch a new mission as quickly as every two months until the deployments are finished.
Two of the satellites were supposed to lift off on a Russian-Ukrainian Dnepr rocket, a modified Soviet-era nuclear missile, but that program's future is in doubt.
SpaceX's return-to-flight mission will also resume the launch company's efforts to recover and refurbish Falcon 9 first stage boosters for reuse.
Iridium's mission will have an unflown booster, but SpaceX intends to land the rocket's first stage on a barge positioned in the Pacific Ocean south of Vandenberg. If successful, the landing would give SpaceX its seventh recovered rocket stage.
After the first Iridium Next flight, SpaceX is scheduled to pick up launches on its Florida manifest with the liftoff of the EchoStar 23 communications satellite later in January from launch pad 39A, a NASA-owned space shuttle-era facility at the Kennedy Space Center being upgraded for Falcon 9 missions.
The Complex 40 launch pad on nearby Cape Canaveral Air Force Station suffered extensive damage during the Sept. 1 rocket explosion, and SpaceX will fly its near-term East Coast launches from pad 39A.
Email the author.
Follow Stephen Clark on Twitter: @StephenClark1.