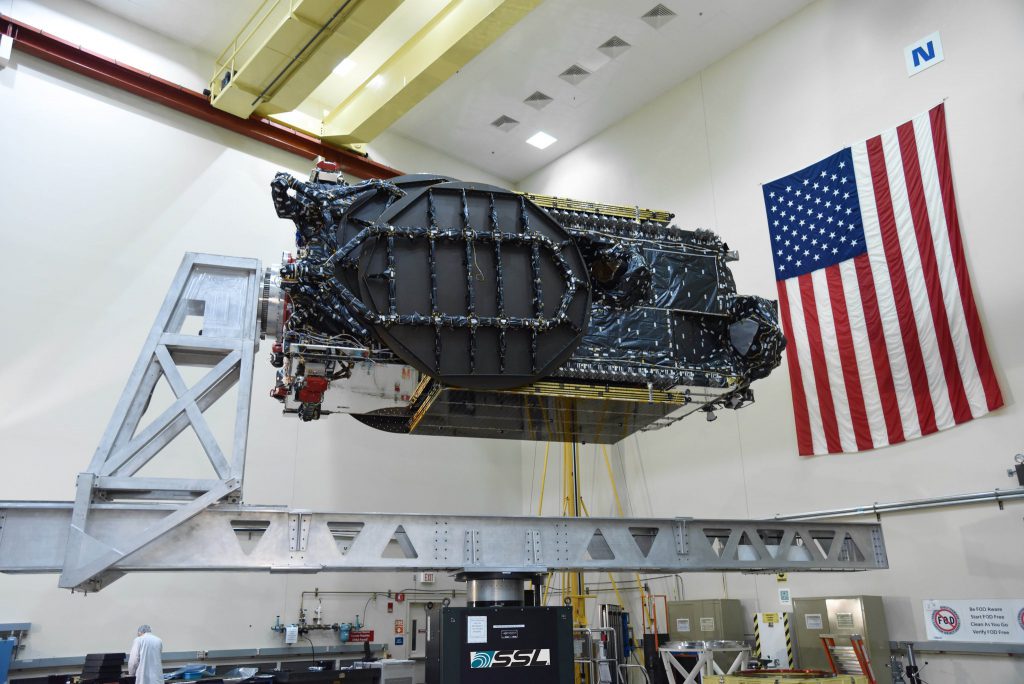 CAPE CANAVERAL — Preparing for its eighth launch of the year, the Atlas 5 rocket program has begun stacking the vehicle that will deploy a commercial satellite to provide Internet connectivity to rural America.
The United Launch Alliance rocket will haul the EchoStar 19 spacecraft into a geosynchronous transfer orbit from Cape Canaveral's Complex 41 on Dec. 16. The two-hour launch window opens at 1:22 p.m. EST (1822 GMT).
Stacking started today at the Vertical Integration Facility as the first stage was erected aboard the mobile launch platform. Three side-mounded solid rocket boosters and Centaur upper stage will be added in the coming days before the payload is attached next week.
It is known as the 431 configuration of the Atlas 5. The version has flown twice — both lofting commercial communications satellites — in the 67 previous Atlas 5 missions.
The satellite, also branded Jupiter 2, was built by SSL in Palo Alto, California, and was flown to Cape Canaveral in early November to begin its launch campaign at the Astrotech payload processing facility.
The craft will weigh 14,914 pounds (6765 kg) at launch, and will be positioned in geosynchronous orbit 22,300 miles above the Earth at 97.1 degrees West longitude. With its power-generating solar panels extended, it will have a wingspan of 85 feet. The orbital life expectancy is 15 years.
EchoStar 19 will be the world's highest capacity broadband satellite in space to increase capacity to attract new subscribers and growth to the HughesNet high-speed Internet service across North America.
HughesNet currently serves a million customers through its two existing satellites — EchoStar 17 and Spaceway 3. Consumers in rural areas where cable connectivity is unavailable can purchase HughesNet and use rooftop dishes to link to the Internet via the orbiting satellites.
"EchoStar 19 will provide us with added capacity to meet the burgeoning demand for HughesNet high-speed satellite Internet service and we look forward to next month's launch with great anticipation," said Pradman Kaul, president of Hughes.
EchoStar 19, originally slated for launch atop a European Ariane 5 rocket by Arianespace, was switched to the Atlas 5 to arrange an earlier deployment.
It will be the eighth and final Atlas 5 launch of 2016, capping a year that began in February by sending up a new Global Positioning System satellite.
That was followed in March with a commercial resupply ship for the International Space Station, the June launch to complete the U.S. Navy's new mobile communications satellite constellation, the July launch of a classified National Reconnaissance Office payload and September's launch that sent NASA's OSIRIS-REx probe to collect a pristine sample of a nearby astroid for return to Earth.
Two November launches placed a high-resolution commercial Earth-imagery satellite and the GOES-R advanced weather observatory int orbit.
If all goes well, the rocket will have delivered more than 80,000 pounds of cargo into space this year.
See earlier EchoStar 19 coverage.
Our Atlas archive.