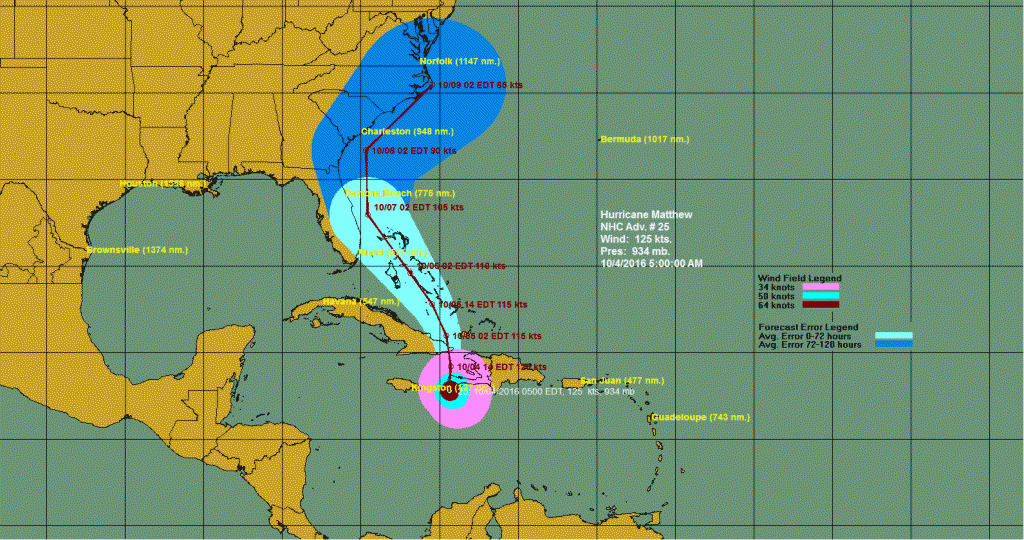 As Hurricane Matthew churns ever closer to the United States, NASA's Kennedy Space Center and the Cape Canaveral Air Force Station have begun preparations for possible impacts from the storm.
At 2 p.m. EDT (1800 GMT) today, KSC went to Hurricane Condition 3 alert status. HURCON 3 is declared at least 48 hours before the possible arrival of winds 58 mph or greater.
The 45th Space Wing at CCAFS and Patrick Air Force Base remain in HURCON 4, the lowest-level of alert footing.
"Teams will begin disconnecting electrical power to non-essential facilities and start preparing facilities for the possible arrival of the storm," the Air Force said in a statement.
At the nearby Astrotech satellite processing facility in Titusville, the GOES-R civilian weather observatory will ride out the storm within its protective cleanroom.
NASA officials said today that technicians are constructing a special tent around the satellite for added shelter from any water intrusion.
GOES-R is scheduled to launch from the Cape on Nov. 4 atop a United Launch Alliance Atlas 5 rocket. Stacking of the booster has not yet begun.
The current forecast from the National Hurricane Center keeps the center of Matthew, where the strongest winds are located, east of the Florida coastline. But the cone of uncertainty extends as far west as Orlando.
Even if the wide storm does not directly strike the Cape, it is expected to dump serval inches of rain and bring at least tropical storm-force winds to the Space Coast on Thursday and Friday.
A hurricane watch has been posted for the area that includes the launch sites.
As of the 2 p.m. EDT (1800 GMT) advisory from the National Hurricane Center, Matthew was located about 55 miles south-southwest of the eastern tip of Cuba, moving due north at 10 mph with maximum sustained winds of 145 mph.