Updated at 12:05 a.m. EDT with latest acreage and containment numbers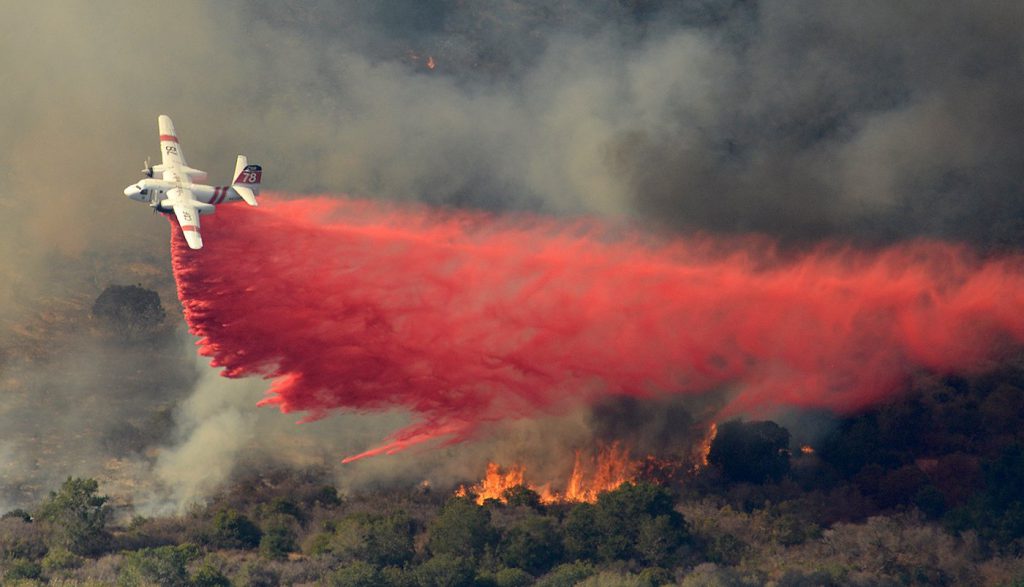 United Launch Alliance technicians were allowed to return to the Atlas 5 pad Tuesday as firefighters continued to wage air and ground campaigns against the wildfire burning at Vandenberg Air Force Base in California.
"Been granted access to our pad for at least the next several hours," ULA CEO Tory Bruno tweeted Tuesday afternoon.
Workers were forced to evacuate the pad as the fire spread and intensified on Vandenberg's South Base, home to the Atlas 5 and other pads used by Falcon 9 and Delta 4 rockets.
As of Tuesday night, the fire had consumed over 12,000 acres and was 45 percent contained. The acreage had doubled in size in a 24-hour period but was zero percent contained on Monday.
"I think we're making really good progress," Vandenberg's assistant fire chief Wayne Seda told reporters at a Tuesday afternoon news conference. "We've been having the crews work day and night, and the night operations have been really successful and today's been really successful so far."
Flames advancing westward to the ocean were noted around the eastern and northern perimeters of Space Launch Complex 6, once the Air Force's Manned Orbiting Laboratory and space shuttle pad and now used by ULA's Delta 4 program. No rockets are there at the present time.
At Space Launch Complex 4, the former dual-pad Titan site now occupied by the SpaceX Falcon 9, the fire was nearing but had not reached the immediate area.
"SpaceX has taken the necessary precautions to protect SLC-4 and its assets," a company spokesman said in a statement.
Ten Iridium mobile communications satellites are housed in the pad's hangar that SpaceX constructed at the complex. The craft are awaiting a single launch together aboard a Falcon 9.
The northern-most pad on South Base is SLC-3, where the Atlas 5 rocket and its WorldView 4 commercial Earth-imagery satellite are standing inside the protective gantry. They were about seven hours away from liftoff on Sunday when Air Force officials requested the launch be scrubbed to allow firefighters to remain in place south of the pad to combat the blaze that began Saturday night.
"Team making the most of access," Bruno tweeted later Tuesday night. "Installed a 2 MW b/u generator, chillers, gas, ECS. Firefighters cut a dbl break. SLC6 also well protected."
As reinforcements arrived Tuesday, some 1,056 firefighters from 50 agencies including Vandenberg Air Force Base, U.S. Forestry, CalFire and Santa Barbara County Fire Dept. are working the fire, officials said.
Tuesday's objective was to continue building direct and indirect containment lines. Direct lines are made along the active fire perimeter when fire intensity is low. Indirect lines are constructed ahead of the active fire perimeter.
Crews were using hand tools and bulldozers to construct the containment lines.
Meanwhile, a team of Resource Advisors are supporting by locating and identify natural and Chumash cultural areas threatened by the fire.
And train travel along the coastal railway that runs through the base has been stopped because of the fire. Union Pacific is inspecting the line for any damage or problems.
See earlier WorldView 4 coverage.
Our Atlas archive.